Begin typing your search...
AP CM lays stone for 3 Oberoi Group hotels worth Rs 1,500 cr
The 7 star facilities coming up at Gandikota, Vizag, and Tirupati have a potential to generate direct and indirect jobs to 11,000 people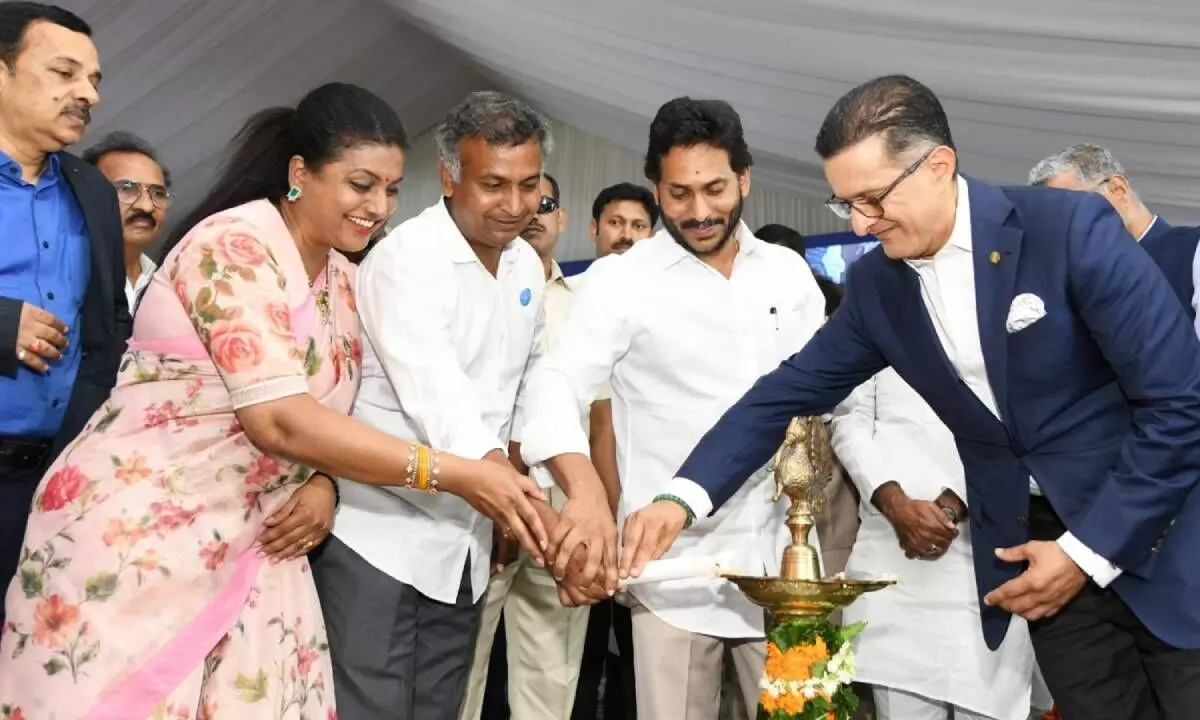 Visakhapatnam With an aim to give a booster dose to promotion of tourism in a big way in Andhra Pradesh, Chief Minister Y S Jagan Mohan Reddy on Sunday unveiled the plaques and laid foundation stone for the construction of seven-star Oberoi Hotels and Resorts at Gandikota in YSR Kadapa district and Bheemunipatnam in Visakhapatnam district and the world famous pilgrim city of Tirupati.

The group will invest nearly Rs 1,500 crore on the new facilities with a potential to generate direct and indirect jobs to an estimated 11,000 people. The Oberoi Group has been allotted 40 acres at Annavaram village, close to Bheemunipatnam and 20 acres near Alipiri Zoo Park Road in Tirupati. While the Bheemunipatnam facility will involve investment of Rs 350 crore, the Tirupati resorts will be built with an investment of Rs 250 crore providing employment to 7,000 people. The Bheemunipatnam facility with 300 villas is expected to be operational in four years.
The ground-breaking ceremony was a follow up of the MoU signed with the Oberoi Group at the Global Investors Summit (GIS) in Visakhapatnam in March. Under the New Industrial Development policy, projects which are grounded after signing MoUs within a specified period are entitled to get earlybird incentives.
Senior officials on behalf of the State Government and Vikram Oberoi, MD of Oberoi Group exchanged MoU in the presence of the Chief Minister. Participating in the bhoomi puja at Gandikota, the Chief Minister said that the initiative for a luxury hotel at Gandikota in YSR Kadapa district, known as the Grand Canyon of India, will help it find a place on the world tourism map.
"The Gandikota project will provide direct and indirect employment to 500 to 800 persons besides boosting development in and around Gandikota," he said, adding that the Oberoi Hotel and Resort will play an anchor role and attract more projects.
With the seven-star hotel facility coming up, YSR district will become popular globally, he said adding that he has requested Vikram Oberoi to explore the possibility of setting up a golf course at Gandikota.
Vikram Oberoi, who also addressed the gathering, expressed hope that the hotel and resort facility coming up at Gandikota will serve as an engine of economic growth and generate employment for the youth.
"As pioneers in developing finest hotels across the world, we would strive to contribute to the growth of the area and the State," he said and thanked the Chief Minister and the official machinery for extending cooperation.
"Once operational, both the facilities will attract a lot of domestic and international tourists as the Bhogapuram International Airport by GMR Group is also scheduled to handle wide-bodied flights in next two years," K Vijay Mohan, member, AP Tourism Authority and president, Tour and Travels Association of Andhra (TTAA), told Bizz Buzz.
Tirupati District Collector K Venkataramana Reddy and Visakhapatnam District Collector A Mallikharjuna also interacted with the Chief Minister virtually and explained about the land and other facilities provided to the Oberoi Group Hotels for the construction of the hotels.
District Collector V Vijaya Rama Raju, Tourism Special CS Rajat Bhargava, Jammalamadugu MLA M Sudheer Reddy, YSRCP MP Y S Avinash Reddy, Tourism Minister R K Roja also addressed the gathering at Gandikota.
Deputy Chief Minister Amzath Basha (Minority Welfare), Municipal Administration Minister A Suresh Chief Secretary K S Jawahar Reddy and several MLAs, MLCs and people's representatives also participated in the programme. Separate functions were held at Bheemunipatnam and Tirupati to mark the occasion.
MoUs at GIS
At the GIS, 123 MoUs were signed for development of tourist infrastructure envisaging a total investment of Rs 21,941 crore. Taj Group is proposing to construct a five star hotel in Visakhapatnam with an investment of Rs 700 crore. MoUs were also signed at GIS by a UK-based NRI for building a five star hotel at Adoni with an investment of Rs 100 crore.