Begin typing your search...
Life science realty sees strong demand in Hyd
Based on the existing infrastructure and ecosystem, the city may have more than one-fourth of the overall pan-India market share for leased life science space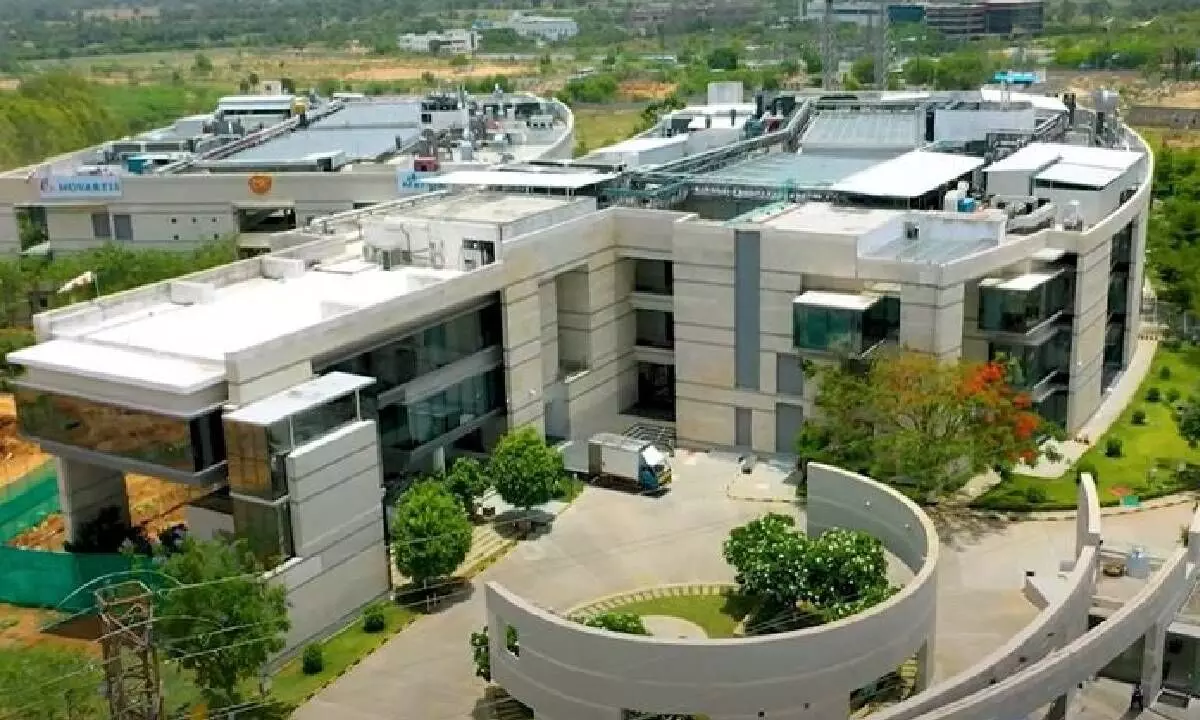 Hyderabad New growth opportunities have emerged in the Life Sciences (LS) sector globally, especially after the pandemic, with advancements in healthcare, technology, and research. India is one of the fastest-growing LS markets in the world. This sector is expected to become a significant contributor to the economic growth of the country over the coming years.

The LS sector is further divided into three subsectors - pharmaceuticals, biotechnology and medical devices. As per a recent research report of global property consultant CBRE, the cumulative space take-up by LS firms (across office spaces, R&D labs, and other spaces) during 2019-22 was around 1 crore sq ft. The total leasing activity in 2022 by LS firms stood at 30 lakh sq ft, with annual sector leases crossing pre-pandemic levels.
Like other sectors, office space take-up by LS companies experienced a short-term slowdown in 2020 owing to pandemic-related disruptions. However, the leasing activity crossed the pre-Covid levels in 2021 and 2022, predominantly led by healthcare firms. According to the report, the outbreak of the pandemic in 2020 saw peaking leasing activity from medical device firms due to increased demand for safety and diagnostic kits.
India has the potential to create a demand for approximately 7-8 crore sft of LS real estate from 2021 to 2030 across captive (developed and owned by LS firms) and leased spaces. The estimate takes into consideration the demand for LS real estate across offices, R&D labs, and other spaces.
"Overall R&D lab space across captive and leasable spaces in India is estimated to be about 1.1-1.2 crore sq ft, out of which about 65 per cent is owned or captive and the balance 35 per cent is leased. Another 30 lakh sq ft of R&D lab space is likely to get added over the next three years," says a market study by the CBRE. This study was commissioned by Lighthouse Canton Real Estate (LCRE), an international investment institution dedicated to life science asset management services.
LCRE owns Neovantage Innovation Parks that operates world-class specialised life science R&D spaces and facilities in Genome Valley, Hyderabad. To cater to the growing demand for leased laboratory spaces in the pharma and life science industry, it has a further pipeline of 'Grade A' buildings under development.
"Our market share in the currently leased R&D lab space segment is about 25-30 per cent," LCRE Executive Director & CEO Subrata Sharma told Bizz Buzz in an exclusive interview. "Our portfolio consists of 10 buildings, including two under-construction projects with a total size of approximately 11 lakh sq ft focusing on LS R&D lab spaces. We are currently developing two new projects in Hyderabad."
He further said, "in addition to the existing portfolio, the company aims to develop over 10 lakh sq ft over the next three years in Hyderabad. We are also exploring select key markets like Bengaluru, Mumbai and other cities to expand the life sciences R&D offering to new geographies in India."
In India, well-developed life science clusters are currently located in Hyderabad and Bengaluru which largely focus on R&D and manufacturing. Other smaller and developing clusters exist in Ahmedabad, Mumbai, Pune, Chennai, NCR and Kolkata, which are largely captive spaces with limited availability of quality and state-of-the-art leasable spaces.
Hyderabad contains the most successful life sciences cluster in India. Genome Valley was established in 1999 and has since emerged as a global life sciences hub. It is the only one of its kind in the country, and serves as a key example of a viable ecosystem for a successful industrial cluster. In 2018, the Government of Telangana initiated a new plan 'Genome Valley 2.0', aiming to evolve the project into an industry-led, knowledge-based ecosystem, catalysing local economic development to attract more global enterprises for expanding operations further.
As per the latest report of commercial real estate services firm Vestian, the Genome Valley currently hosts over 300 companies, providing employment to more than 20,000 persons and accounting for 33 per cent of the world's human vaccines.
"The demand for leased laboratory spaces in Hyderabad is likely to experience sustained growth. Looking upon the established LS-centric infrastructure and ecosystem, the city is likely to command 25 per cent or more of the overall pan-India market share for leased LS spaces," Sharma anticipated.