Begin typing your search...
BioAsia 2023 gets extensive corporate support from Life Sciences industry
Companies from across the Life Sciences industry pledge their commitment to spark and accelerate development conversations during the mega event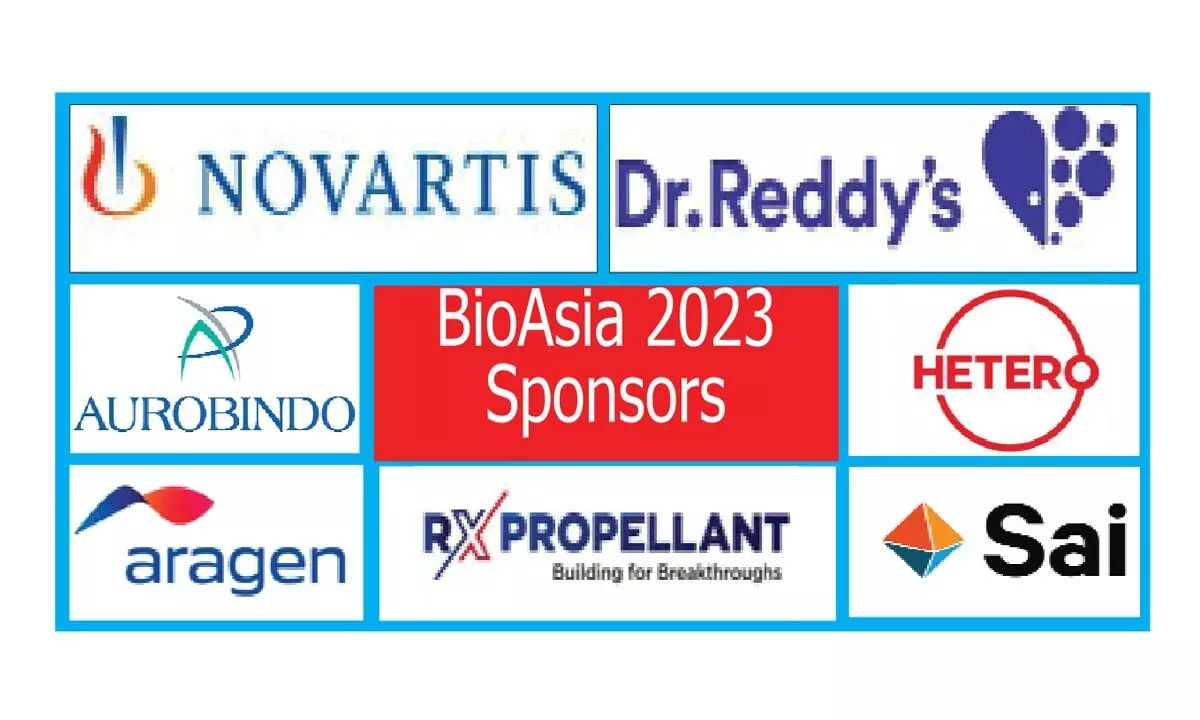 Hyderabad: Asia's largest life-sciences and healthcare forum BioAsia is set to go live with promising discussions with deep domain knowledge in healthcare and technology. In its 20th edition, BioAsia 2023 will be backed by industry and corporate support in its success in hosting insightful discussions in making India the new global hub for innovation in the life sciences industry.
In this year's BioAsia summit, companies from across the life-sciences industry have indicated their commitment to spark and accelerate development conversations. Novartis and Dr Reddy's Laboratories have extended their support to the mega event as its Principal Industry Hosts while Aurobindo, Aragen, Hetero Pharma and Sai Life Sciences have also come on-board as Industry Co-hosts.
With the theme of 'Advancing for ONE- Shaping the next generation of humanized healthcare', BioAsia 2023 is expected to feature the participation of thousands of life sciences professionals from around the world in an action-packed three-day conference on February 24-26, 2023.
The CEO Conclave is sponsored by RXPropellant. While MSN Labs, Laurus Labs, Neovantage Innovation Parks and Gland Pharma are the Corporate Sponsors; CiteLine is the Session Partner and Natco Pharma is the Associate Sponsor.
Commenting on the ongoing support of industry for BioAsia, Jayesh Ranjan, Principal Secretary, Industries & Commerce Department, Telangana, said, "We are extremely glad to have industry partners on board for BioAsia 2023. Over the years, the partnership between the government and industries has only grown in the State and this has transformed into many success stories in the life sciences sector here. We thank our industry partners for their continued patronage of BioAsia."
Led by the Telangana government, BioAsia is focused on its efforts to drive the growth of the industry by enabling an effective environment for fostering collaborations, joint ventures and mergers & acquisitions. It is also working towards ensuring knowledge and experience sharing by global industry players to benefit all stakeholders.
Further, the event promotes innovations and initiatives through appropriate awards and recognitions. It plays a pivotal role in advocating issues to the policymakers and chartering the roadmap of biotechnology.
BioAsia is a dynamic platform for companies to exhibit, launch and showcase their unique strengths, products, and services. It has achieved the position of being a key catalyst in mobilising all elements that are required to drive the growth of the emerging industry of Biotechnology as well as optimize the immense business potential of biotech. On a larger level, it is working to drive a global transformation from the treatment of illness to wellness.
Shakthi Nagappan, BioAsia CEO and the Director of Telangana Life Sciences, on taking BioAsia 2023 to a higher magnitude, commented: "An event of this scale would not have been possible if not for the cohesive support from the industry. With the support we have been receiving for the forum, we are able to expand the platform and gain higher participation on a global scale. We are thrilled that our partners, Novartis, Dr Reddy's, Aragen, Hetero and many others share our vision of making the forum truly global."
Over the years, the event has immensely benefited from its participant history including the likes of several Nobel Prize winners, Lasker awardees and eminent industry leaders like Gates Foundation Chair Bill Gates, Microsoft CEO Satya Nadella, Johnson & Johnson Executive Chairman Alex Gorsky, Novartis CEO Dr Vas Narasimhan, and Medtronic Chairman & CEO Geoff Martha, besides hosting the country ministers and delegates from Asia, America, Africa, and Europe.
Despite being a hybrid event last year, BioAsia 2022 was extremely successful with the virtual participation of about 37,500 delegates from about 70 countries.
(This is the second article of WTC Shamshabad- BioAsia 2023 Series, a collaborative effort of World Trade Center - Shamshabad and BioAsia, Asia's largest life-sciences and healthcare forum, to highlight the achievements and accelerate growth in the Life Sciences industry)
We are extremely glad to have industry partners on board for BioAsia 2023. Over the years, the partnership between the government and industries has only grown in the State and this has transformed into many success stories in the life sciences sector here. We thank our industry partners for their continued patronage of BioAsia
– Jayesh Ranjan, Principal Secretary, Industries & Commerce Department, Telangana
An event of this scale would not have been possible if not for the cohesive support from the industry. With the support we have been receiving for the forum, we are able to expand the platform and gain higher participation on a global scale. We are thrilled that our partners, Novartis, Dr Reddy, Aragen, Hetero and many others share our vision of taking the forum truly global
– Shakthi Nagappan, CEO of BioAsia & Director of Life Sciences, Telangana