Begin typing your search...
The formula of generating wealth from waste
Besides converting agro waste into papers, hand-made paper unit uses less water, electricity, and chemicals over normal integrated paper unit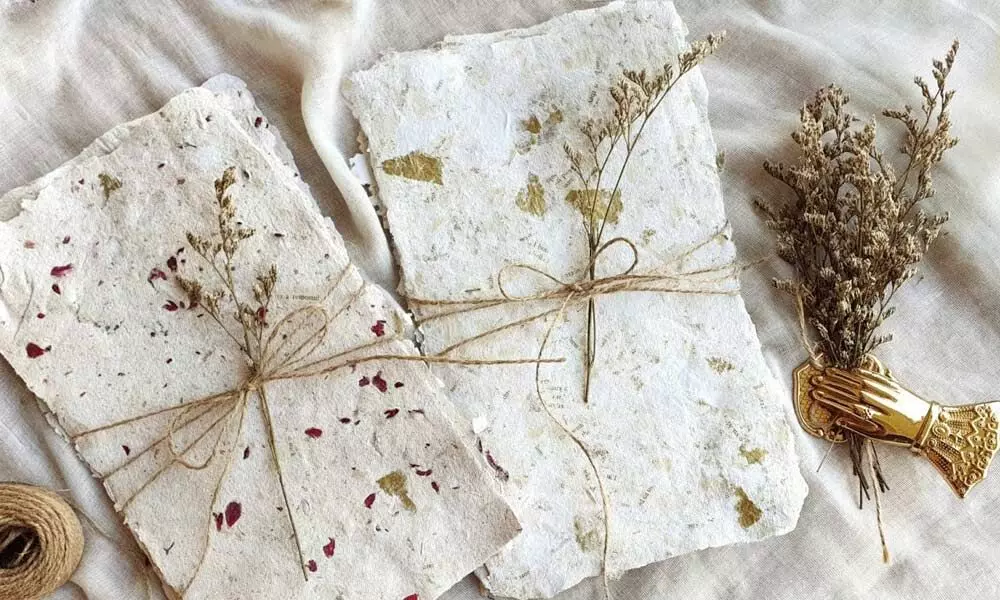 In India 350 MT organic wastes are produced only from agriculture sources. The per capita waste generation increases by 1.3 per cent annually. The proper utilisation of waste should be done in order to follow sustainability and further for economic growth. Generally, agriculture waste includes wheat straw, rice husk, jute fibre, corn stover, sugarcane agro-waste, peals etc. We have to forge a new path forward in order to manage the agro waste, particularly as it concerns agriculture and food processing wastes.
Present scenario of paper production
As we know that wood is the dominant raw material for the manufacturing of paper but now the advent of the agriculture waste utilisation upbeat the production of paper in a sustainable way. Yet the world consumes around 300 million tons of paper each year and 1 ton require the 462 bamboo plant or 277 Eucalyptus.
Indian paper industry is poised to grow and touch 25 million tonnes in 2019-20 from 20.37 million in 2017-18 tonnes at rate of 10 per cent per annum. Cutting wild trees for paper production poses obvious problems, including loss of habitat for wildlife. In the paper industry, the aim is to ensure that the production of paper conserves valuable resources and doesn't place unnecessary burden on the environment by impacting air quality, affecting water resources, or generating waste.
Solution for agro waste
• We can covert agricultural wastes like cotton linters, cotton stalks, sorghum stalks, corn stalks and straws of oilseed, oat, barley, rice, wheat, rye, grass seed into wealth.
• As these raw materials have adequate amount of cellulose content, fibres in order to produce hand-made paper. These papers are eco-friendly, bio-degradable and fast growing in market.
• Some countries like Malaysia, Phillippines has emerged as hand-made paper giants. A city from Rajasthan called Sanganer is the world's largest centre of handmade paper. Hyderabad has also number of small scale handmade paper industry in India.
Market value of hand-made papers
From the economic aspect hand-made paper industry has the high value and demand as the awareness among society to choose eco-friendly items is increasing. According to survey of KVIC (Khadi & Village Industries Commission) hand-made paper has the market of 2.5 million dollar with a workforce of 5,300 people. This industry also generates employment of about 10 people and more depending upon the number of unit. Beside the issue of environmental protection the hand-made paper unit is chosen over normal integrated paper unit due to less water, electricity, and chemical consumption.
Inputs and cost of setting up hand-made paper unit
In order to produce the handmade papers we require land (4000 sft), services beside the equipments like workforce (10 members per unit), electricity (36HP), water (150 cubic meter/ton), chemicals and building & drying shed. This setup requires manufacturing and conversion unit for production. The cost of manufacturing unit will include Rs 3 lakh for land. Work shed will cost around Rs 3.5 lakh. The cost of bore well may go up to 85,000. Equipments-(rag chopper, cutting machine, calendering machine, auto vat, hydraulic press, weighing machine, hollander beater) will cost approximately Rs 10 lakh. The cost of working capital per year includes raw materials (Rs 20 lakh), salaries & wages (Rs 10 lakh), electricity (Rs 2 lakh).
So, the total input cost would around Rs 50 lakh.
For production of 24,000 kg of output - 30,000 kg of raw materials has been considered. The cost of conversion unit consists of raw materials (Rs 1 lakh), human resource (Rs 4 lakh) and machines (Rs 1 lakh).
Output
One plant can produce on an average 80 kg of hand-made paper per day, with 300 working day in a year, so, the presumption product price is Rs 200/kg. We can make a good profit by modifying paper of different colors, GSM, size, number of sheets per pack according to the need. For example, the selling price of A4 size multi-coloured paper sheet (pack of 10) cost is between Rs 300 to Rs 500. If the quality control procedures work efficiently, then this industry will definitely gain widespread acceptance.
(The author is currently pursuing MBA (Agribusiness) from IMS BHU)