Begin typing your search...
Metaverse will open up new opportunities for businesses
In implementing metaverse in India, the challenges to be addressed are affordability without compromising with quality, scalability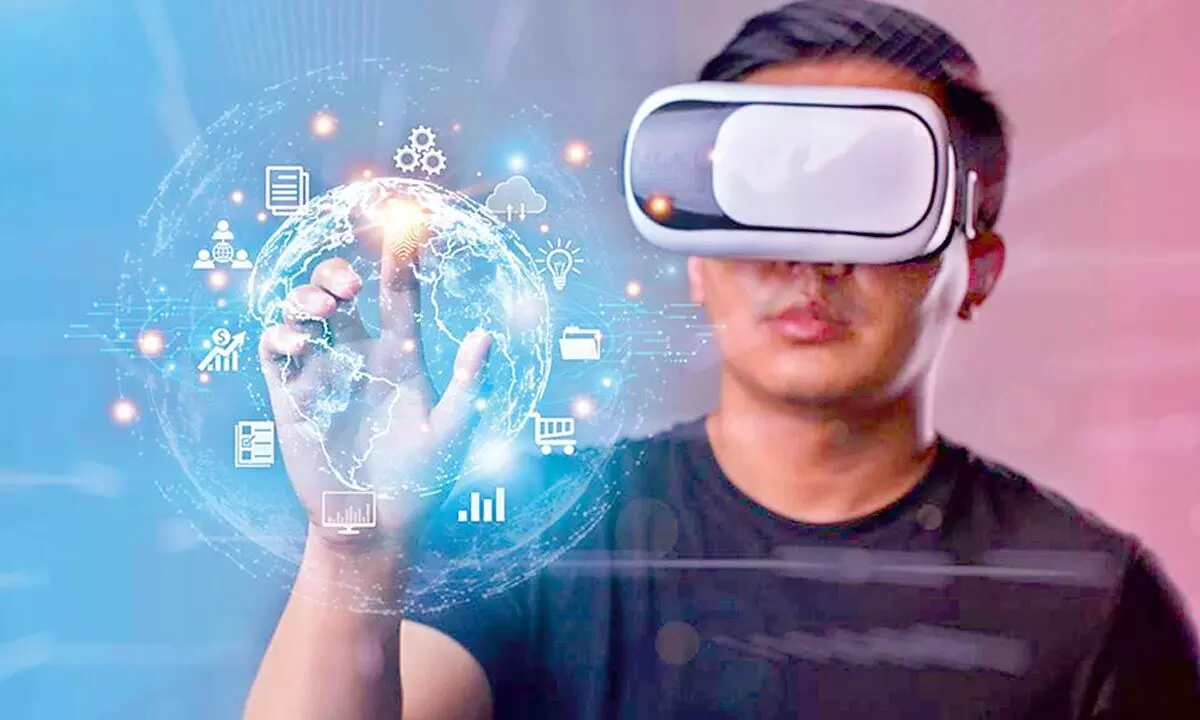 Metaverse means higher universe. It is more than hype - it is a new user experience. Metaverse is a digital reality that combines the aspects of social media, online gaming, Augmented Reality (AR), Virtual Reality (VR) and cryptocurrencies to allow users to interact virtually. Augmented Reality overlays visual elements, sound and other sensory inputs onto real world settings to enhance the user experience. A metaverse is a network of 3D virtual world focused on social connection. It is a hypothetical iteration of the internet as a single, universal and immersive virtual world that is facilitated by the use of VR and AR headsets. Metaverse gives a seamless 24x7 experience. The term 'metaverse' doesn't really refer to any one specific type of technology, but rather a broad shift on how we interact with technology. Convergence of IoT, AI, Blockchain and other disruptive technologies are responsible for creating an immersive experience in the metaverse.
Gaming industry has already entered into metaverse. Metaverse will eliminate the need to travel to visit a place (virtual tourism) and so will be very helpful for disabled persons while doing work from home, the employees can interact with other employees with this technology. Similarly students attending online classes can interact with their teachers and classmates. Metaverse facilitates online trade shows and expos.
Definition of Metaverse
Metaverse is a seamless convergence of our physical and digital lives, creating a unified virtual community where people can work, play, transact, relax and socialise.
Arenas of metaverse where a lot of activity is happening: Digital commerce, digital currency, Non fungible tokens (NFTs), entertainment, social media, digital assets, gaming, workplace, infrastructure and AI assistants.
The five key technology enablers of metaverse
- Blockchain: Blockchain backbone enables trust-less (trustless means that you don't have to trust a third party that could operate between you and your cryptocurrency transactions) ownership of digital assets, transferability of the digital assets and decentralised governance.
- Extended reality (XR): XR is an umbrella term encapsulating VR, AR, MR (mixed reality) and haptics (sense of touch) which provide an immersive experience, creating a seamless user perception. XR will shatter the physical and digital world boundaries. Immersion and interaction are the two pillars of XR. Interaction is haptics. Within a year or two one can touch and feel the products in metaverse before purchasing them online.
- Artificial intelligence/Machine mearning will play a defining role by helping to personalise the metaverse experience, learning from the individual behaviours. AI will make it easier for the user to interact with the metaverse.
- Edge computing and 5G
- IoT ( Internet of Things)
The various building blocks of metaverse are
- Hardware infrastructure
- Software backend
- World primitives and rules (identity, mechanics, programmability)
- In- world assets
- Physical/digital: Space, objects, avatars
- Economics: Currency, financial instruments
- Content: Media, data assets
- End user hardware
- End user software
Potential indicators for business opportunity for metaverse
1. $54 billion is spent annually on virtual goods
2. Second Life (second life is a online multimedia platform that allows people to create an avatar for themselves and then interact with other users and user created content within a multiplayer online virtual world) was $650 million in 2021. $80 million was paid to the users.
3. 25 per cent of people will spend at least an hour in metaverse by 2026
4. 60 billion messages are sent daily in Roblox (Roblox is an app that allows users to play a wide variety of games, create games and chat with others online. It combines gaming, social media and social commerce)
5. $40 billion market capitalisation for NFTs
6. 200 strategic partnerships with the Sandbox (Sandbox is based on Ethereum blockchain and is a decentralised NFT gaming metaverse)
7. Recently, Flipkart launched a metaverse experience called Flipverse in which users can experience and buy products in 3D VR that can be accessed through a smartphone without the need for a VR headset.
8. Bangalore airport recently entered into metaverse
Business rationale for implementing metaverse
- User engagement improves quickly with metaverse
- Metaverse enriches the consumer experience through first of its kind immersive experience, especially for consumer driven products.
- Metaverse introduces innovative virtual products
- Metaverse collects new data and insights on customer's virtual behaviour
- Using metaverse, physical and digital products and services can be marketed with virtually no barriers
Business opportunities
• Telecom Service Providers (TSPs): Metaverse offers a huge business opportunity to TSPs. As data usage will increase by 20 times by 2032 because of metaverse, the TSPs will be immensely benefited. But it will also cause more stress on telecom resources. TSPs have to shift to edge computing. They have to develop coherent strategies for implementing metaverse. Deep investment and framing of appropriate policies are required. There will be an exponential increase in demand for low latency data.
• Entertainment and economy
o Live entertainment including films, music, sports is likely to grow exponentially in metaverse. Revenue from entertainment sector is expected to be over $200 billion in 2024
o AR/VR compatible online retailing platforms are expected to grow, besides advertising opportunities
• Hardware
o AR/VR hardware are critical as the virtual experiences are dependent on these hardware to ensure seamless perception. Hardware like smart glasses, VR gloves are required.
o Gaming hardware revenue is expected to reach $77 billion in 2024.
o The demand for the advanced chips is expected to grow as they are essential to ensure seamless experience.
• Software
Vast amount of software resources are required in the implementation of metaverse. Opportunities will be there in design and development of AR/ VR content
Way forward
Using metaverse, ChatGPT in Indian languages is possible. Using the NLLB (No language left behind) model of metaverse, speech to speech translation in real-time in Indian languages can be achieved. In implementing metaverse in India, the challenges to be addressed are affordability without compromising with quality, scalability and the fact that the majority of the population live in rural areas. Metaverse can be used for skilling India in safety, healthcare, education and defence. Metaverse has infinite potential in our country. Value will be created for all the stakeholders and metaverse has relevance for all functions across any enterprise/ department. The grand vision for our country should be that it should become a metaverse corridor for the entire world and there should be movement to achieve it. We have the potential to lead the world in XR and in particular skill training and metaverse corridor can pave the way for it. We need standards in this new technology and regulations are required to save people against misuse.
(The author is a former Advisor, Department of Telecommunications (DoT), Government of India)