Begin typing your search...
India talks tough at SCO meet
Defence Minister Rajnath Singh calls for a robust framework of regional cooperation that should respect sovereignty and territorial integrity of all SCO member states by taking care of their legitimate interests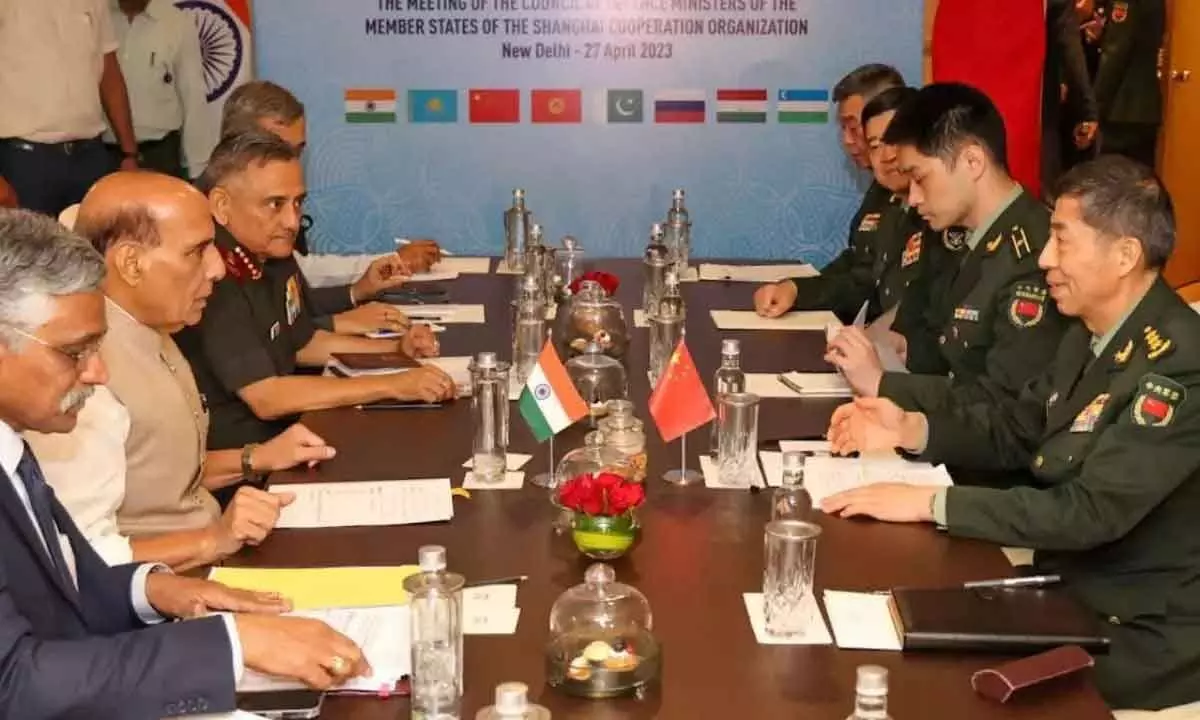 Last week at the Shanghai Cooperation Organisation's (SCO) Defence Ministers' meeting, India adopted a very tough stand to deal with its immediate neighbour China, which has been the founding father of the bloc.Relations between two Asian neighbours have not been very cordial in the recent past, on the issue of border transgressions by China in the Indian territory.

India's Tough Posture
China's Defence Minister, Li Shangfu, in his first visit to India by a Chinese defence minister since 2020, when 20 Indian and four Chinese soldiers died in clashes along the Himalayan border in Ladakh and the two sides came the closest to war for almost 70 years, was indeed not expecting such a dressing down by the Indians. In his meeting with Li Shangfu, Indian Defence Minister Rajnath Singh accused China of border aggressions that have "eroded the entire basis" of bilateral relationship, as negotiations over the line of actual control (LAC) remain deadlocked.
Border transgressions from China have continued despite strong condemnation from India. In December last year, more than 20 Indian soldiers were injured in a clash with Chinese troops in the eastern state of Arunachal Pradesh, in what India described as a Chinese attempt to "transgress the border".
In March, China announced plans to "rename" 11 places in Arunachal Pradesh, which it claims as part of Tibet. When the Indian home minister visited the border region that same week to assert the Indian territorial claim, Beijing hit back, calling the visit a violation of its territorial sovereignty.
Border Issue
While in the recent past, there has been disengagement in some areas, Indian army officers and defence experts say about 1,500 sq. km. in Ladakh taken over by the PLA in 2020 remains under Chinese control. Two main areas of contention in Ladakh are Demchok and Depsang, which were previously patrolled by Indian troops but are now occupied by PLA soldiers. Both areas remain tactically important for India, but in spite of many round of talks, there is no move forward and there also does not seem any inclination from China to resolve the issue. People living near the border in Ladakh allege that in the disengagement negotiations, New Delhi has ceded land to Beijing by agreeing to the creation of buffer zones - where neither side can patrol - in land that was previously claimed by India, specifically in the disputed Pangong Tso and Chushul areas. Thus, the real loser in the case has been India.
In reality, this happened due to the fact that India couldn't see the hegemonic Chinese designs for the area. China has been building new highways, railway lines, bridges, air strips and sophisticated military bases, modern housing and 5G towers in the disputed area, while India -- which historically avoided developing areas near the Chinese border in order to prevent any provocation - has been left behind, with many of its border areas still impoverished.
In the recent past India has doubled its focus on infrastructure near the border with China, to correct its earlier miscalculations. January 2023 saw the Indian Defence Minister inaugurating 27 infrastructure projects aimed at strengthening the border infrastructure, in addition India is speeding up the construction of 37,500 miles of roads, 350 miles of bridges, 19 airfields and a few tunnels in border areas or nearby.
The scale and speed of this Indian infrastructure push is evident in the construction of ambitious 8-mile tunnel in the Himalayan range, at an altitude of about 3,000 metres, to provide all-weather connectivity to Ladakh. India is trying hard to get the $1.4 billion Zojila tunnel completed at the earliest.
SCO Summit
Though the SCO is not a platform for bilateral issues, the Defence Ministers' meeting highlighted policy priorities, while India focussed on terrorism. Russia reiterated its criticism of the West's Indo-Pacific concept and creation of regional groups like the Quad.
Addressing the summit, Rajnath Singh underlined that any form of terrorist act or support towards it was a heinous crime against humanity. Though the issue of terrorism may have been pointed towards Pakistan, India also reiterated that a "robust" framework of regional cooperation should respect the "the sovereignty and territorial integrity of all member states by taking care of their legitimate interests".
Meanwhile, the Chinese Defence Minister harped on President Xi Jinping's 'Global Security Initiative', and said that Beijing was willing to work with other SCO members to implement the Global Security Initiative.
On his part, the Russian Defence Minister General Sergei Shoigu took a blunt aim at the West for attempting to integrate the emerging security architecture in the Indian Ocean with NATO.
Russia has always opposed the Indo-Pacific policy, advocated by the West and supported by India, describing it as an attempt to encircle China. The Russian minister expressed his belief that the SCO's "independent policies" towards global and regional security challenges could serve as a blueprint for the international community.
He emphasised the need to strengthen SCO's role as a key pillar of the emerging multipolar international system, one that promotes inter-state relations based on principles of equality, mutual respect, and compliance with international law. Additionally, the General stated that NATO countries should bear the primary responsibility for post-war reconstruction in Afghanistan and Taliban should not be blamed for the current situation in the country.Besides a virtual participation by Pakistan, defence ministers of eight SCO member states attended the meeting in New Delhi.
(Asad Mirza is a senior political commentator based in New Delhi.)