Begin typing your search...
How this college dropout helping brands expand their businesses
Franchising the best option to expand, says Pankaj Solanki, co-founder, Business Bazaar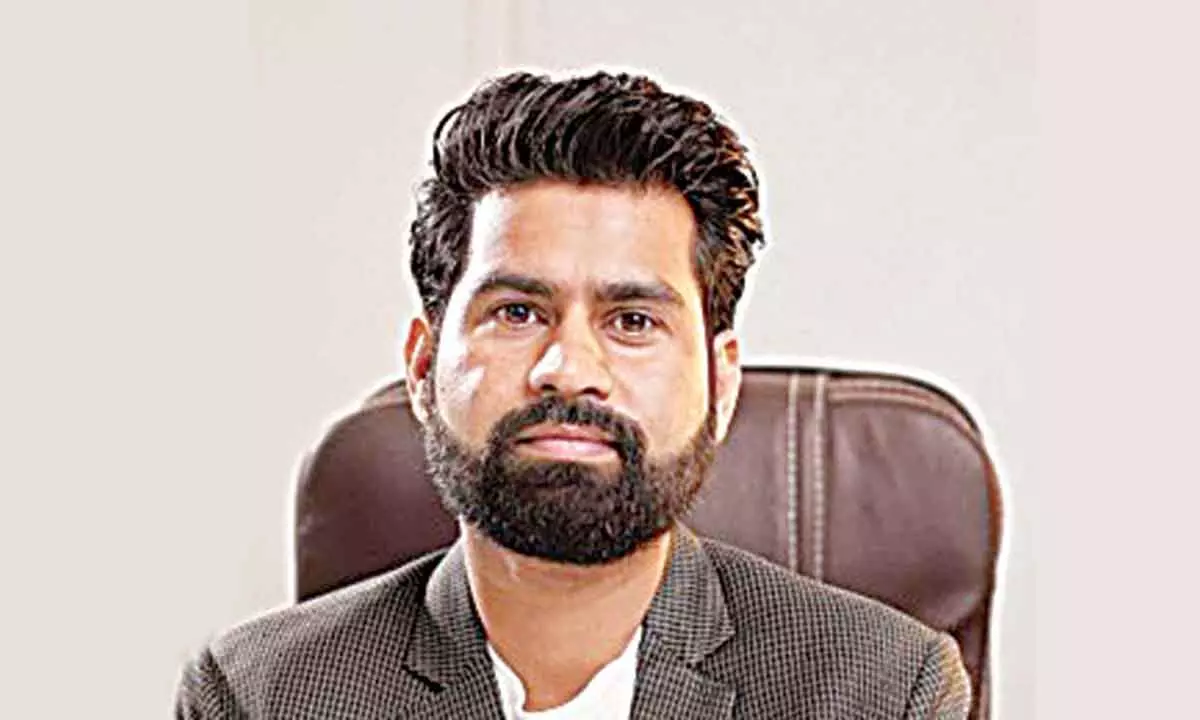 With the passion to do something out of the box, Pankaj Solanki, Indore-based college dropout believes the franchisee model being advocated by him is the future. He decided to pursue his aspirations by dropping out of college at a young age to build a career in the investment advising landscape. After extensive research and development based on his sales and communication talent, he decided to start a franchising firm named Business Bazaar with a strong desire to make it the world's largest and most effective franchising company with the help of 10 years of post-college dropout experience in finance, advising and sales in various companies. He says Business Bazaar formed in 2021 provides a one-stop-shop for searching and discovering various franchises and offers a platform to compare prices. In an exclusive interview to Bizz Buzz, he says: "I started this venture with an intent to assist entrepreneurs in making wiser investment choices." He wants to assist business owners to expand their brands with zero effort. With the help of a young team picked up by him with hands-on experience, he wants to help his clients to make the right decisions at the right time as his firm stands for providing end-to-end franchising solutions
What is the motto behind the formation of Business Bazaar?
We are here to assist with the development of a platform that will benefit both businesses wishing to grow across all over India through a franchise model and offer the best franchise prospects for potential investors. The primary motivation behind the establishment of Business Bazaar as a franchising company is the concept of zero per cent effort in accordance with their needs and requirements.
Which franchising trends are Business Bazaar looking to focus on in 2022?
When it comes to the trends we intend to focus on in 2022 to identify what an investor is looking at. In line with investor objectives and expectations, we focus on that specific franchise trend in food and beverages, health care, and logistics.
Since technology is becoming a huge part of every industry, how will Business Bazaar want to make a difference?
Since we currently work digitally, we are already incorporated in this format. Our team of highly trained experts crafts customized digital campaigns in accordance with customer requirements. Our sales staff is well-equipped with software that facilitates client tracking and effective client handling. So, this is how our venture is incorporating technological trends.
What kind of clients is Business Bazaar mainly deals with?
We work with a variety of clients, including brands that are affiliated with us, and at the same time, we receive a lot of investor inquiries about new franchise opportunities. Our main focus from a branding perspective is on food and beverage, logistics, and clothing.
What kind of clients are you looking forward to working with in the near future?
As a franchising platform, we want every single category brand and investor to be registered with us. Investors from all States are encouraged to register with us and launch their businesses. In the near future, we want to work in distributorship and dealership prospects. We are aiming to increase our franchise portfolio in fitness, sports, cleaning, and health and beauty.
From being a college dropout how could conceive an out-of-box idea to do business with a difference?
The concept is very simple. We discovered a significant gap between brand and investor when people were looking for a service industry and a channel partner. We also wanted to meet people by working quickly and easily to grow and flourish franchise businesses by acting as a mediator to promote Indian brands at an international level because Indian brands are limited in comparison to international brands. And we have complete faith in our brands & they have the ability to perform admirably in the global market. Hence, we have decided to promote Indian brands at the international level.
Did you conceive the idea in the course of your experience in marketing in some companies?
Yes, as the saying goes, experience is the best teacher. After over 10 years of experience in sales and marketing I always wanted to operate my own business and start my entrepreneurial journey, and when looking for ideas, I found my expertise in the franchising field. As a result, the journey began. As this was not the end of my dreams, I laid the foundation of "Business Bazaar" a banner that encompasses a variety of franchise solutions. And now Business Bazaar has moved from strength to strength and is well acknowledged for revolutionizing the way companies plan the course of action for their business development.
Who are your major clients?
Our clients are mostly those who want to expand their business and open up a new franchise. As, we meet the needs of both personnel and business owners who are trying to start a new firm or expand an existing one. Some of our clients include Motimahal, Adam & Ale, Srinathji & Waffle Hut.
What are the top sectors in which one can invest today?
According to several market assessments, the future seems bright. This market is rapidly expanding, with more franchisees owning multiple units, greater technology being integrated into stores, and a new business model taking shapes. The top sectors in which one can invest today are food and beverage, health and beauty, logistics and automobile dealership. However, it's time to choose the best category and get the franchise and earn more profits.
How big is the franchise business in India? And what are prospects in the future with work from home and digital marketing gaining momentum post-pandemic?
The concept of franchising has been progressively gaining traction in India, where there is still a sizable unexplored market. We have stepped forward to tackle them with its knowledge and all verticals as additional arms, having thoroughly watched the current situation and recognizing the bothersome factors to both franchisor and franchisee.
The franchise sector is always expanding; any business owner with a franchisee model will wish to broaden their horizons. The entrepreneurial trend is highly visible in India right now, and as a result, the demand to expand will develop. As a result, the need for qualified specialists who can assist them in achieving their goals is increasing, and this is where we come in. To summarize, the franchise industry is predicted to develop at a quick pace and double in the near future.
Digital marketing is the key aspect of our business and working model. We are able to provide better results to our clients with these techniques and with increasing reach. It only will help us perform best.
What are the primary struggles that the franchise industry faces today?
Every business owner who has reached a certain level of success opts for a franchise. Not every business is a successful franchise though. However, the opposite is also true. So, the key struggle in this sector is to keep facts in control and operate accordingly. At all times, both the brand owner and the franchise investor should benefit, and this is the balance on which this industry operates.
Is this the right time to invest in franchises?
There is no right or wrong timing as it all depends on your ability to grow your business. But as a business owner, one of the most important things you can do before deciding whether to franchise is to evaluate the performance of your business right now because when someone buys a franchise they make an investment in their future.
What are your plans for your startup to scale up further?
In the near future, we hope to expand our business to a worldwide level. Currently, we are working with Indian businesses. Brands from several market segments are combined. We wish to expand our investor base and hire more creative professionals to implement our ideas. Whether you're a seasoned business owner with diverse industry experience or an entrepreneur looking for ways to grow your first venture, franchising can be an attractive option for anyone looking to scale a business. While franchising may appear to be the obvious next step for any established business owner, it is necessarily the best option for everyone.