Begin typing your search...
How can airlines take benefit from Thanksgiving travel surge?
Airlines for America (A4A), has projected that 28.5 million passengers will travel on US airlines during the 12-day Thanksgiving air-travel period; Honeywell, aviation avionics giant, lists few tips for airlines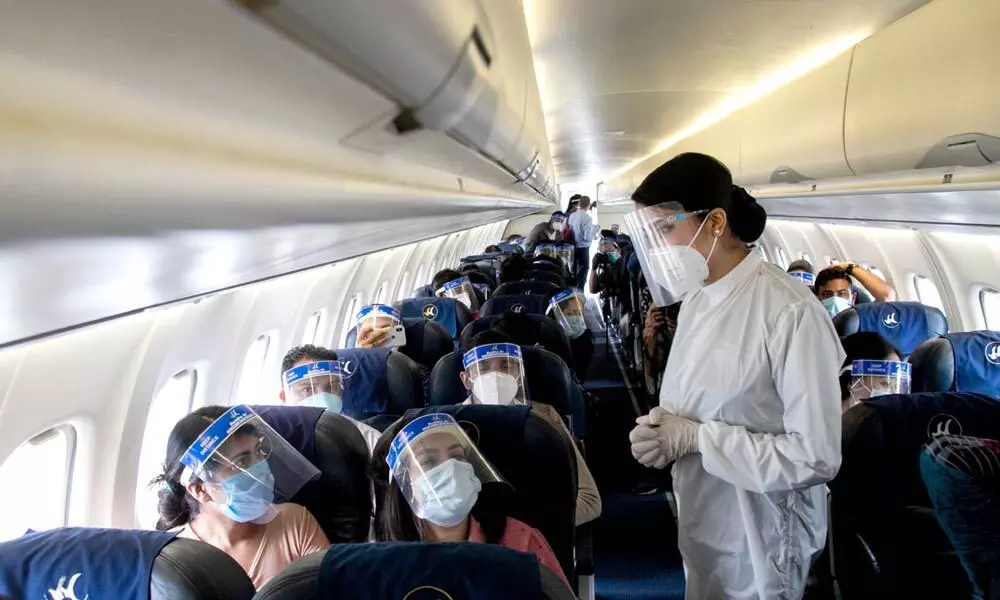 The Transportation Security Administration expects to screen about 20 million people between Friday and 28 Nov, almost back to 2019 levels. Many of those traveller skipped Thanksgiving trips last year as Covid cases were rising and the Centers for Disease Control and Prevention advised against travel during the holiday.

Airlines for America (A4A), the industry trade organization for US airlines, has projected that 28.5 million passengers will travel on US airlines during the 12-day Thanksgiving air-travel period, up 3 per cent from 2016. The 2.38 million passengers per day expected to take to the skies represent an increase of 69,000 from the 2016 Thanksgiving travel period. Airlines are accommodating this increase in demand by adding 86,000 more seats in the marketplace each day, a 3.2 percent increase over 2016.
Airlines have run through much of the $54 billion in the US government payroll aid that helped cover their labour bills during the crisis. The rise in costs is threatening the industry's attempt to return to profitability after losing a record $35 billion last year when the pandemic snapped a decade of profits. For passengers, the combination of returning demand and higher costs could mean more expensive ticket prices ahead.
The aviation industry was hit hard by the Covid-19 pandemic and is only now beginning to recover. Honeywell, the aviation avionics giant, has a few tips to offer.
Focus on cost structure
The recovery is heavily dependent upon the price-sensitive leisure traveller, so US carriers will need to be very disciplined about their cost structures. Mainline carriers in particular are going to have to adjust their strategies and manage their costs.
Long-haul legacy carriers will be challenged
In Europe, where travel is still down nearly 90 per cent, discount carriers are well-poised to capture leisure travel when it returns. Mainline airlines, highly dependent on transporting international travellers into the region are going to have to dramatically change their business models to capture that revenue segment.
Don't skimp on staff or maintenance
Cost discipline notwithstanding, airlines need to make sure aircraft maintenance and workforce support remains top of mind as travel returns and austerity measures are relaxed. Pilots and other cabin crew who were furloughed need to be reactivated and, in some cases, retrained, and airlines need to adequately provision parts inventories so that they can operate efficiently.
Hygiene and customer service are key to bringing travellers back

Hygiene is as simple as making sure that passengers are masked, and that aircraft is carefully cleaned. And airlines will need to be flexible regarding cancellations and flight changes, as progress against the pandemic progresses and recedes across the globe. Airlines that are going to be working with flyers to accommodate their needs - and react gracefully and with a customer-service orientation when inevitable operational problems arise - will be the ones that will attract customers.
The industry will be different in the future
In the short term, look at anything with a 6-to-12 month payback in terms of fuel savings or maintenance. Cockpit hygiene is important, as pilots turn over cockpits multiple times a day, we're seeing the increased adoption of portable UV light systems to treat both cockpit and cabin. Over the longer term, globally, government bailout money came with strings attached to push the aviation industry towards greener and more sustainable options. Those changes will require that OEMs supporting airlines, like Honeywell, will need to be leaders in technology development.
Air travel in India had started to recover from the impact of the pandemic in early 2021. February was the best-performing month for IndiGo since the pandemic hit, with passenger numbers rising to as high as 180,000 a day.
But since March a second, more deadly wave of infections has hit airlines and forced them to raise funds and cut costs. In a "best case scenario", IndiGo expects to return to the February 2021 levels by the third quarter (October-December) of the current fiscal year, CEO Ronojoy Dutta said on an analyst call. US private equity fund Indigo Partners signed a massive 255-aircraft deal for Airbus A321neo narrowbodies on the opening day of the Dubai Airshow.
The deal will see the Indigo's four ULCCs - US-based Frontier Airlines, Chile-based JetSMART, Mexico-based Volaris and Hungary-based Wizz Air - each add large numbers of A321neos to their growing fleets. It also means, Airbus CCO and head of international Christian Scherer confirmed at a press conference, that the manufacturer has essentially sold out of A321 slots. The firm order brings the total number of A320 family aircraft ordered by Indigo airlines to 1,145.