Begin typing your search...
Champagne sales popping up, Russian vodka losing its fizz
In India, Beer prices could be hiked. While Russia accounts for the world's 2nd largest production of barley, Ukraine sits as the 4th largest producer of malt globally. If the crisis escalates further, global barley prices could spike up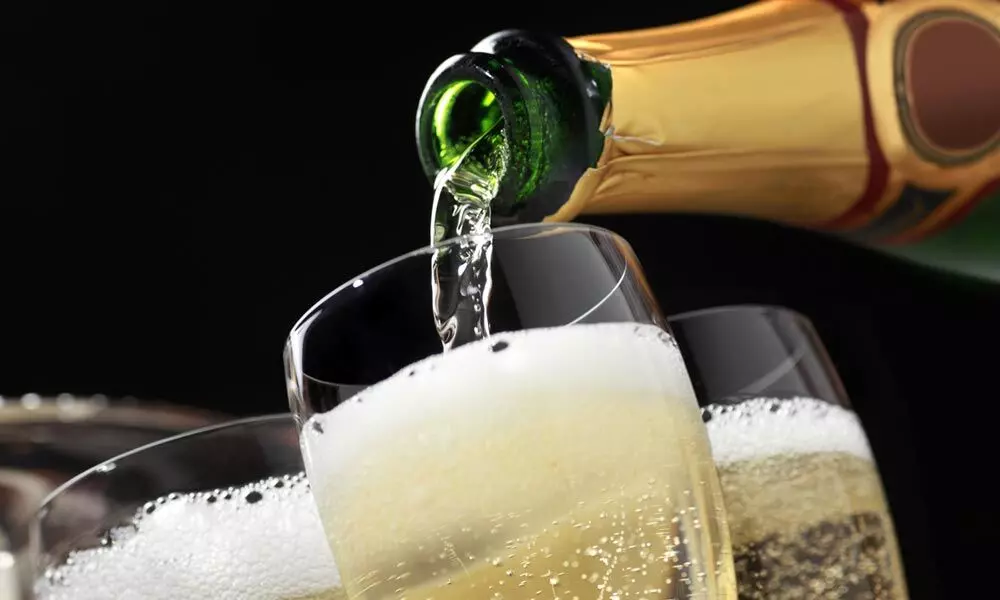 Despite the war clouds and gloomy stories engulfing the world, champagne corks are popping in much greater velocity across the world. It seems the war impact is only on Russian vodka.
Champagne being native to the country France, witnesses high penetration, in the country among other alcoholic beverages. As a result, the country held a significant share in champagne consumption, globally. Additionally, the growing prevalence of premiumization in the industry is boosting the value sales of the product. The French consumers are becoming more attracted to wines that use these types of descriptors: 'No taste additives, gluten-free, low carb, vegan-friendly, sulfite-free, low calorie, low alcohol, light, lighter, organic, paleo-friendly, etc.' This is because of the new focus on healthy food and beverages that is sweeping across the nation.
French champagne sales rebounded last year to a record €5.5 billion (£4.6 billion) as demand soared despite the lingering impact of Covid restrictions that weighed on restaurants and bars, producers have said.
About 322 million bottles were sold in 2021, up 32 per cent from the previous year, when shipments slumped 20 per cent during Covid lockdowns worldwide, the Comité Champagne trade association said in its preliminary estimates.
The French market reported a 25 per cent jump, with 142 million bottles sold, a return to the pre-pandemic levels of 2019, while exports reached a record 180 million bottles on strong demand from English-speaking countries in particular.
However Russian vodka sales could be impacted. Bars and liquor stores across the United States and Canada have stopped selling Russian vodka in protest of the Ukraine invasion.
Russia began its invasion of Ukraine earlier this week after weeks of heightened tension between the two countries. The invasion has been met with protests across the world, with many showing their solidarity with the people of Ukraine. Russia is known for its vodka production and exports it to many countries across the world, including the US. But only around 14 per cent of global vodka volume is produced in Russia, and almost all of that is sold in Russia, according to market-research firm IWSR.
Governments and alcohol regulators across North America have either proposed or enacted boycotts against Russian vodka. The governors of both Utah and New Hampshire this past week ordered Russian-branded and Russian-made vodka to be pulled from the shelves in government-run liquor stores. In Ohio, Gov. Mike DeWine moved to halt the purchase and sale of all vodka made by Russian Standard, a Russian-owned maker that sells its liquor under two names in the state.One of the world's largest alcohol buyers, Canada's Liquor Control Board of Ontario, said it's removing all products made in Russia from its 679 stores.
Boycotters say these steps are meant to show solidarity with Ukraine. But some people have questioned the effectiveness of such protests in terms of putting economic pressure on Russia.
The European Union has expanded its list of sanctions against Russia by restricting the export of luxury goods into the country. The new list of banned exports includes drinks such as Champagne, wine and vermouth with a value exceeding EUR300 ($328) in a move designed to directly hit Russian elites supporting the country's invasion of Ukraine.
Asahi Group Holdings has announced a donation towards humanitarian activities to support the Ukrainian people. The group will make the EUR1m ($1.09m) donation to organisations that are supporting refugees in Poland, Hungary, the Czech Republic, Slovakia, and Romania, where it operates. Anheuser-Busch InBev has issued a statement over its joint venture in Ukraine and Russia with Turkish brewer Anadolu Efes, stating it is to forfeit all financial benefit from the operation.
The brewer clarified its position stating that it did not have a controlling stake in the AB InBev Efes venture and as such could not fully shut down sales and production. It did, however, confirm that it has requested that the license for the production and sale of the Budweiser portfolio in Russia be suspended. The UK and Europe continue to be Champagne's core market for sales, together accounting for a little under half of sales by value in 2021. However, as O'Connell explains, Asia and the US are growing at a faster rate – 2021 saw LiveTrade activity in Asia by 40 per cent and 65 per cent in the US over the average of the previous 3 years, compared to only 30 per cent across the UK and Europe.
Suntory Group has announced a $600,000 donation to support the ongoing humanitarian relief efforts in Ukraine. In India, Beer prices could be hiked. While Russia accounts for the world's second largest production of barley, Ukraine sits as the fourth largest producer of malt globally. If the crisis escalates further, global barley prices could spike up.