Begin typing your search...
Business aviation shrugs off Covid blues
Honeywell's 30th annual Global Business Aviation Outlook forecasts up to 7,400 new business jet deliveries worth $238 bn from 2022 to 2031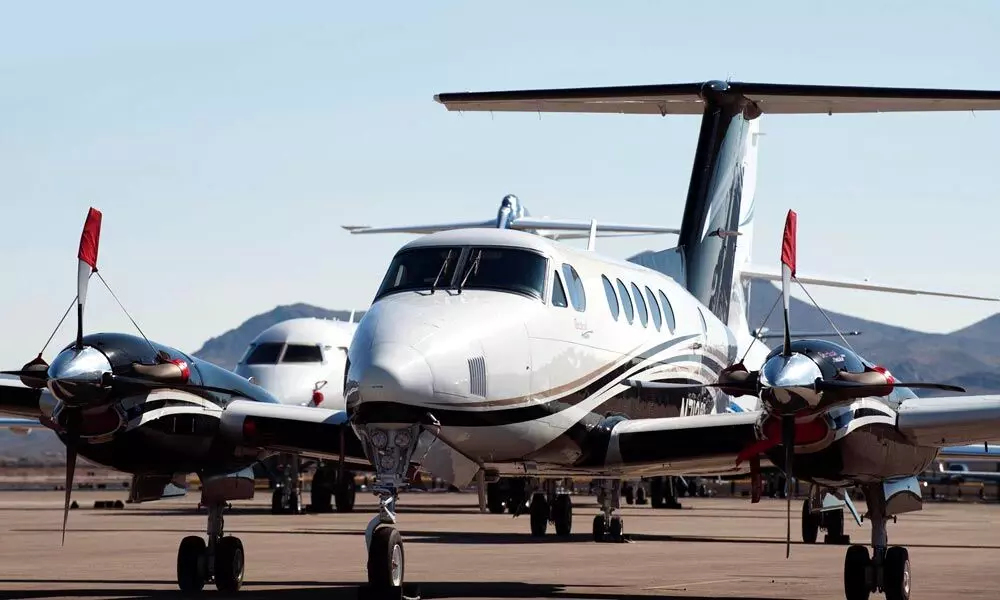 The market for the business jet was valued at $15.25 billion in 2020 and is anticipated to register a CAGR of 2.50 per cent during the forecast period (2021-2026), to reach a market value of $17.86 billion by 2026.
Honeywell's 30th annual Global Business Aviation Outlook forecasts up to 7,400 new business jet deliveries worth $238 billion from 2022 to 2031, up 1 per cent in deliveries from the same 10-year forecast a year ago. In 2021, surveyed business jet operators reported a sharp increase in used jet purchase plans, 12 per cent above last year's report, equivalent to 800 additional used business aircraft. Business aircraft manufacturers also announced a strong increase in jet orders, indicating that the industry has almost completely shaken off the effects of the Covid-19 pandemic.
The increased demand for used jets is estimated at more than 6,500 units over the next five years, putting pressure on an already record low inventory and driving additional demand for new jets.
The Covid-19 pandemic affected the business jet market in the short term as the orders and deliveries witnessed a decline in 2020. However, no long-term effect has been observed on the market as the charter service providers' (and other business jet providers') fleet modernization plans have not been hampered. Furthermore, the business jet activity witnessed a gradual increase in the second half of 2020 compared to the first half of the year due to restricted access for commercial aviation. The increase in business jet operations is expected to strengthen the demand for business jets is expected to increase in the coming years.
Approximately 1/3rd of the business jet fleets currently in operation are more than 10 years old. This is driving the business jet operators and charter providers to invest in fleet modernization programs and enhance their fleet's capabilities. This is expected to propel the growth of the market during the forecast period.
With the growth of the tourism sector in Latin America and Southeast Asia, many charter operators are making plans to introduce new charter routes in the regions and further expand their presence. This is generating demand for lightweight and fuel-efficient business jets.
Over the past few years, there has been a significant increase in high-net-worth individuals and ultra-high-net-worth individuals globally. This is generating demand for private travel, subsequently driving the procurement of private jets with enhanced cabin interiors.
While business travel has been slow to recover, leisure travel started to become more popular again in late 2020, with additional travel in 2022. Even with vaccine distribution and reduced restrictions, many people still don't trust commercial airlines for their personal and leisure travel needs. With a decrease in commercial airline travel trust, many flyers turned to private jets and aircraft in 2020 and have not returned to the airlines.
This trend of flyers utilizing private jets for personal and leisure travel rather than business travel picked up steam in 2021 and continues into 2022. In fact, July 2021 had the most private flights – 12,345 flights – since March 20, 2008. Many anticipate that business travel will become less important in the age of teleconferencing even when the threat of Covid-19 subsides. However, after extended times in lockdowns, the desire to travel in luxury and visit must-see destinations will likely only continue to increase as more and more locations open up.
In 2020, many travelers prized private jets for their privacy and ability to reduce contact with other flyers. In 2022, this trend is continuing, as the nature of private aviation keeps the volume of people aboard charter flights small. In addition to privacy, there are many evergreen benefits that private jet travel customers can harness. For example, in 2020, private and corporate aviation companies provided a diverse set of clients, from corporate workers to families, with faster travel and a more luxurious experience.
Overall, Covid-19 had a major impact on commercial and private flying in 2020. Though there was a decrease in flying commercially, the year represented a huge opportunity for private charter jets, as they could offer greater safety for flyers. All of the ways flying changed in 2020 is playing a huge role in 2022, with the industry poised to evolve significantly and set to grow as much as 10 per cent post-pandemic.
The attractiveness of private jet travel to many flyers has led to many private jet charter industry changes. These changes have affected both private jet owners and charter clients. For instance, many have seen private jet owners invest more in greater sanitation efforts and upgraded digital technology. Those in the private aviation industry also have seen more first-time flyers and clients traveling with their pets and children.