Begin typing your search...
As tomato prices soar, memes go viral on social media
Memers have a field day churning out funny memes depicting the price rise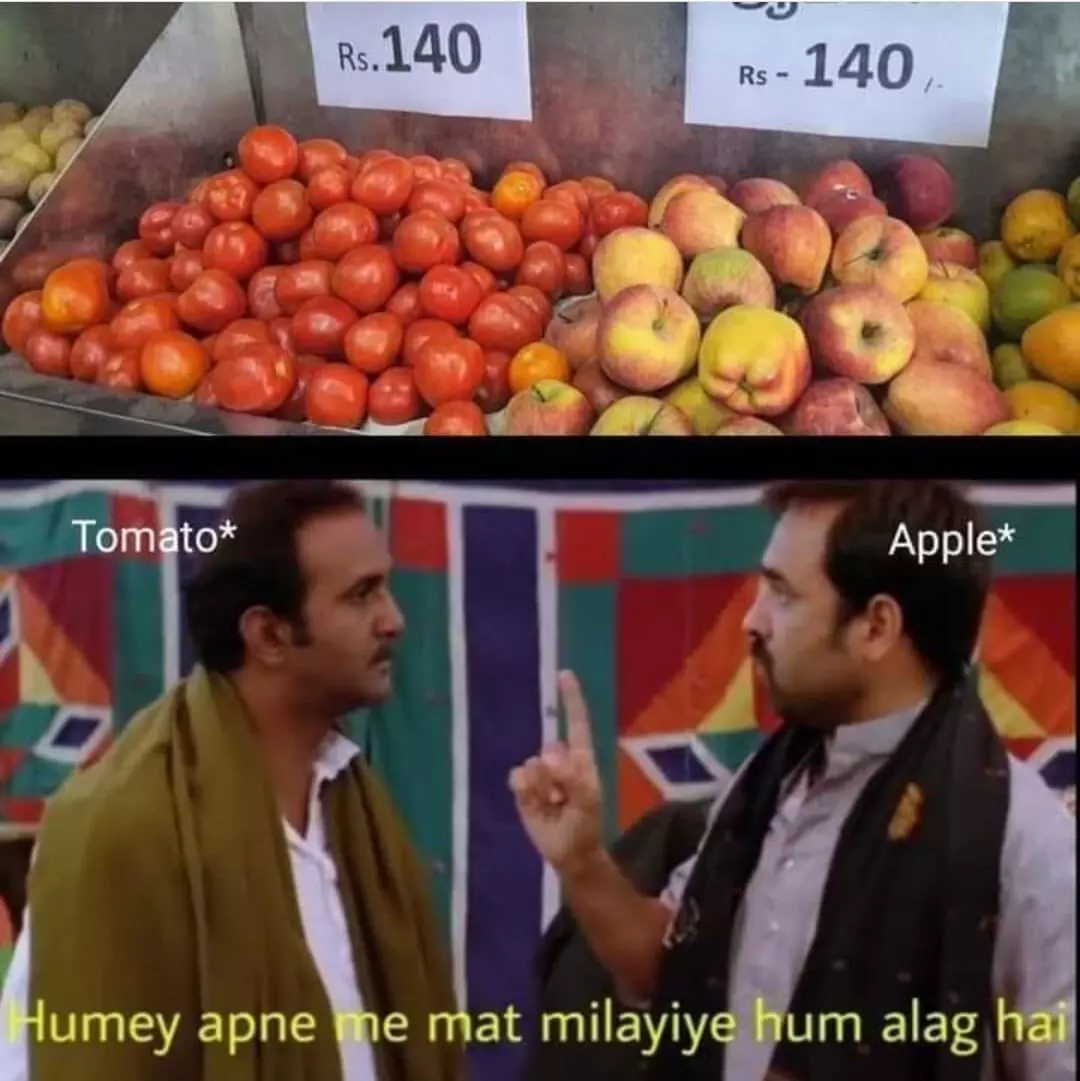 Hyderabad: With steep rise in tomato prices, the vegetable as become hot topic all over the country. Not to be left behind, netizens have flooded the social media with memes on ever-rising tomato prices.
Some netizens are comparing the prices of tomato with the petrol and other commodities especially in Delhi where tomato price is more than that of petrol.
Restaurant chain McDonald's decision to remove tomato from its offerings has become a viral news in TV channels and social media. The farmers are safeguarding the tomatoes from thieves after there was news that Rs 3 lakh worth tomato has been robbed from field in Hassan district, Karnataka. In Varanasi a tomato shop keeper has kept bouncers in front of the shop to protect the tomatoes from thieves has become viral in social media.
With tomato dominating headlines in recent times, memers are having a field, churning out funny memes on tomato prices. Here are some memes that have gone viral on social media
In one of the pictures on Twitter, a tomato showroom can be seen, the vegetable is nicely arranged in showcases, where the shop owners looking for the customers and a written statement in the shop says that a loan, EMI facility is available to buy the vegetable.
Tomato showroom
EMI/LOAN facility b hai#TomatoPrice

😆😆😜😜😂😂😝😝🤣🤣 pic.twitter.com/tB2DmkTEhX

— Ⓜ️🔴Hℹ️T 🅿️🅰️♈🅰️💲H🅰️♈ (@M1008P) July 9, 2023
A twitter handle AapannaHastham by Congress party shared a post saying that in the BJP regime where thieves become Hrithik Roshan for just tomatoes. That shared post consists of video of Dhoom 3 movie in which Hrithik steals the tomato but in original it was rare diamond. The party says from the video that tomato has become a diamond and thieves are stealing tomatoes.

𝗕𝗝𝗣 𝗿𝗲𝗴𝗶𝗺𝗲 𝘄𝗵𝗲𝗿𝗲 𝘁𝗵𝗶𝗲𝘃𝗲𝘀 𝗯𝗲𝗰𝗼𝗺𝗲
𝗛𝗿𝗶𝘁𝗵𝗶𝗸 𝗥𝗼𝘀𝗵𝗮𝗻 𝗳𝗼𝗿 𝗷𝘂𝘀𝘁 𝘁𝗼𝗺𝗮𝘁𝗼𝗲𝘀#Modi #Tomato #tomatoes #Dhoom2 #HrithikRoshan #shameOnBJP #Telangana pic.twitter.com/kOGm6WugpJ

— Aapanna Hastham (@AapannaHastham) July 9, 2023
One twitter user has posted a meme of three idiots movie scene where mother tells her son that tomato will be sold in gold shops.
83% of our workforce is employed in the informal sector.

For survival, many depend on selling things like fruits, vegetables, daily labour.

Despite the tomato/vegetable prices going up, how much do you think the farmers growing tomato would be making?

While there is no… pic.twitter.com/ulm2IVHhuP

— Akshat Shrivastava (@Akshat_World) July 8, 2023
Another Twitter user has shared a meme that tomato wants respects by beating a person that "Tamatar Nahi.. Tamatar Ji bol Tamatar Ji"
#funny #meme #memes #jokes #comedy #funnypictures #hindifunny #hindimemes #hindicomedy #hindijokes #desifunny #Tomato #TomatoPriceHike pic.twitter.com/V96ajm9r7h

— Desi Funny Funny (@desiFunnyFunny) July 6, 2023
In one of Instagram posts, a meme named as 'Attitude Level' where a man (tomato) has watching the others (petrol, iPhone, gold) in the ground. The meme shows the attitude of tomato compared to the petrol, iphone, gold as people are more concerned about prices of tomato.