Begin typing your search...
ISRO launches made in Hyderabad Dhruva nano-satellites into space
This comes as another feather to the cap of Indian Private Space Sector, just days after the historic launch of the first-ever privately designed and built Indian rocket – Vikram-S by Skyroot Aerospace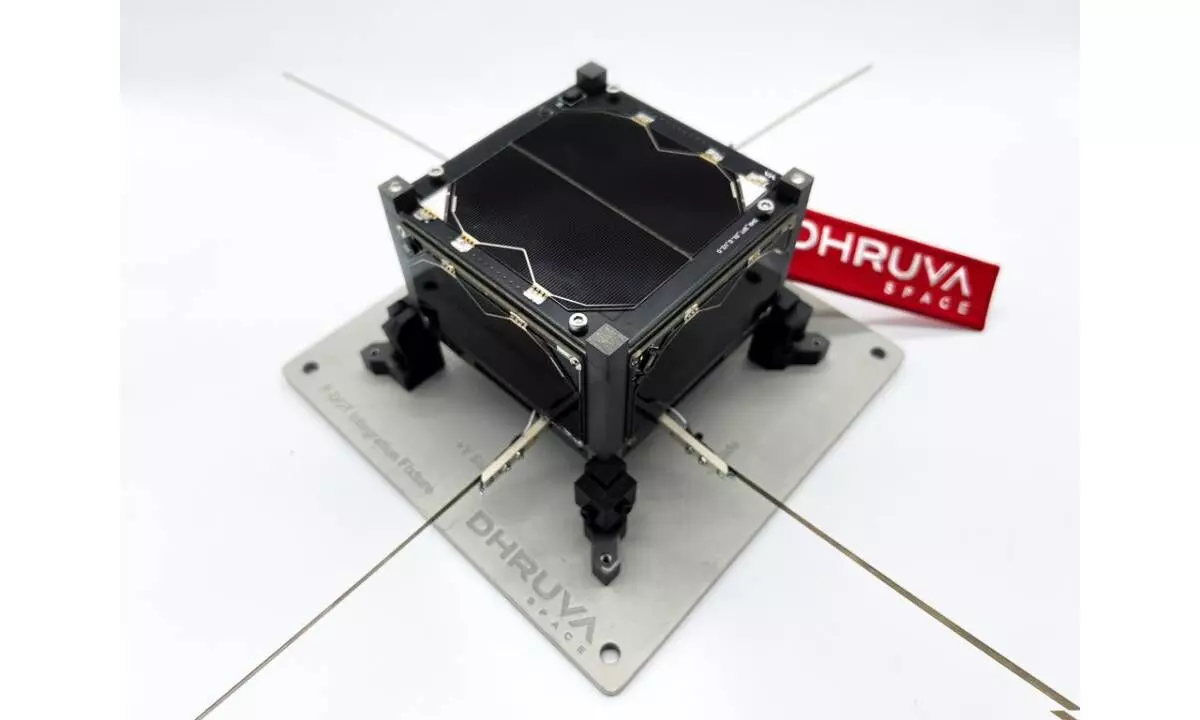 Hyderabad: The Indian Space Promotion and Authorization Centre (IN-SPACe) and ISRO on Saturday facilitated the launch of the Thybolt-1 and Thybolt-2 nano satellites from Dhruva Space onboard ISRO's PSLV C54. The satellite launch was part of the Thybolt Mission from the Hyderabad-based private firm and lifted off from Satish Dhawan Space Centre, Sriharikota, Andhra Pradesh.
Earlier in June 2022, Dhruva Space and Digantara became the first two space startups approved by IN-SPACe to launch their payloads in space. Following that, Dhruva Space's Satellite Orbital Deployer onboard PSLV C53 was approved and space-qualified under the supervision of ISRO and IN-SPACe. The same Deployer has been used to successfully execute this mission.
This is the fifth authorization granted by IN-SPACe – the autonomous, single window nodal agency working towards promoting, enabling, authorising, and supervising the space activities of Non-Governmental Entities (NGEs) in India. This comes as another feather to the cap of Indian Private Space Sector, just days after the historic launch of the first-ever privately designed and built Indian rocket – Vikram-S by Skyroot Aerospace.

Along with the Thybolt satellites, another satellite that went aboard the PSLV C54 was Anand (meaning joy) – a hyperspectral nanosatellite, and a technology demonstrator by Pixxel Space India. With successful launch of Anand, Pixxel now has 3 imaging satellites in space.
Dr Pawan K Goenka, Chairman of IN-SPACe, Department of Space, said: "We stand witness to yet another successful launch by ISRO today. For private space sector, it is indeed a remarkable feat as Dhruva Space and Pixxel successfully executed their missions. One of the first private firms to be granted approval for payloads launch by IN-SPACe, Dhruva Space is leading the way in the development of indigenous satellites, while Pixxel takes another step towards building a constellation of hyperspectral imaging satellites with the successful launch of Anand. These launches by Indian Start-ups will have significant bearing on Indian private sector's future endeavours in space."
The indigenously developed 0.5U satellites by Dhruva Space will contribute towards augmenting amateur communications and can be used for communication during disaster management, and low bit-rate applications of STEM and strategic importance. The firm's mission is supported by various Indian ham radio clubs such as - Star Fleet Amateur Radio Club, National Institute for Amateur Radio (NIAR), Indian Institute of Hams, Aniruddha's Academy of Disaster Management, West Bengal Amateur Radio Club, Indian Academy of Communication and Disaster Management, and SSM College of Engineering.
Sanjay Nekkanti, CEO, Dhruva Space private limited, said: "This is a moment we've long been preparing for and we're truly grateful to all the support IN-SPACe has given in bringing this mission to fruition - right from authorization to execution. We're also grateful to the Department of Space, ISRO, and NewSpace India Limited for their assistance."
Sanjay adds: "As a growing space-tech startup in India's rapidly changing private space landscape, fuelled by government reforms and pioneering efforts by IN-SPACe, Dhruva Space hopes this launch opens up newer horizons for us. We hope to be successfully executing our objective of making India's amateur communications ecosystem more robust and fuelling a more holistic dialogue about satellites."
Hyderabad-based Dhruva Space was founded way back in 2012 by Sanjay Srikanth Nekkanti and has been active as a provider of full-stack space engineering solutions for non-military and military purposes across the globe. With the Central government opening up the space sector for private participation in June 2020, and with authorization support from IN-SPACe, Dhruva Space and the other Indian space-tech start-ups have ventured into undertaking crucial space missions.
Pixxel, on the other hand, is working as a space data company, which pioneers in hyperspectral earth imaging satellites and analytical tools to mine insights from data.
The PSLV C54 carried EOS-06 (Oceansat-3) and eight nano satellites including - BhutanSat, and four Astrocast - from Spaceflight USA, alongside 'Anand' from Pixxel, and the two Thybolt satellites from Dhruva Space.
The launch set another benchmark in India's promotion of indigenous private space missions. IN-SPACe has already received more than 150 applications from Space NGEs for Authorization, Facilitation, and Promotion and more are on cards as India takes significant leap in space exploration.