Begin typing your search...
Google transforms communications for 3 generations: Sundar Pichai
Celebrating Google's rich history of events (the company will officially celebrate its 25th birthday later this month), Pichai said it's time for some gratitude, and a moment to reflect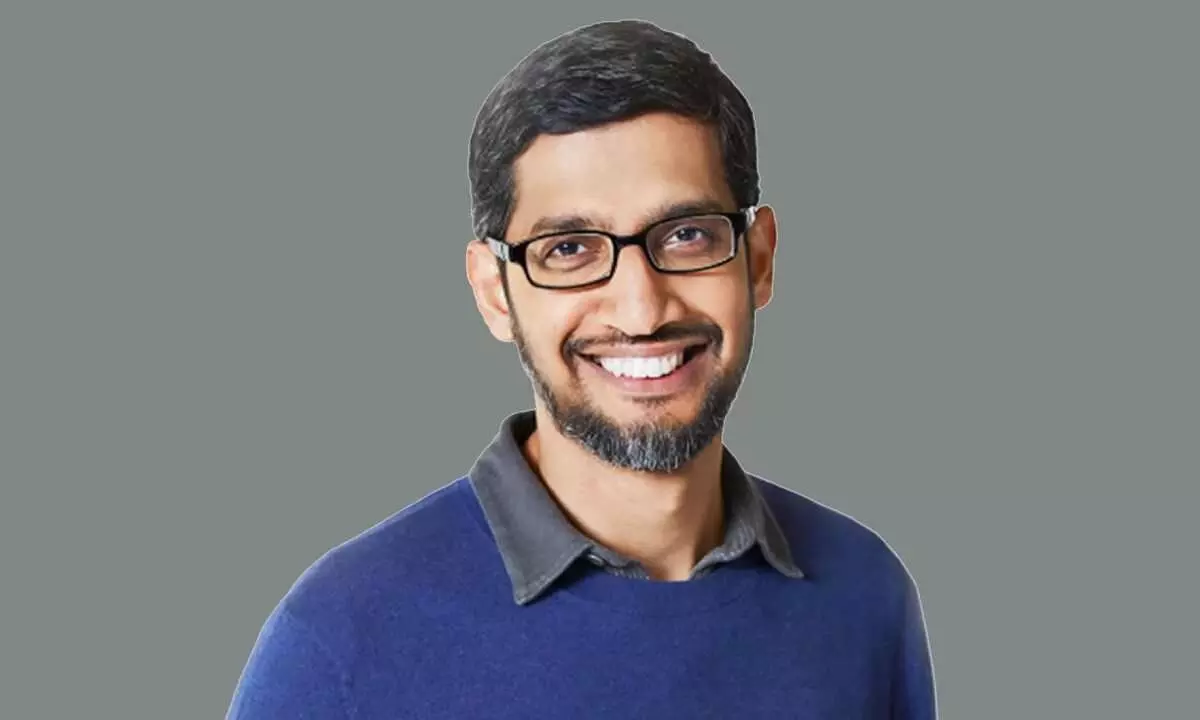 New Delhi: As Google celebrates its 25th birthday this month, its CEO Sundar Pichai has reminisced about how technology has changed the way we communicate, create and innovate. Celebrating Google's rich history of events (the company will officially celebrate its 25th birthday later this month), Pichai said it's time for some gratitude, and a moment to reflect.
"Years ago, when I was studying in the US, my dad -- who was back in India -- got his first email address. I was really excited to have a faster (and cheaper) way to communicate with him, so I sent a message.
"And then I waited…and waited. It was two full days before I got this reply Dear Mr. Pichai, email received. All is well," he wrote late on Tuesday.

Fast forward to a few months ago.
"I was with my teenage son. He saw something interesting, took some quick pictures and shared them with his friends. Then they exchanged a few messages, and it all seemed faster than the time it would take me just to pull out my phone," said Pichai.
"How I communicated with my dad all those years ago compared with how my son communicates today shows just how much change can happen across generations," he noted.
Google was founded on September 4, 1998, by American computer scientists Larry Page and Sergey Brin while they were PhD students at Stanford University in California.
The company -- now part of the parent group called Alphabet and run by Indian-origin Pichai -- has diversified into several tech streams and launched several products.

"Larry and Sergey first wrote down our mission 25 years ago: to organise the world's information and make it universally accessible and useful. The product they built, Google Search, went on to help billions of people around the world get answers to their questions," said Pichai.
Search is still at the core of the mission, and it's still the biggest moonshot with so much more to do, according to him.
"Of course, Google today is more than a search box. We have 15 Google products that each serve more than half a billion people and businesses, and six that serve more than 2 billion users each," Pichai informed.

The company rapidly grew to offer a multitude of products and services beyond Google Search, many of which hold dominant market positions like Gmail, Google Maps, Google Cloud, Chrome, YouTube, Workspace, Android operating system, cloud storage Drive, Google Translate), video chat app Meet, Pixel smartphones, Google Assistant, Bard AI and more.

Google has been investing in AI since almost the beginning. They were one of the first to use machine learning in their products, starting in the early 2000s.
"Now, generative AI is helping us reimagine our core products in exciting ways -- from our new Search Generative Experience (SGE), to 'Help Me Write' in Gmail. And earlier this year, we launched Bard, an early experiment that lets people collaborate with generative AI," said Pichai.
One million people are already using generative AI in Google Workspace to write and create. Flood forecasting now covers places where over 460 million people live. A million researchers have used the AlphaFold database which covers 200 million predictions of protein structures, helping with advances to cut plastic pollution, tackle antibiotic resistance, fight malaria, and more.
"We've demonstrated how AI can help the airline industry to decrease contrails from planes, an important tool for fighting climate change," according to Pichai. Pichai was appointed as CEO of Google on October 24, 2015, replacing Page, who became the CEO of Alphabet. On December 3, 2019, Pichai also became the CEO of Alphabet.
"Over time, AI will be the biggest technological shift we see in our lifetimes. And in 2048, if, somewhere in the world, a teenager looks at all we've built with AI and shrugs, we'll know we succeeded. And then we'll get back to work. Thanks for an amazing 25," he noted.