Begin typing your search...
AI and automation remain best bets to improve welfare of citizens
Despite being one of the fastest growing economies, India found wanting in job creation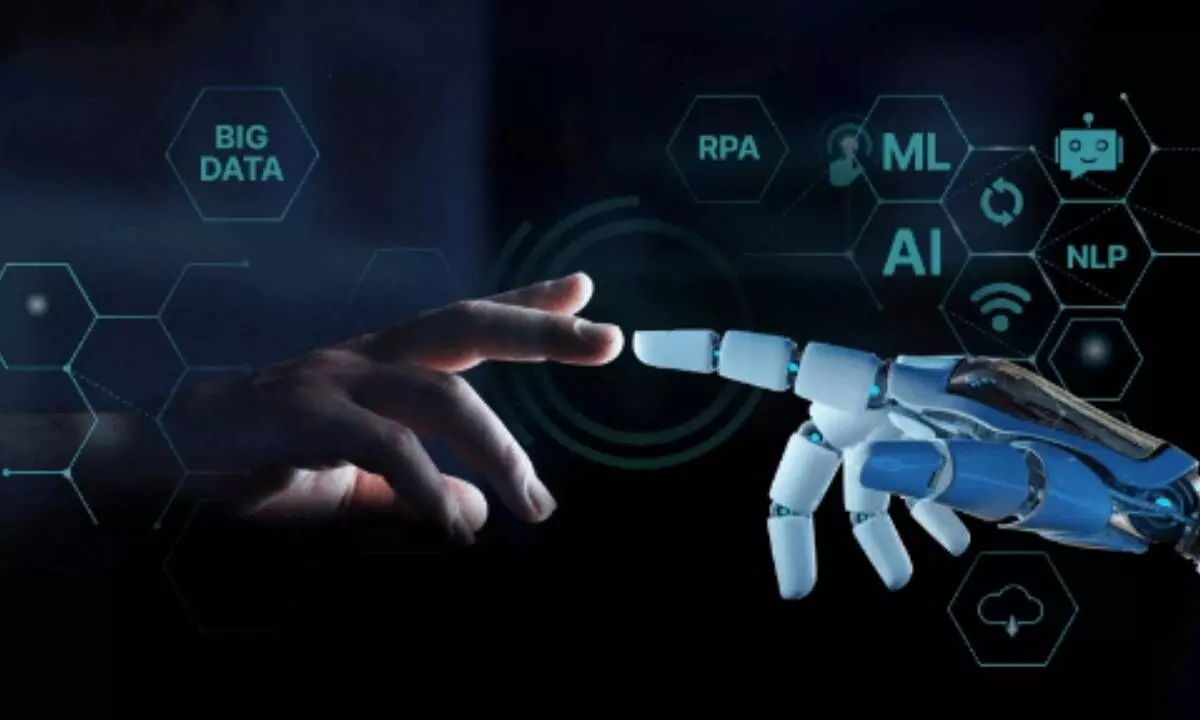 The relentless march of Artificial Intelligence (AI) and automation is driving countries to seriously reflect on the human cost of this advancement and examine ways and means of ameliorating the lot of those most affected by it. AI is no longer a fantasy but a reality which, while bringing considerable benefit to people, is at the same time making many occupations and professions obsolete and redundant and rendering thousands jobless. According to reports, a recent study by Goldman Sachs estimated that the world could witness obsolescence of 300 mn jobs in the coming decade, thanks to AI-led automation. The consulting firm, McKinsey, has made a dire prediction of 800 mn job losses in the coming years.
In India, too, alarm bells are being sounded about potential job losses arising from increased automation. Market analytics firm, Forrester, published a report in 2022 stating that 69% of jobs in India are under threat due to automation. There have been similar reports of impending job losses. Many tech firms in India have already experienced job cuts due to AI backed automation.
To be sure, new jobs are also created by AI, but these require special skills which are seldom immediately available. Therefore, despite the fact that India is one of the fastest growing economies in the world, with a growth rate of 6.1% in 2023 and projected at 6.4% in 2024, job creation has been lagging. CMIE reported an unemployment figure of 8.5% in April 23, up from 7.8 % the previous month. High GDP growth without a concomitant increase in employment is leading to sharpening of inequality of income and wealth, with a small minority, the beneficiaries of AI led growth, accumulating massive wealth. This phenomenon of the benefits of AI-fed growth passing on to relatively few is global and not confined to India.
Policy makers around the world are worried about the fallout of the AI led revolution on people, who will be deprived of not just their means of livelihood but also of their dignity. Globally, most discussions on AI led growth focus on Universal Basic Income (UBI) as a way to tackle the problem. Though by no means a settled issue, many countries are veering around to the view that UBI appears to be the best solution. UBI received a boost during the Covid crisis when policy makers were made aware of the vulnerability of large sections of populations to the shocks of the pandemic. Since then,many pilot UBI projects have been launched in USA, Finland, UK and Canada, among others and the decks are being cleared for similar launches in many other countries.
What lends weight to UBI, especially in the developed countries, is its endorsement by leading tech companies and entrepreneurs likeElon Musk, Sam Altman of Open AI, Bill Gates and others. They agree that there would be rapid job losses arising from AI-led automation and that only a few companies and individuals would benefit, and advocate UBI to compensate those adversely affected by the tech wave.
While UBI could be a solution to the looming unemployment problem in the developed countries which generally have small populations and high incomes, it may not be suitable, at least in the near future, for developing nations such as India. UBI is intended to provide an unconditional amount sufficient for basic needs to all citizens.
This would be a very heavy burden to bear for countries like India. Instead, welfare measures aimed at meeting contingencies of employment, disability, reskilling and old age income security can be and are being introduced. Looking to the inevitability of job losses in future and limited scope for new employment creation, many State Governments have decided to launch schemes that provide relief and succour to people in times of unemployment and distress. Rajasthan is the first State to legally entitle its citizens to these benefits, through the recently passed legislation which seeks to provide minimum guaranteed employment to both rural and urban residents, a minimum guaranteed income and a minimum guaranteed pension. Several other States have introduced welfare measures for the urban and rural segments like Karnataka, Odisha, Jharkhand and Kerala to name a few.
It is becoming increasingly clear that large sections of the population will be exposed to the ravages of tech driven growth and politicians and policy makers will have to come up with answers very soon. Some States have taken the lead in finding a solution through various welfare schemes. The others need to likewise act, and act soon.
(The author is former chairman of Pension Fund Regulatory and Development Authority (PFRDA))