Begin typing your search...
YSRCP, TDP locked in political war over cases
Police cases booked against Naidu, others for violation of GO No.1; permission for public meeting in Anaparthi withdrawn amid traffic congestion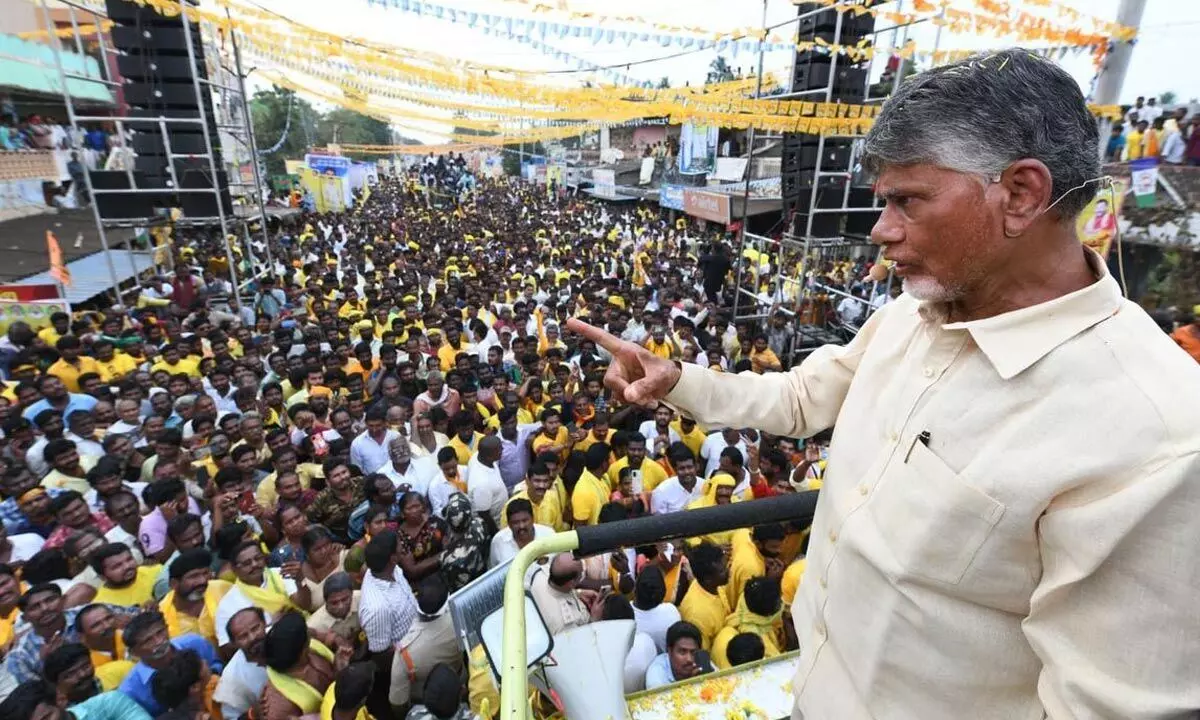 - Congregation of large crowd leads to obstruction of traffic
- Police suggest the organisers to hold meetings at two alternative venues
- Naidu goes ahead by holding a roadshow walking a distance of eight km
- Cases registered under Sec 143, 188, 353 and 506
- TDP alleges breakdown of constitutional machinery
Visakhapatnam: A high-voltage drama is unfolding in Andhra Pradesh with Telugu Desam Party declaring a war against the YSRCP Government following withdrawal of permission granted to hold a public meeting by Leader of Opposition N Chandrababu Naidu at Anaparthi and booking of police cases against Naidu and several other senior leaders for violating Police Act and GO No. 1 and the YSRCP defending action saying everyone is equal before law.
Senior TDP leaders who observed protests against Anaparthi incident across the State also threatened to fight legally against the cases booked against Naidu and several others.
Ignoring the permission given for a meeting at Anaparthi in Kakinada district on Friday evening, Naidu went ahead by holding a roadshow walking a distance of seven to eight km in mobile phone torch lights used by party cadres after the police switched off power connection and generators. The police also tried to stop his convoy by parking vehicles on the road following which Naidu and his supporters decided to reach Devichowk of Anaparthi by foot amid raising of slogans against the government.
After the incident the police on Saturday registered cases under various sections of IPC which included Section 143 (unlawful assembly), 188 (disobedience), 353 (assault or criminal force to deter public servant) and 506 (criminal intimidation). Besides Naidu, cases have been framed against former Home Minister Nimakayala Chinarajappa, senior leaders K S Jawahar, Gollapalli Surya Rao, A Swamy Naidu, Jyothula Naveen and Nallamilli Ramakrishna Reddy.
After the incident, Naidu declared complete non-cooperation against the government alleging the police were being forced to act as per orders passed by YSRCP general secretary Sajjala Ramakrishna Reddy and 'psycho' Chief Minister Y S Jagan Mohan Reddy.
"There is breakdown of constitutional machinery and the present government is repeatedly indulging in vendetta politics against Opposition leaders," alleged TDP State president K Yerran Naidu. CPI State secretary K Ramakrishna and other Left leaders also condemned the police action in trying to prevent Naidu from holding a public meeting after giving due permission.
However, Housing Minister Jogi Ramesh and East Godavari YSRCP district president K Kannababu told media separately that TDP president Naidu was not above law and due to disruption caused to traffic during his roadshow, the police withdrew permission granted to hold a meeting at Anaparthi.
The government issued GO No. 1 after two fatal stampede incidents in the State at Naidu's roadshows restricting holding meetings on highways, panchayat and R&B roads and narrow lanes.
"We withdrew the permission sought by Nallamilli Ramakrishna Reddy for Naidu's meeting due to parking of a large number of vehicles on the road and congregation of large numbers of people leading to obstruction of traffic on the main thoroughfares. We did intimate the withdrawal of permission given to TDP and suggested the organisers hold meetings at two alternative venues. However, they rejected our request, assaulted policemen from discharging their duties, attacked them and damaged our vehicles," IG of Police, Eluru Range G Palaraju said. The police received complaints from DSP Bhaktavatsalam and CI V Srinivas.