Begin typing your search...
Will Imran Khan leave Pak or live behind bars?
Who would have imagined that the nation would revolt against Army. It is considered as the saviour of the country. Their many-many establishments are burnt down. This is an unbelievable situation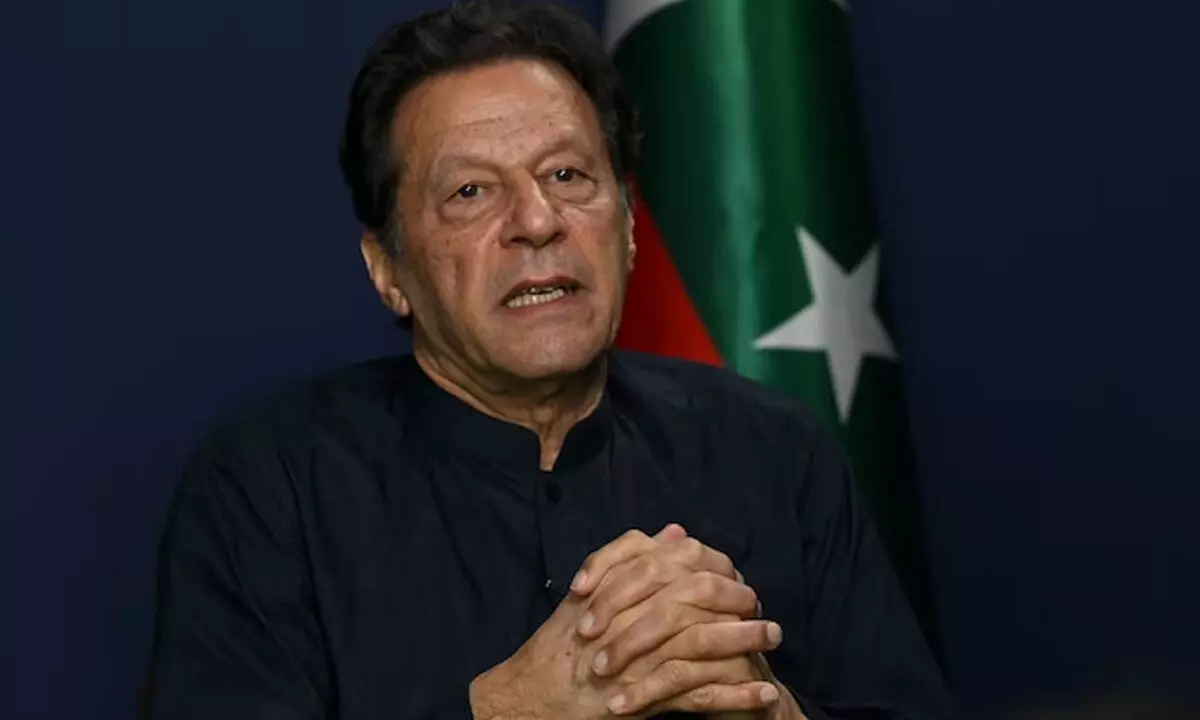 Never in his long career as a sportsperson to political leader, Imran Khan has ever faced such a grim situation as he is in currently. Even though he got bail from the Supreme Court in the alleged corruption case, both Shabaz Sharif government and Army are after Imran khan to tame him forever. As that was not enough, his party leaders are deserting him.
Leave apart Mohammad Ali Jinnah and Allama Iqbal, arguably the two tallest icons of Pakistan, perhaps no other individual has made deep impact on the life of people of Pakistan as deeply Imran Khan in the last half- century. That was very much evident as Pakistanis were on rampage against the arrest of former Prime Minister on the alleged corruption charges. The angry nation sees their hero is the victim of nefarious role jointly played by the Rawalpindi based Army bosses and the political leadership. Things are rather serious in Punjab, the life and soul of Pakistan, and Khyber Pakhtunkhwa commonly abbreviated as KP or KPK. It is home to tough Pathans. Imran Khan's Pakistan Tehreek-e-Insaf (PTI) has a formidable support base in both these provinces and he banks on the support of their people. They too never disappoint the Pathan leader.
Well, that support gives Imran Khan strength to take Army and his political rivals head-on since his ouster from the post of Prime Minister. Even when he was the Prime Minister, he was not toeing the line of all -powerful Army blindly. That's something the Army also refered as establishment there has never imagined and faced in the history of Islamic country carved out of India. There writ always prevails there at least since 1962 when Midnapore born Huseyn Shaheed Suhrawardy was arrested by Aligarh Muslim University alumnus Gen Ayub Khan in a military coup. Remember, Suhrawardy was the Prime Minister of Bengal when great Calcutta killings took place in 1946. Of course, his arrest was the beginning of Army's vice like grip on the political affairs of Pakistan. Later, it arrested Zulfikar Ali Bhutto. He was sentenced to death and executed on April 4, 1979. Of course, it all happened under the watchful eyes of Jalandhar born General Zia ul Haq. Imran Khan too traces his roots to Jalandhar's Basti Danish Manda where his family established Islamia College too.
Later, Bhutto's daughter, Benazir Bhutto, Nawaz Sharif and Shahid Khaqan Abbasi were also arrested in connection with corruption charges by the National Accountability Bureau (NAB) for alleged corruption.
Interestingly, while Pakistan's first Prime Minister, Liaquat Ali Khan, was never arrested, he was assassinated on October 16, 1951. Liaquat Ali Khan was the finance minister in the interim government headed by Pt Jawaharlal Lal Nehru in 1946 and he even presented the budget that was known as 'anti Hindu businessmen budget.' His death remains a mystery, though it is said that Army hatched a plan to finish him.
However, Pakistan had never reacted so sharply to the arrest of these leaders so angrily. Who would have imagined that the nation would revolt against Army. It is considered as the saviour of the country. Their many-many establishments are burnt down. This is an unbelievable situation.
The nation is in a combative mood as majority of people have been seeing ray of hope in him. He has been giving his country laurels and building hospitals when everything was going from bad to worst. They knew he has the capacity to make huge changes in the country not without any reason. After all, he has a spotless career. He believes in fair play and justice. These virtues are integral part of his personality. They are very dear to him. In 1986, Imran Khan as captain of the Pakistan cricket team, invited Indian umpires to officiate Pakistan's test match against the West Indies in Lahore. It was the first time that neutral umpires stood in a Test match.
Almost two decades back on November 4, 2004, Imran Khan was going to Delhi's Jama Masjid with his old pal, Muneeb Iqbal, and your's truly. The winter chill was there, yet Imran Khan was feeling fine in his blue shirt and black trouser. For a change, he was speaking in his mother tongue, Punjabi. As car was moving on Lutyens Delhi roads, he said replying to a question, "I cannot accept injustice or unfair play at any cost whatsoever. When I became captain of Pakistan, I dropped my hero and cousin brother, Majid Khan, from the side as he was not performing well. When we built Shakut Khanam hospital, my father used to look after the affairs of it. But, when I realized that age is catching up and he is not doing justice with his job, I requested him to stay at home."
But, power politics is different. It is all about compromises, managing things and giving space to others, including to your critics and detractors as well. But, Imran Khan often is a very stubborn character. Somehow, he feels that only he can change Pakistan. He is the only honest guy in Pakistan. That's the problem with him. Alas, he makes more enemies than friends. He fights with his political rivals and he fires salvoes on Army. And imagine he could not develop long standing cordial ties with Qamar Javad Bajwa, the army Chief who was responsible for his becoming the Prime Minister.
Now, Pakistan is boiling and his party leaders like Shah Mehmood Qureshi and Fawad Choudhary are also arrested, things look very bleak for Imran Khan as of now. The Army Chief Asif Munir must be thinking to settle his score with Imran Khan as he had cut short his (Munir) stint as head of ISI in 2019, replacing him with his favourite Faiz Hamid. Imran Khan was keen to make Hamid as the new Army chief after Gen Bajwa. He could not do so as his government fell in last April, 2022. What next for Imran Khan? Perhaps only judiciary can save him. It is possible that he would leave Pakistan in some deal with his detractors.
(The author is Delhi-based senior journalist and writer. He is author of Gandhi's Delhi which has brought to the forth many hidden facts about Mahatma Gandhi)