Begin typing your search...
Why the world betting on India to secure its global mineral supply chain?
By including India in the MSP, the world has given its verdict that it sees Bharat as a reliable partner dedicated to safeguarding the integrity of the global mineral supply chain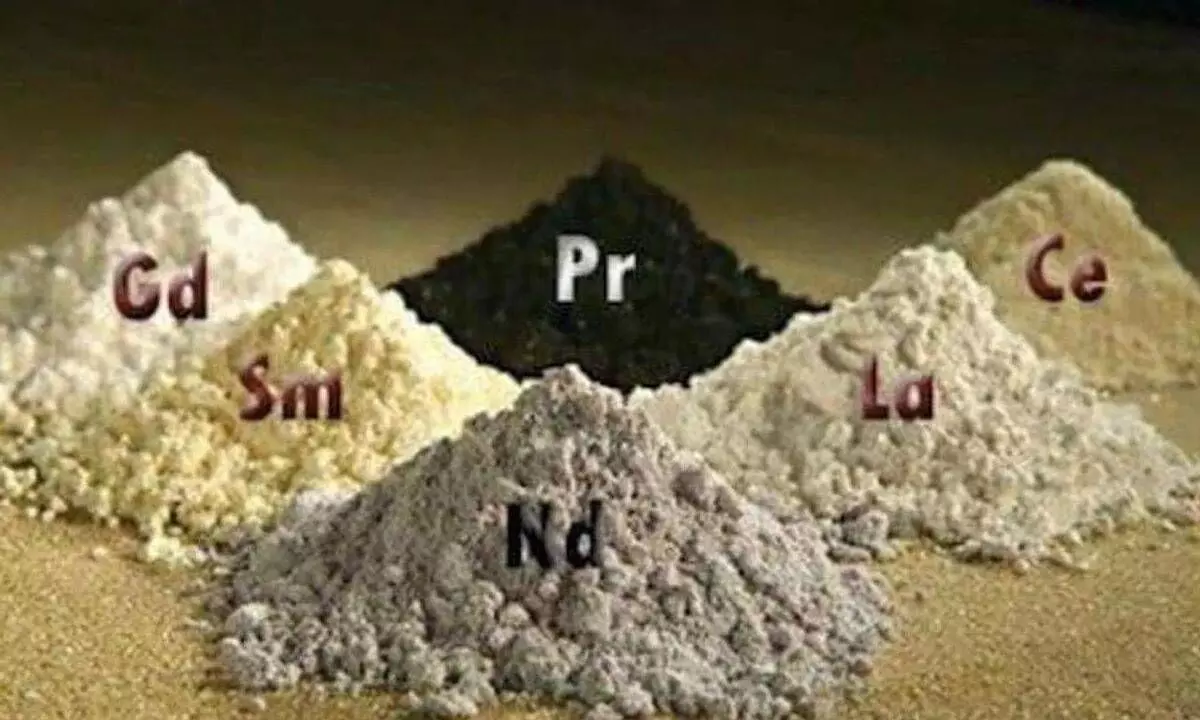 Hyderabad: When Prime Minister Narendra Modi proclaimed that India is "guaranteed" to become the world's 3rd largest economy, his confidence was not merely a political statement but a highly likely reality. His certainty appears to be grounded in the data derived from the International Monetary Fund (IMF), which has forecasted India's remarkable climb to the third position by 2027, surpassing both Germany, currently the fourth-largest economy and Japan, which holds the third spot. Over the next decade, India faces a formidable challenge in its pursuit to be a major player in the global economy. To accomplish this ambitious goal, India must focus on various key aspects, including establishing itself as a dependable source and supplier of "strategic minerals."

For this, India will have to prioritise transparency and reliability in the global mineral supply chain without attempting to monopolise global natural resources, in stark contrast to China's approach, which sought to exert dominance and control over international mineral reserves to hold the world, hostage.
Announces India's induction into the Mineral Security Partnership (MSP), a transnational association whose members seek to secure a stable supply of raw materials for their economies; the U.S., Under Secretary Jose W. Fernandez, twitted, "Thrilled to welcome #India as the newest partner of the Minerals Security Partnership (#MSP)!"
MSP was launched at the world's largest mining event in Toronto in June 2022. The elite critical minerals club, also known as the 'Critical Minerals Alliance', was formed to break "the dominance and reduce dependence on China" for the mining and processing of rare earth minerals. This minerals partnership initiative aims to meet the increasing demand for essential minerals and secure its supply chain. At the same time, the members have pledged to engage "high environmental, social and governance" (ESG) standards that will catalyse public and private investment in critical mineral supply chains globally. This starkly contrasts the Chinese mining model that employs unethical practices, and the same has been flagged for abuses by the Business & Human Rights Resource Centre (BHRRC), a corporate watchdog that "tracks the local impact of thousands of global businesses."
As of July 2023, the US-led MSP collaboration includes 14 countries; Australia, Canada, Finland, France, Germany, India, Japan, South Korea, Sweden, the United Kingdom, the United States, and the European Union. China is the only major economy out of the list as the 'minerals group' aims to counter the Dragon Nation's hegemony over critical mineral wealth.
What does India gain from the partnership?
New Delhi will have access to the expertise and experience of MSP member countries who can help accelerate the exploration and development of critical minerals (mining) projects in India. Besides, partnering nations could provide state-of-art "upstream and downstream facilities" to upgrade extracting, processing and refining technology to process critical minerals. The goal of the MSP is to ensure that vital minerals are being "produced, processed, and recycled in a manner that supports the ability of countries to realise the full economic development benefit of their geological endowments."
India's inclusion into the MSP comes at a highly opportune moment, bearing immense importance and perfect timing. This development aligns perfectly with New Delhi's strategic vision for economic progress, which revolves around assuming a central role in chip manufacturing - which is a vital element that spans diverse sectors, ranging from mobile phones to space technology.
There are 12 strategic minerals that hold significant importance, including tin, cobalt, lithium, germanium, gallium, indium, niobium, beryllium, tantalum, tungsten, bismuth, and selenium. Among these, Gallium arsenide is a widely utilised material for high-performance chips due to its remarkable heat and moisture resistance. Alongside Gallium arsenide, silicon, germanium, and gallium arsenide are the most prevalent semiconductor materials used today, with silicon being the foundational material for most chips.
In a short span of eighteen months, India has made immense progress in the semiconductor industry. It has set a target to enable 100 semiconductor design startups by 2024. The government has earmarked Rs 76,000-crore incentive scheme for the chip-making sector, which in turn has supported the significant jump. Further, India's inclusion into MSP will help pole vault New Delhi's quest to be a notable semiconductor nation.
Which Indian industries will benefit from MSP?
Rare Earth Elements (REE) are the building blocks of modern-day technologies which are used in many industries, including aerospace, defence industry, electronics, electric vehicles, semiconductors, telecommunications, and security technologies.
Access to cutting-edge technology, funding and expertise to process REE will help boost India's ambition of rolling out sustainable mobility in public and private transportation, developing clean energy, and scaling up the manufacturing technologies for solar panels, wind turbines.
How did Bharat win global trust?

Whether sharing space technology with SAARC nations or showcasing its global responsibility during the COVID crisis by distributing critical vaccines, or fulfilling its responsibility as a first responder during natural calamities without favour or prejudice, India has demonstrated its commitment to its Vedic values in the belief of "Vasudhaiva Kutumbakam" - meaning the world is one family. Such selfless acts have earned Bharat the trust of the world.
India and other major economies depend heavily on China for their minerals supply chain needs, and President Xi has used this advantageous position solely for his country's benefit. However, a transformative shift is expected with India's inclusion into the MSP. This move will establish India as a prominent player in the semiconductor industry and, more significantly, as a dependable partner dedicated to safeguarding the integrity of the global minerals supply chain.