Begin typing your search...
Vizag to get new tourist points under `220 cr plan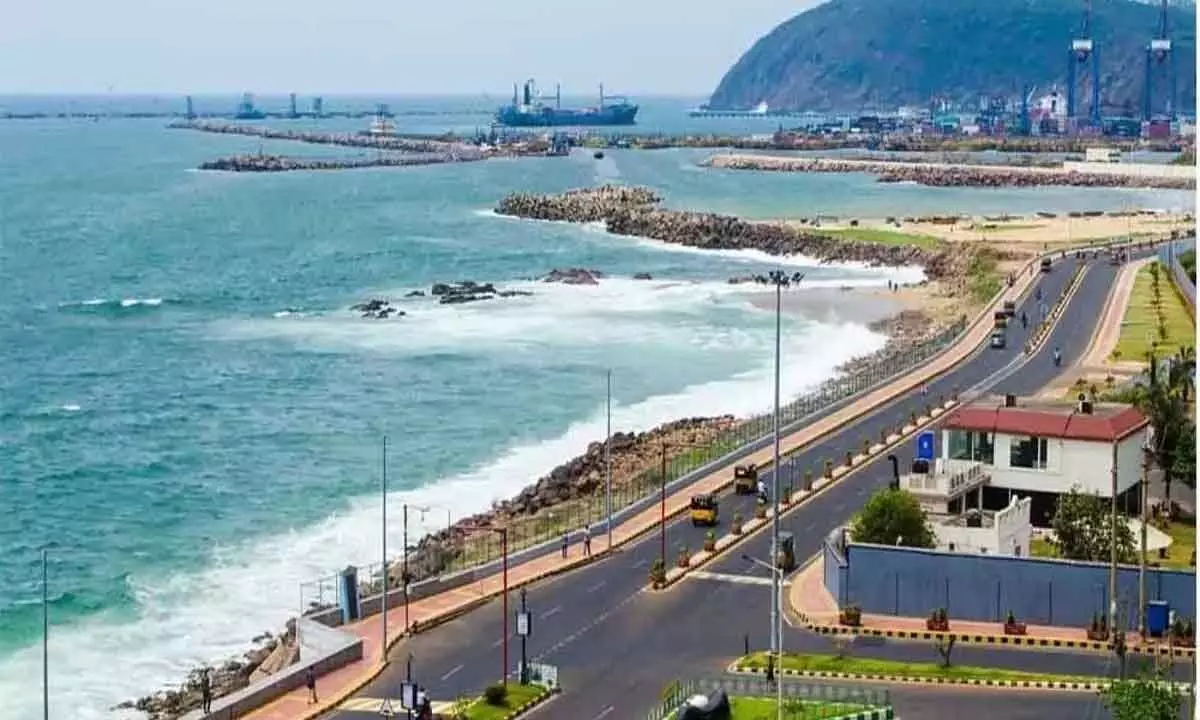 Visakhapatnam: As part of its grandiose plans to transform the 'City of Destiny' into a prominent tourist hub, Visakhapatnam Metropolitan Region Development Authority (VMRDA) is going ahead with an exercise to invite Request for Proposals (RFP) for development of a star hotel, international convention centre and a few recreation facilities with an investment of Rs 220 crore at the sea-facing erstwhile MGM Theme Park.
A senior official of VMRDA told Bizz Buzz on Tuesday that the project will be implemented under the Public Private Partnership (PPP) mode. As part of the project, VMRDA has already announced its decision to develop a grand ocean deck in the same area at an estimated cost of Rs 7.8 crore. The deck will have 50 metres of structure on the beach and another 50 metres towards the waterfront area providing an opportunity to visitors to take selfies/video clips of the spectacular view of the ocean and attend meetings at a mini conference hall. The cafeteria will be housed in the ground floor and view point on top of it. After approval by the board, the State Government has also cleared the project.
It has plans to develop a dinosaur amusement park, five seasons theme park, water world, glass skywalk, revolving restaurant, hot air balloon rides under public private partnership.
After a recent board meeting, District Collector Dr A Mallikarjuna, who is also holding additional charge of VMRDA Metropolitan Commissioner, said the ocean deck modelled on the basis of a successful experiment in Mumbai, will be developed on a fast-track mode within a period of nine months.
It is for the first time that VMRDA has decided to take up construction of a star hotel with a magnificent view of the sea. The project site is adjacent to the VMRDA Park, the largest park in Andhra Pradesh, which was beautified some time ago in an area of 37 acres.
VMRDA Master Plan also envisages preservation of heritage sites so as to promote heritage tourism. Beach tourism is also ready identified as a thrust area for boosting revenue by the State Government. The plan proposed to widen the beach road from 17th century Dutch township of Bheemilipatnam to Bhogapuram, where GMR Group is developing a greenfield international airport with the first phase project at a cost of Rs 5,000 crore. VMRDA is planning to develop tourist nodes at the confluence of Mulakodu near Bheemunipatnam where Visakhapatnam Port Authority owns the beachfront area and Konada beach in Vizianagaram district. Besides resilient city planning and green satellite townships to decongest the city, VMRDA in its Master Plan wants to develop theme-based projects and economic activity at satellite townships of Nakkapalli, Bheemunipatnam, Parawada and Atchutapuram.