Begin typing your search...
Vizag among four cities selected for development as growing metropolis
As part of India's $5 trn economy plan, NITI Aayog plans to develop 20 metropolises, with blueprints for Mumbai, Surat, Varanasi, and Visakhapatnam in the first phase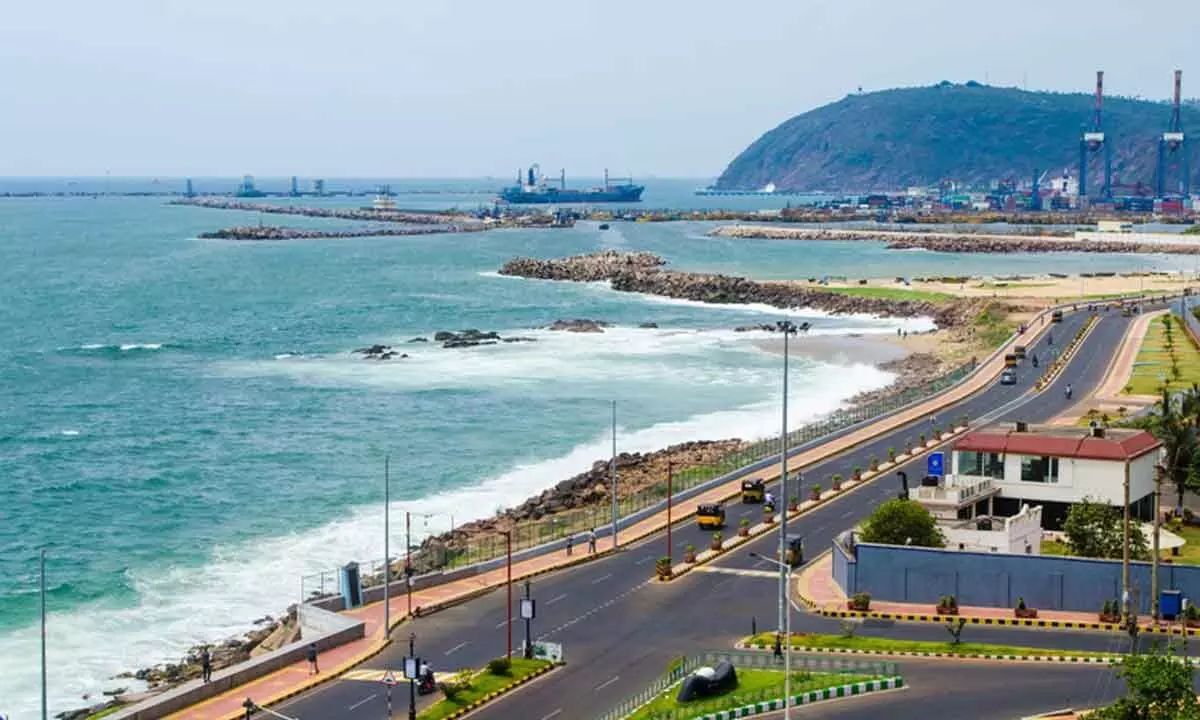 ♦ State govt to set up experts' panel for Vizag's IT, financial hub plan
♦ Vizag is the ninth richest city in India with an estimated GDP of $43.5 bn
♦ The city was also a major contributor in AP's growth
Visakhapatnam: Visakhapatnam, the proposed executive capital of Andhra Pradesh, finds a place in the list of four among 20 cities identified by the NITI Aayog, the premier policy think-tank of the Government of India, for development as a growing metropolis as part of the $5 trillion economy.
NITI Aayog has hinted at preparing a blueprint for an economic master plan for Mumbai, Surat, Varanasi and Visakhapatnam. The State Government is also in the process of setting up an experts' committee to implement a plan of action for development of Visakhapatnam as a prominent industrial, IT and financial hub, a senior official told Bizz Buzz.
Visakhapatnam is said to be the ninth richest city in India with an estimated GDP of $43.5 billion. The city was also a major contributor in Andhra Pradesh's growth. The State recorded 16 per cent growth in 2022-23 with a GSDP of Rs13 lakh crore, according to the SBI Economic Research Report.
The plan of action for development of 20 cities across the country will focus around seven pillars of NITI Aayog which include pro-activity, people-friendly approach, participation, inclusion of all, equality and transparency. NITI Aayog CEO BVR Subrahmanyam discussed various issues pertaining to the city's development as a pilot project with the officials of Visakhapatnam Metropolitan Region Development Authority (VMRDA), Greater Visakhapatnam Municipal Corporation (GVMC) and Industries Department here on Tuesday.
The CEO later said Visakhapatnam with port, road, rail and air connectivity has tremendous potential for rapid development. At the meeting, GVMC Commissioner CM Saikant Verma gave a power-point presentation on development of service sector, tourism, city planning, underground drainage, LED street-lighting, solid waste management and disposal, education, public health and various schemes undertaken under the smart city project.
Visakhapatnam Port Authority (VPA) Chairman M Angamuthu said the city has emerged as a nerve centre of import and export cargo from Andhra Pradesh, Telangana, Odisha, Jharkhand, Chattisgarh and other parts of the huge hinterland.
The development of Visakhapatnam also figured when NITI Aayog Additional Secretary V Radha, along with her colleagues, called on Chief Minister YS Jagan Mohan Reddy at Tadepalli camp office last month.
At the meeting, the Chief Minister discussed the issues of development and welfare policies with the delegation. "It's a welcome development that Visakhapatnam is among the four cities selected for urbanisation and industrialisation in the country," he told the delegation and explained that the State Government is trying to place Visakhapatnam on the global map by developing Bhogapuram International Airport, Mulapeta Port, Adani Data Centre, Inorbit Mall and other mega projects.
The delegation was also informed of the reforms being implemented in agriculture, education and health and medical sectors, establishment of Rythu Bharosa Kendras, village and ward secretariats, implementation of Nadu-Nedu and development of other infrastructure development projects.
The NITI Ayaog officials requested the State to submit a comprehensive report highlighting development and reforms being implemented.