Begin typing your search...
US, India discuss tech collaboration in AP
Andhra University hosted Sean Ruthe, Chief Political and Economic Section of US Consulate General, Hyderabad for the dialogue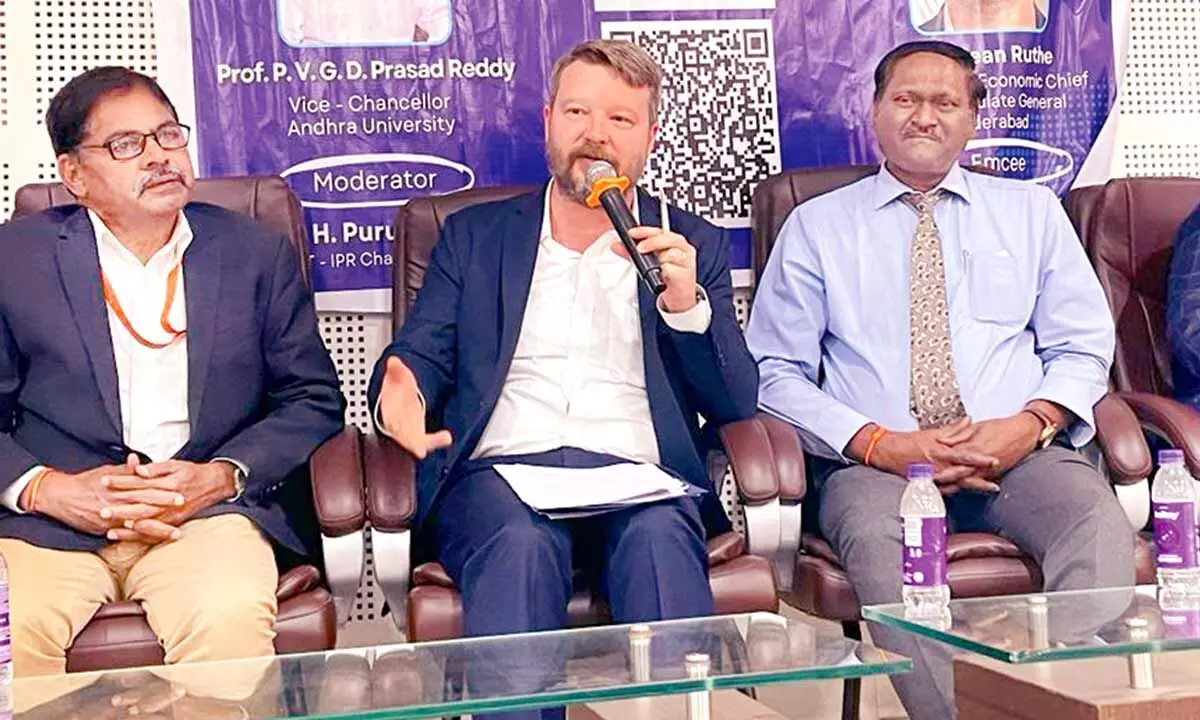 Visakhapatnam: The American Corner and DPIIT-IPR Chair Centre for Intellectual Property Rights of Andhra University hosted Sean Ruthe, Chief Political and Economic Section of US Consulate General, Hyderabad to have a dialogue on 'US- India Tech Collaboration' here on Tuesday.
Sean Ruthe in his address presented the key aspects and priority areas of the bilateral US-India initiative on critical and emerging technology (iCET) announced recently by President Joe Biden and Prime Minister Narendra Modi. He stated under this initiative establishing 'innovation bridges' in key sectors including organising joint expos, hackathons and pitch sessions are being planned to promote innovation and startups.
He informed that the Department of Science and Technology, Government of India is the nodal agency for implementing the strategic iCET partnerships and the new ideas for collaboration can be shared with DST for inclusion in the collaboration.
Prof V Krishna Mohan from Marketing Management and Prof M James Stephan, mentor of American Corner while welcoming the guest said collaborations are key to development of organisations and nations particularly in the area of R&D, technology development and transfer.
Prof Hanumanthu Purushotham DPIIT-IPR Chair moderated the deliberations. Prof Purushotham as a moderator raised several questions to Sean seeking clarifications on wide range of issues like the challenges in implementing such bilateral collaborations, experiences of US in digitising education, skills required in young Indian diaspora to occupy coveted positions in US Government, corporates and politics, need for climate finance, putting India's name in the USTR's annual 301 report saying India's IPR regime is poor, though India's IPR regime is TRIPS-compliant and robust.
The students also sought clarifications such as including agriculture as one of the priority areas under the iCET, easy transfer of technologies and promoting products of startups in the US markets and vice versa and opening a US Consulate branch office in Visakhapatnam for speedy disposal of Visa applications.