Begin typing your search...
Tension in Pakistan as Imran Khan arrested
Upon his arrival at the Islamabad High Court, the Pakistan Tehreek-e-Insaf chief was arrested in Al-Qadir trust case and taken to the NAB office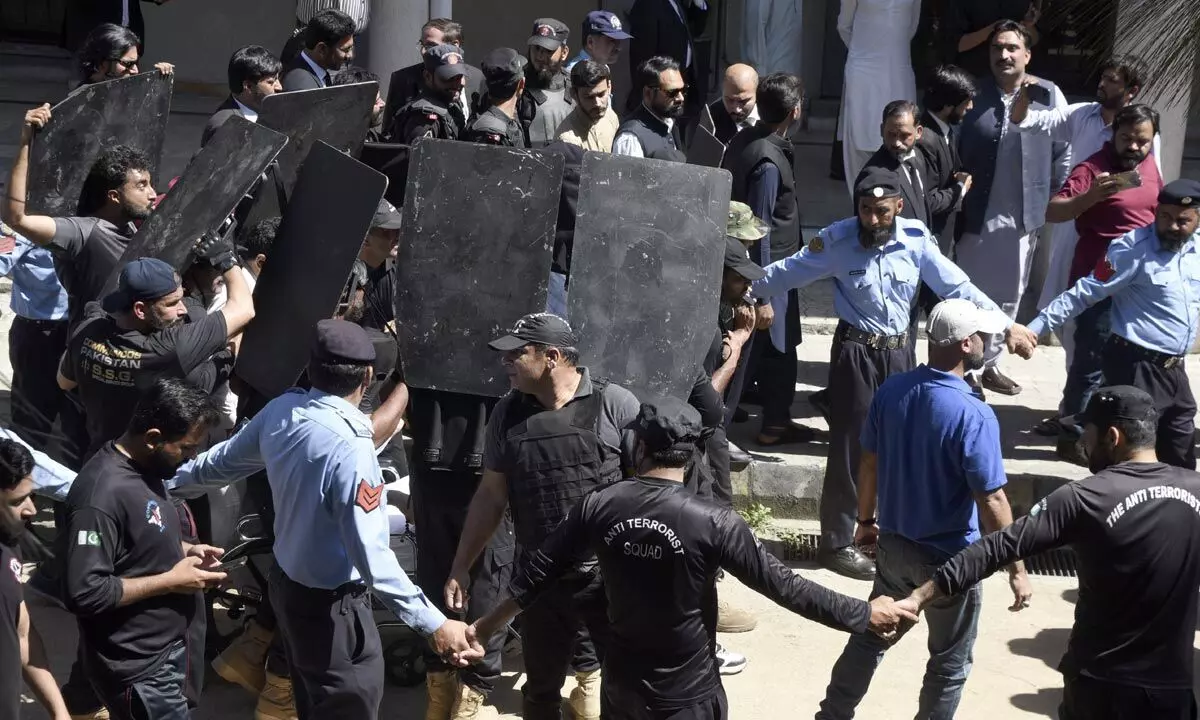 Islamabad: Based on orders by the National Accountability Bureau (NAB), former Pakistan Prime Minister Imran Khan was arrested by the Pakistan Rangers from outside the Islamabad High Court (IHC) on Tuesday. Khan had travelled to Islamabad earlier in the day from his Lahore residence to appear before the IHC seeking bail in the Al-Qadir trust case lodged by the NAB. However, upon his arrival at the IHC, the Pakistan Tehreek-e-Insaf (PTI) chief was arrested by the Rangers and took him to the NAB office.
According to NAB officials, arrest warrants for the former premier in the Al-Qadir trust case were issued on May 1. The arrest was made under the same reference, the officials added.
Confirming the arrest, PTI's lawyer Faisal Chaudhry said that as soon as Khan arrived at the IHC, a large number of Rangers troops surrounded the court premises.
He also said that PTI lawyers and supporters were assaulted. "Imran Khan has been arrested by Rangers outside the IHC. Lawyers have been subjected to torture and PTI workers and supporters are also being arrested," said Chaudhry.
IHC Chief Justice has taken notice of the arrest outside the premises, directing the Islamabad police chief, Interior Ministry secretary and additional attorney general to appear before the court immediately, warning that he would summon the Prime Minister if the officials did not appear within 15 minutes.
"Imran Khan has been arrested in Al-Qadir trust case. Situation in under control," said Inspector General Islamabad Amir Zulfiqar Khan.
The arrest comes hours after Imran Khan recorded a video message before leaving his residence in Lahore, stating that his claims against a senior intelligence agency official were true, who he claimed attempted to assassinate him in two different incidents.
The PTI chief had said that he will provide all evidences when required, calling out the military establishment to get ready to be held accountable by the people. The arrest of Imran Khan has been on the wishlist of the ruling government, who have been piling up cases against the former premier.
In the wake of the arrest, the situation across the country is expected to become tense as supporters of Imran Khan are expected to take to the streets, which may lead to chaos and unrest in the coming days.