Begin typing your search...
Telangana Mobility Valley unveiled
Aims to attract Rs. 50,000cr investments, create 4 lakh jobs in next 5 years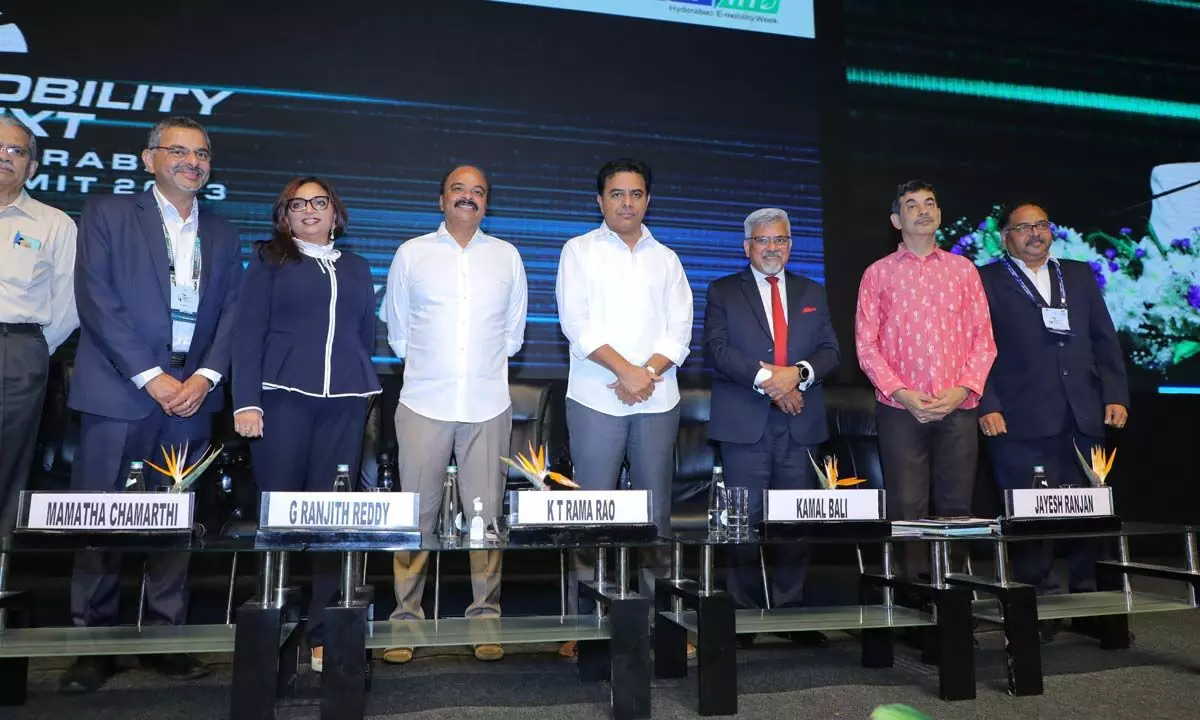 Hyderabad: State government announced Telangana Mobility Valley (TMV) with four mega clusters in and around Hyderabad to further accelerate sustainable transportation systems in India. Telangana Minister for IT & Industries K T Rama Rao revealed about the country's first new mobility focused cluster while addressing The Mobility Next Hyderabad Summit 2023 here on Monday.
He said, "TMV will create best in class infrastructure making Telangana the most competitive destination for both manufacturing and electric R&D in India. The vision for TMV has been created with active participation from the industry and academia. The State also engaged Boston Consulting Group to help conceptualise and develop a truly differentiated vision for the Mobility.
TMV aims to attract investments of around Rs 50,000 crore and generate more than 4 lakh jobs in the next five years. It aspires to facilitate companies across all segments of sustainable mobility including electric 2W/3W/4W makers, Advanced Cell Chemistry and Hydrogen fuel cells tier 1 and tier 2 component manufacturers and auto engineering R&D companies.
Telangana government is developing four mega clusters in and around Hyderabad – EV Manufacturing cluster in Zaheerabad, EV Manufacturing cluster in Seetharampur, Energy storage system (ESS) cluster in Divitipally, and Innovation cluster at Yenkathala. Each cluster will be equipped with state-of-the-art infrastructure to reduce cost of operations for their tenants.
This includes labs for EV powertrain, EV battery, ADAS, NVH, EMI-EMC and component test labs and India's first CAV proving grounds to test autonomous vehicles in 100+ acres. The State has signed a MoU with ATS-TUV Rheinland, a leading German services provider, to develop and operate these facilities in Yenkathala. The company will invest Rs 250 crore to develop these facilities in Yenkathala
"To transition to the new mobility, there is a pressing need for upskilling and reskilling existing talent. In TMV, we are bringing together industry and the academia to setup series of Centers of Excellence (CoE) to create industry ready talent," KTR said, while announcing India's first CoE in automotive cybersecurity in collaboration between BITS Hyderabad and Bosch. This will be launched in upcoming academic year.
He adds, "This CoE between BITS and Bosch will set an example for the country for creating talent to meet the changing requirements of the automotive industry. Further, we will be announcing at least four other CoEs over the next few weeks on topics like automotive cybersecurity, automotive artificial intelligence, electrochemistry and modelling & simulation."
Another focus area for TMV is to promote mobility startups in the State. T-Hub, India's largest innovation center has entered into an MoU with Plug and Play to setup co-working and incubation spaces for startups. To identify and support entrepreneurs with innovative ideas, the State is organising 'Grand Start-up challenge' as part of Hyderabad E-Mobility week.