Begin typing your search...
Salur to get tribal university at Rs 834cr on 561 acres
The job-oriented and other courses offered here will benefit tribal youth of Andhra Pradesh and other States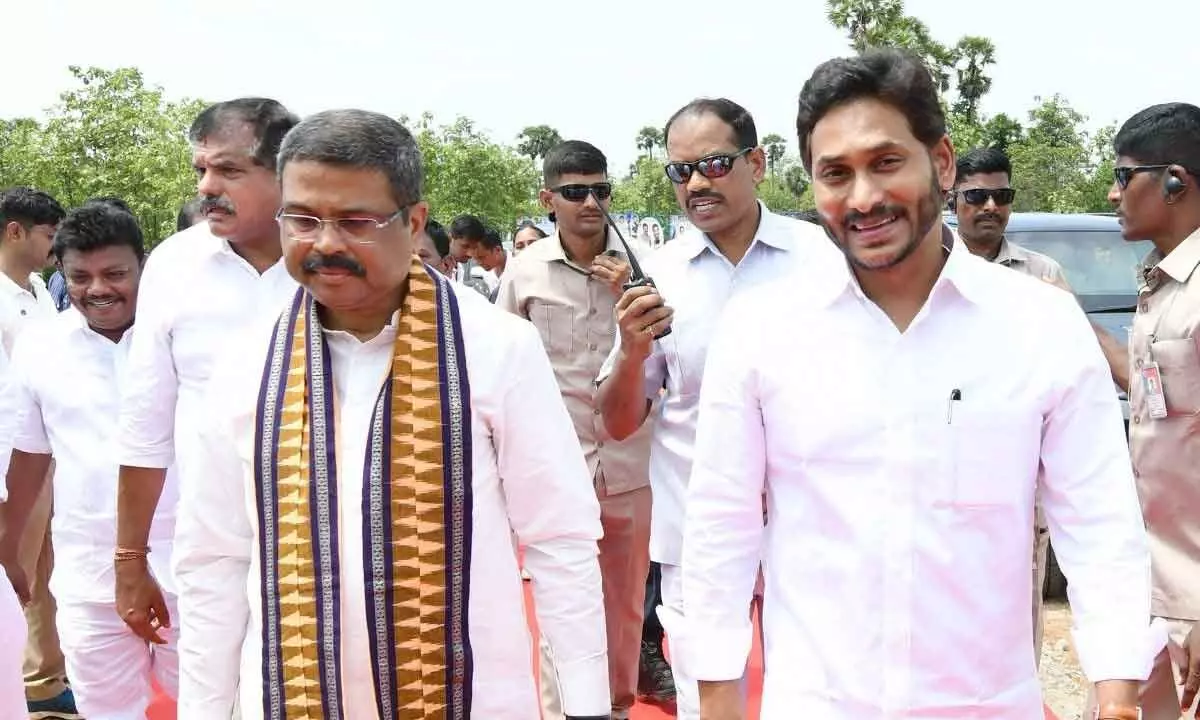 Chinamedapalli (Vizianagaram Dist): One of the promises made at the time of the bifurcation by the Union Government was fulfilled with the foundation stone-laying for the prestigious Central Tribal University of Andhra Pradesh here by Chief Minister Y S Jagan Mohan Reddy and Union Education Minister Dharmendra Pradhan.
The university will come up in an area of 561.88 acres in Mentada and Dattiraju mandals in Salur Assembly segment with a total investment of Rs 834 crore. The giriputras of Andhra Pradesh and other States will benefit from the job-oriented and other courses to be offered by the new university.
Speaking on the occasion, the Chief Minister said the YSRCP Government since it came to power has given utmost priority to education for all so as to improve the livelihood conditions of all sections and help Telugu youth establish in various fields with their knowledge. He said they have established two medical colleges and an engineering college in the tribal areas to bring about revolutionary changes in the girijan areas. He said to facilitate the establishment of the tribal university, the State government allotted the required land in Marrivalasa village of Dattiraju mandal and Chinamedapalli of Mentada mandal and paid a compensation of Rs 29.97 crore to those who gave lands. The government is also spending additional Rs 28.49 crore for infrastructure facilities.
Reddy said that the university will provide better educational facilities to tribal youth to lift their living standards and help them shine on national and international platforms. "Your minds are pure and you have kept me in your hearts. I will continue to strive for your welfare," he said, adding that the government has so far disbursed Rs 16,805 crore benefiting 58.39 lakh tribal families through DBT and non-DBT welfare schemes.
Tribals, neglected for decades, are still backward in most respects and the government has been striving to improve their living standards, he said and listed out the steps taken for their social and economic empowerment. The government has been fulfilling the election promises made to tribals which include setting up of Tribal Advisory Committee and the five-member ST Commission.
"We have spent Rs 410 crore on subsidies so far benefiting 4.58 lakh tribal families for fulfilling the promise of 200 units of free power supply every month in tribal tandas," he said. The government has converted 165 tribal tandas having more than 500 people into panchayats and created Alluri Sitaramaraju and Parvatipuram Manyam districts for the benefit of tribals, besides enacting law to reserve 50 per cent of the nominated posts and contracts for SC, ST, BC and minority communities. Besides handing over 3,22,538 acres of RoFR DKD lands to 1,53,820 tribal families, the government has also been paying them Rythu Bharosa regularly on these lands, he said.
Education model lauded
Pradhan in his address said the NDA Government led by Prime Minister Narendra Modi is committed to the empowerment of tribals and other marginalised sections by providing their opportunities in education, employment and other fields.
Heaping praises on CM Jagan-led government for imparting education in the mother tongue, the Union Minister said that it is a good model and even the Prime Minister has appreciated it. Pradhan said "I am congratulating the Andhra Pradesh Government as they have developed unique books, bilingual books, in one page, the content is in English and on the other page the content is in Telugu. This is a good model and our Prime Minister has appreciated this model."