Begin typing your search...
Pawan Kalyan offers prayers at Telangana temple
Performs a special puja for his campaign vehicle 'Varahi' at Sri Anjaneya Swamy temple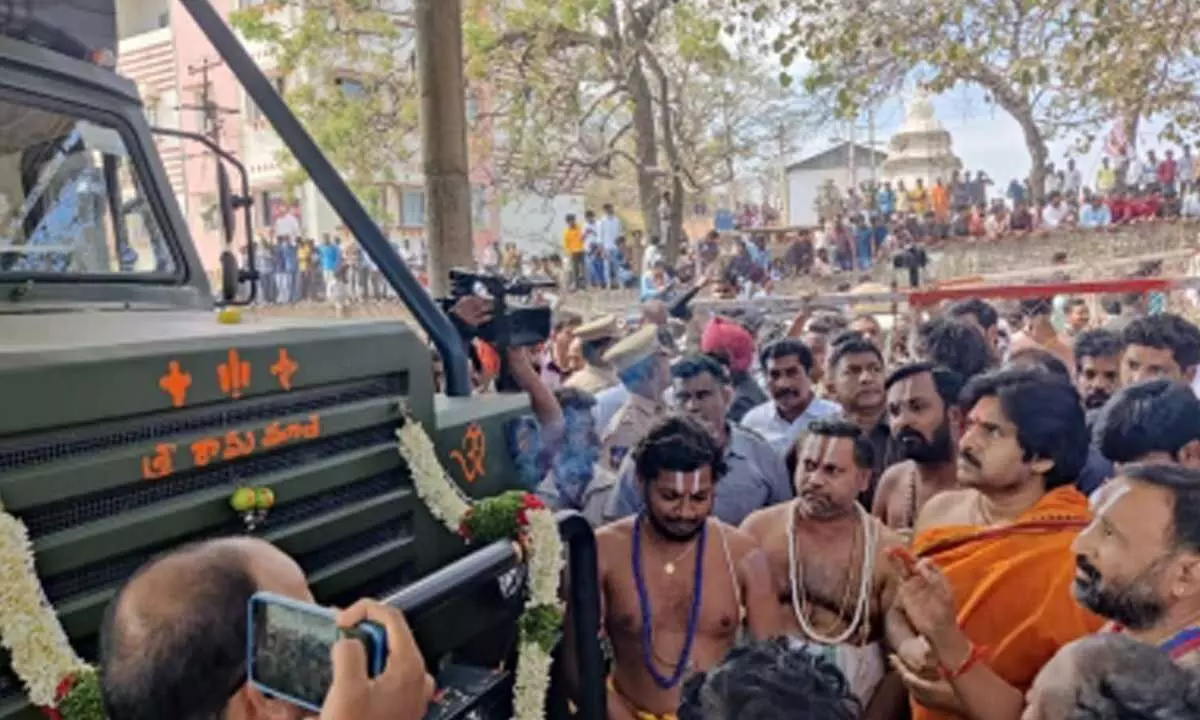 Hyderabad: Actor politician Pawan Kalyan performed a special puja for his campaign vehicle 'Varahi' at Sri Anjaneya Swamy temple in Telangana on Tuesday.
Jana Sena Party (JSP) leader had darshan at the famous temple at Kondagattu in Jagtial district. Subsequently, a group of priests performed the vahana puja of the special campaign vehicle. After the rituals, the actor politician launched the vehicle.
A large number of Pawan Kalyan's fans and JSP supporters had gathered on the occasion. They garlanded the Tollywood actor, who greeted the well wishers with folded hands from an open-top vehicle.
Earlier, the JSP leader left Hyderabad for Kondagattu in a huge convoy. He is scheduled to meet JSP leaders in Telangana at a resort near Nachupalli in the evening. He will then reach Sri Lakshmi Narasimha Kshetram at Dharmapuri town to launch the darshan of 32 Narasimha Swamy khsetras.
The actor has sentimental attachment to the region as he had a narrow escape during the election campaign in 2009 in Karimnagar district when a high tension wire fell on his vehicle. He firmly believes that he survived because of the blessing of Kondagattu Anjaneya Swamy and hence decided to launch the important programme from this temple.
Gearing up for the 2024 electoral battle in Andhra Pradesh, Pawan Kalyan had last month unveiled a specially designed vehicle named 'Varahi'. The campaign vehicle is equipped with high-security features. It has a public address system and CCTV cameras.
The vehicle has been designed in a garage in Hyderabad. "Varahi is ready for election battle," the Tollywood actor had tweeted. The JSP leader inspected the vehicle, which resembles a military bus, during a trial run in Hyderabad. He had discussed various features of the vehicle with technical experts and suggested a few modifications.