Begin typing your search...
Outgoing Governor praises AP's welfare schemes
Biswabhusan Harichandan, after three and a half years as Andhra Pradesh Guv will be taking charge as Governor of Chhattisgarh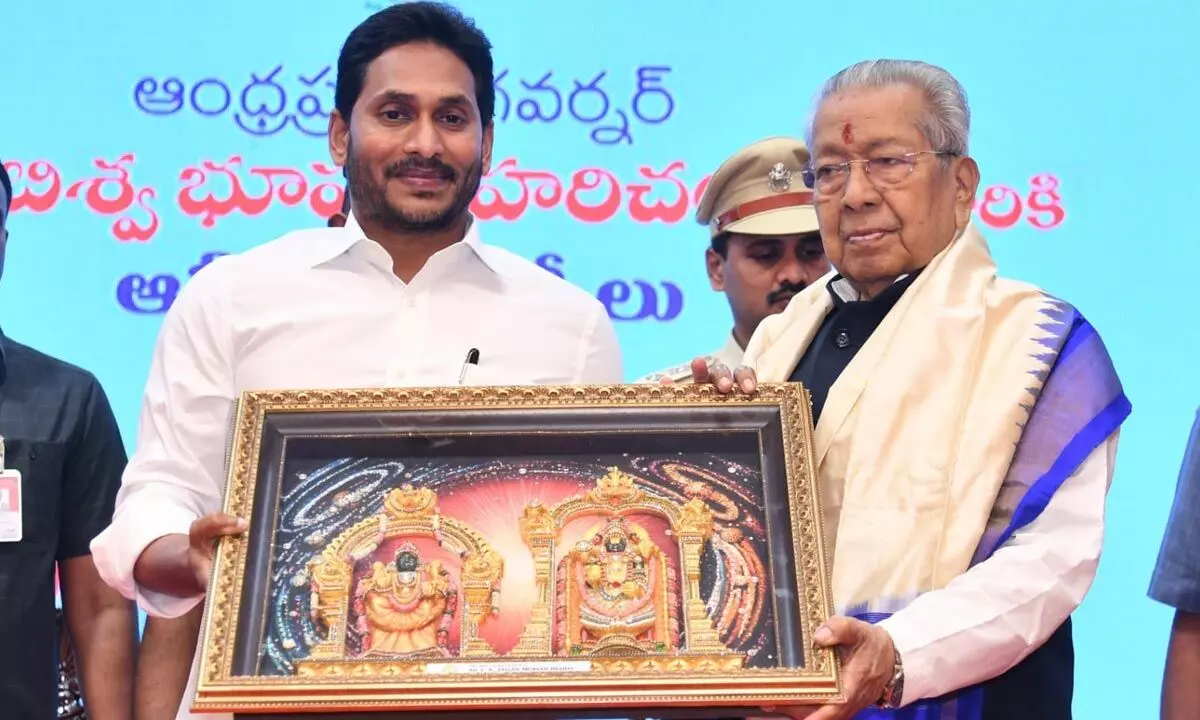 Vijayawada: Chief Minister Y S Jagan Mohan Reddy on Tuesday bid a warm farewell to the outgoing Governor Biswabhusan Harichandan who has been appointed as Chhattisgarh Governor. In his reply, the outgoing Governor appreciated the way welfare schemes were being implemented in Andhra Pradesh.
At a specially arranged function by the State Government at the 'A' Convention Centre here in honour of the outgoing Governor, the Chief Minister hailed his guidance to the State during the last three and a half years as exemplary.
At a time when the relations between State Governments and Governors are marred by controversies, Harichandan brought more decorum and dignity to the gubernatorial post by facilitating utmost coordination between various constitutional bodies and providing valuable guidance in the development of the State, he said. Being an educationist, legal expert, freedom fighter and a writer, Biswabhusan Harichandan served as five-time MLA and four-term Minister in Odisha and left an indelible mark among the people there as an efficient administrator, said the Chief Minister.
He later felicitated Harichandan with a shawl and presented him an image of Lord Venkateswara.
Chief Secretary Dr K S Jawahar Reddy, who also spoke on the occasion, described him as a people's Governor who paid special interest towards understanding Telugu language and culture.
Replying to the felicitation, Harichandan said he was overwhelmed by the immense respect, love and affection shown by the Chief Minister and the people of Andhra Pradesh towards him.
He said he wondered in the initial days of his tenure as Governor as to how the government could implement several welfare schemes and on enquiring about the same, the Chief Minister replied saying he could implement the schemes with the blessings of God.
The Chief Minister has been implementing plethora of welfare programs for all sections of people, he added, saying that Andhra Pradesh is far advanced in agricultural sector than many States in the country.
The outgoing Governor said that RBKs (Rythu Bharosa Kendras) have become role model for the rest of the country and added that the Chief Minister was like his family member. During the pandemic times, the Chief Minister took strong measures to control it and safeguard the public health system.