Begin typing your search...
India Should be on high alert as Pakistan, China, Talibment forge a dangerous alliance
The triparty bonhomie among them can seriously jeopardise India's security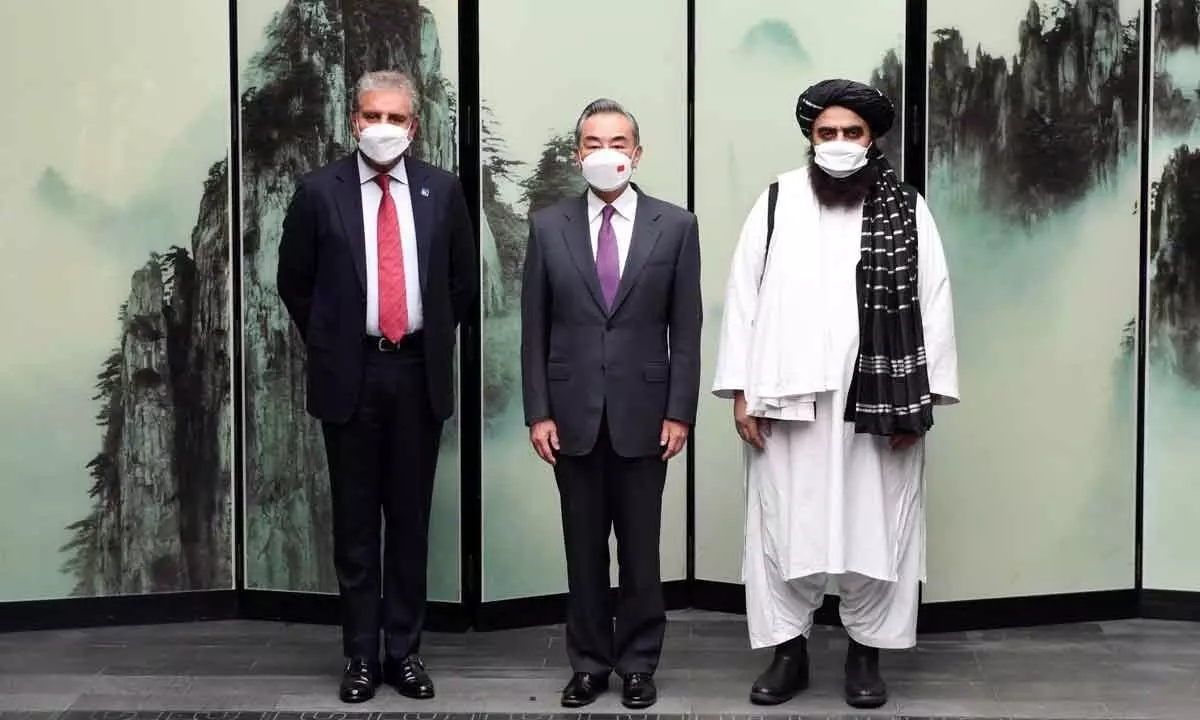 A dangerous threesome is in the making between Pakistan, China and Afghan-Taliban; it can destabilise the region and seriously impact India's security. Who would have thought that the self-proclaimed custodians of Islam would confederate with the communist state that has subjugated millions of Muslims under the name of 'reeducation'? But, then, such are the ways of playing self-serving diplomacy and one-upmanship.
Immediately after the meeting of foreigner ministers of SCO in India, Islamabad hosted Chinese and Talibment diplomates for a trilateral dialogue to boost trade and security. The four core focus areas were regional security, trade, transit, and counterterrorism collaboration.
The Taliban agreed to be part of the Belt and Road Initiative (BRI) by allowing China to extend the $60 billion China-Pakistan Economic Corridor (CPEC) to the Taliban-ruled nation.
On the face of it - the endeavour is a win-win for three participating nations. China gets access to Afghanistan's rich resources, estimated to be $1 trillion. Talibment receives billions of dollars in funding which can help it tighten its hold over the landlocked country. Pakistan, the middleman, will get its commission for facilitating the sale. But, the challenge is, will the three parties be able to bridge the existing trust deficit among them?
Pakistan's Internal Powerplay Put Chinese Investment at Risk
China is on its nerves-end with the political unrest, economic crisis and lawlessness prevailing across Pakistan - which has put its billions of dollars of investment in CPEC at risk. The Chinese plight was evident when Chinese Foreign Minister Qin Gang 'schooled' Islamabad, in the sharpest tone possible, to put its house in order. Given the turmoil in Pakistan, CPEC projects are facing a slowdown due to security concerns and Beijing's reluctance to pump in more funds.
It is a known fact that China was uncomfortable under Imran Khan's leadership as he had called out CPEC terms unfavourable to his country. A recent Pakistani survey, dubbed as Public Pulse Report, ranked Imran Khan on top with 61 per cent votes. The likelihood of Khan returning to power would mean pushback on CPEC terms of engagement.
Threat from Islamic Terrorism is a Prime concern for China
Today who is in control of Afghanistan is largely opaque. Even the semblance of the Taliban being in power is questionable. Instead, various Taliban war-lords exercise independent control of their respective regions.
The primary concern for Beijing must be the spilling-over of Islamic terrorists from Taliban and ISIS into Xinjiang, an autonomous territory in northwest China, where more than one million Muslim population (the majority of them Uyghurs) are held in secretive detention campuses by the dragon nation. The two terror groups can exploit religious affinity to recruit and develop foot soldiers among many ethnic minority groups, including the Turkic and Uyghur people. Such a nexus can seriously challenge China's control over Xinjiang province, a vast desert and mountain region.
Thus, China desires a friendly power in Kabul to stop Islamic terrorists from entering the troubled Chinese province. During the Islamabad meeting, the top Chinese diplomat said his country wants to see the Taliban embrace "moderate policies and maintain friendly relations with its neighbours." Basically asking the Taliban to keep a check on fanatic Islamic fighters and not to interfere in its domestic matters.
Pakistan and Talibment at Loggerheads
Since Talibment grabbed power in Afghanistan, the relationship between Islamabad and Kabul has gone down south. The Pakistani establishment has blamed the Taliban for sheltering Tehreek-e-Taliban-e-Pakistan, an umbrella organisation of various Islamist armed militant groups, who have carried out numerous terrorist attacks nationwide. There have been skirmishes between Pakistani forces and Taliban fighters on the Af-Pak border, leading to hundreds of death in the past two years. The distrust between the two neighbours is mutual.
The Talibment, its grassroots leadership and foot-soldiers have been plundering Afghans since taking over in 2021. The Taliban leadership must have promised its fighters more than just hand-outs of wheat, clothes and medicines etc. How long can the Taliban hold control over its troops without top dollars? Thus, it needs to see and show money.
China has no reservations about whom it works with as long as its benefits financially. China can risk a few billion dollars to access Afghanistan's natural resources.
The question is, will the triparty bonhomie jeopardise India's security? The answer is yes! Hundreds of Pakistani madrassa and an unaccounted number of Islamic fighters roaming across Afghanistan are ideologically connected - what they need is money to blow themselves up. If Chinese money flows without traceability and accountability, it can destabilise the region, particularly India.
(The author is Founder of My Startup TV)