Begin typing your search...
How Indo-France relationship impacts EU, Asia
The cornerstone of the Indo-french relationship is the mutual respect and understanding of each other's geopolitical alignments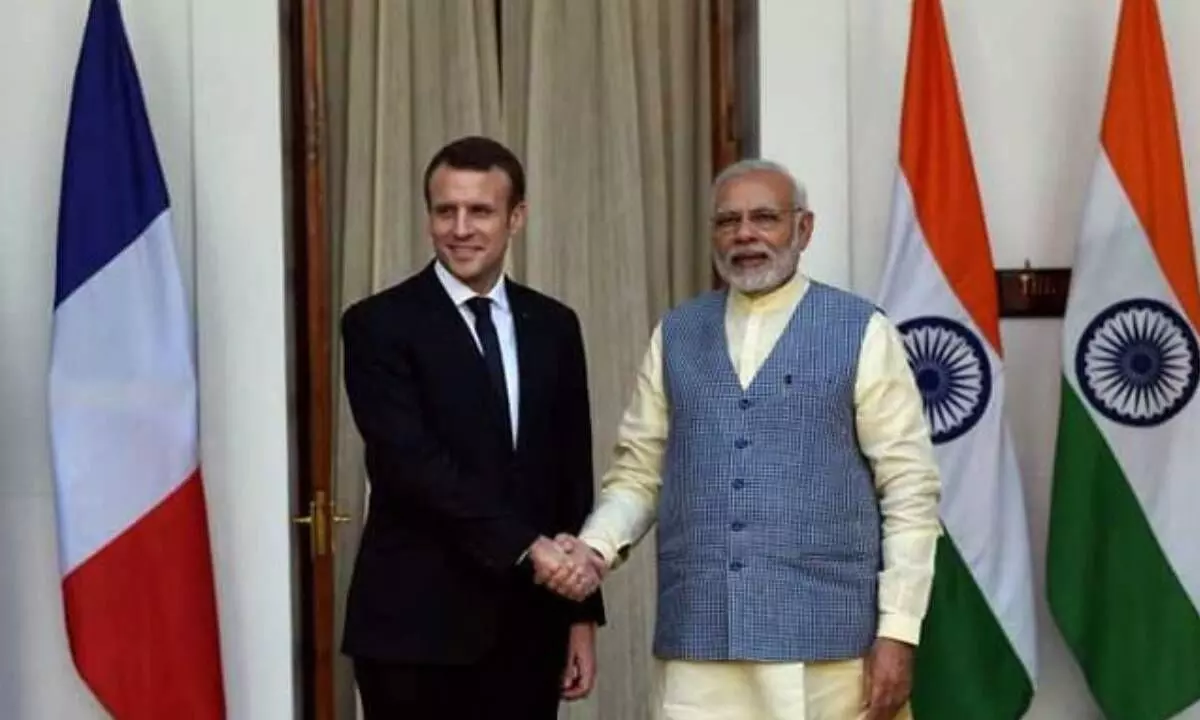 The Indo-French Strategic Partnership turned 25 years old in 2023. During this period, their relationship has stood the test of time; be it when India conducted the second nuclear test in 1998 or when New Delhi took a divergent stand in the ongoing Ukraine war.
During his visit to India on January 26, 1998, then-French President Jacques Chirac launched the Strategic partnership to represent both countries' desire to enhance their strategic independence via tangible bilateral collaboration to maintain peace and global security. Since then, the relationship between the democracies has gained notable mentions as a 'special relationship', "India's new best friend and Indian Prime Minister Modi has called France "one of our most reliable defence allies." The two countries have traditionally been close and friendly, and their relationship is about to get a big boost during PM Modi's sixth visit to Paris.
Prime Minister Narendra Modi's three days visit to France between 13-15 July will begin with him attending the Bastille Day parade, in Paris, as the Chief Guest. A contingent of the Indian military will participate in the parade, including troops from the Indian Army's Punjab Regiment, the Indian Navy, and the Indian Air Force.
The visit could see the two nations sign a big defence deal that includes Rafale-M fighters and Scorpene-class submarines for the Navy, and there could be an agreement to co-develop fighter jet engines. The two nations have mutual respect and understanding of each other's geopolitical alignments, allowing them to follow independent policy while further deepening their strategic engagement. For both countries, strategic autonomy is central to their foreign policy.
Tara Varma, a visiting fellow in the Center of the United States and Europe at Brookings, refers to India as the "major partner" of France "in Asia." She adds that though defence is the central element of the relationship between New Delhi and Paris, both countries seek other areas such as "scientific collaboration, people-to-people to contact" to further their association.
Paris has earned New Delhi's trust through visible actions, which has weighed very positively on India's Mind, says Constantino Xavier, a Fellow in Foreign Policy and Security Studies at CSEP and a Non-resident Fellow at the Brookings Institution. When India conducted its second nuclear test in May 1998, France was one of the few major powers that didn't sanction India. Xavier adds the relationship between the two nations has been of trust that has been "developing and deepening" and accelerating for over two decades. France and Japan are India's only "non-controversial strategic trusted partner" who have skirted interfering or commenting on India's international affairs, which New Delhi appreciates.
Having said that, India expects its divergent views on the ongoing Russia-Ukraine war are not tested during PM Modi's visit.
Then there is India and the EU relationship that needs mending. Many European nations were dismayed by New Delhi's stand on the Russian invasion of Ukraine, which contradicts the Western view. Further, its policy to commercially engage with Moscow by importing oil despite sanctions on Russia infuriated the European media and parliamentarians. In here, France can put across to the EU - India's position given its strategic challenges and defence dependence on Moscow.
The second area where Paris can help New Delhi is to use its "political and strategic weight" to convince the EU to "accelerate" its economic engagement with India and find an acceptable FTA agreement, says Garima Mohan, Senior Fellow, Indo-Pacific Program - German Marshall Fund of the United States.
Garima further adds India and Europe have "seen various cycles of engagements since independence", but since 2014, there has been "increasingly dense engagement across the board." Mohan gives credit to New Delhi for putting "real efforts" into understanding the EU and its subregions to identify areas where it can be a " useful partner " and engage with the EU on various fronts.
According to Grima, the decorating relationship between India-China has resulted in New Delhi finding a place for "Europe in its foreign policy." India has recognised the "four elements" it wants from its European partners for "building its national capacity." And the four elements are; technology and innovation, trade and investment, migration and mobility, and security and defence. And among the EU nations -France can deliver on all four key areas of Indian interest.
Prime Minister Modi's visit to Paris is an opportunity to lay the foundation between the two nations for the next twenty-five years. For this, both countries have to work together despite their differences. According to Constantino, the two sides should continue to work towards and develop the "path of strategic convergences", and he identifies "three pillars that can anchor" the relationship between Paris and New Delhi. The three pillars are the policy of working with the US without being overly dependent on it, the common goal of constraining China and working together "despite fundamental differences on Russia."
In today's interconnected world - every geopolitical move creates uneasiness elsewhere. Thus, China's interference in European affairs has not gone well with the EU. Therefore, there is a sudden and intense focus on the Indo-Pacific region. Given India's presence and position, the EU understands New Delhi is key to protecting its interests in the Indo-pacific region. France has deep defence ties with India, which could work in favour of the EU if and when needed.
Thus, the Indo-French relationship is not just a story of two countries - it has implications for the EU, Asia and Indo-Pacific.
Disclaimer: Some inputs have been taken from a webinar titled: "Modi' visit to France and Europe-India Ties" hosted by Brookings institutions to discuss Modi's upcoming visit to france.
(The author is Founder of My Startup TV)