Begin typing your search...
Hindustan Shipyard eyes revenue from ship repair
HSL is keen on acquiring three more repair vessels of SCI in the current financial year, for which tenders are being finalised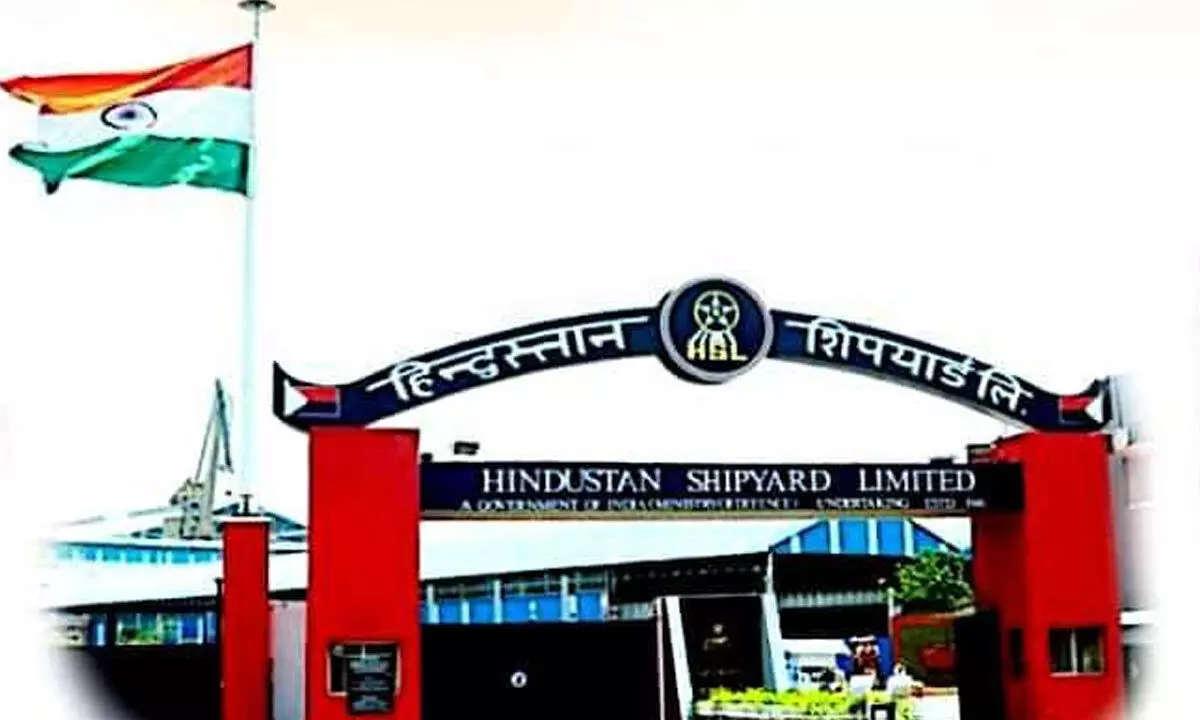 Visakhapatnam: Hindustan Shipyard Limited (HSL), India's premier shipbuilding yard set up here on the East Coast in 1941 is firm on improving its share in the ship repair segment. Under the leadership of Cmde Hemant Khatri, IN (retd), the yard has been making significant strides in this vertical of business.

With HSL's proven expertise in carrying out intricate repair of over 2,000 Naval and a merchant ship, the shipyard has become a major hub for ship repairs on the Eastern Seaboard of India. A total of 31 ships of various types have been successfully repaired in the past three years for diverse customers like Indian Navy, Indian Coast Guard, Shipping Corporation of India, Dredging Corporation of India, Fisheries Survey of India, CIFNET, Mc Dermott USA, Aban Offshore Ltd, Adani Ports and Special Economic Zone Ltd at HSL. Out of these, seven were for SCI vessels viz SCI Pawan (twice), SCI Kundan, MV Swarajdweep, Vishwa Vijeta, Vishwa Malhar and Vishwa Ekta.
HSL is keen on acquiring three more repair vessels of SCI in the current financial year, for which tenders are being finalised, sources in the shipbuilding yard, said. Presently, HSL is engaged in execution of major refit of ONGC Drill Ship MODU Sagar Bhushan of SCI, the contract for which was won after tough competition with other PSUs. Incidentally, this vessel was
built by HSL about 35 years ago in 1987. With this, repair business of ONGC platforms has returned to the yard after a gap of 10 years, which is a testimony to the high quality work by HSL and the continued trust of customers like SCI entrusting the repair of their ships to the shipyard.
Repairs on the MODU Sagar Bhushan are progressing at a brisk pace and HSL is confident to complete the refit as per schedule. This is expected to give a big boost to the yard's turnover in this financial year. This has also created a plethora of opportunities for MSMEs, thus contributing to Atmanirbhar Bharat, an official said.
The highest value of production is Rs 755 crore in 2021-22. Massive infrastructure upgradation is being undertaken to take up construction of five Fleet Support Ships at an estimated cost of Rs 22,000 crore.
Recognising its strategic importance, HSL was brought under the control of the Ministry of Defence from the Ministry of Shipping on February 22, 2010. Visakhapatnam has the headquarters of East Naval Command. The city also has Ship Building Centre, which builds nuclear powered submarines, Naval Dockyard, DRDO's Naval Science and Technological Laboratory (NSTL), Bharat Dynamics Limited's torpedo manufacturing facility and Naval Alternative Operating Base at Rambilli and a huge centre of Bhabha Atomic Research Centre.