Begin typing your search...
AP CM asks Sitharaman to raise Rs. 17,923cr credit limit
He said the credit limit was reduced from Rs 42,472 crore in 2021-22 for no fault of the State government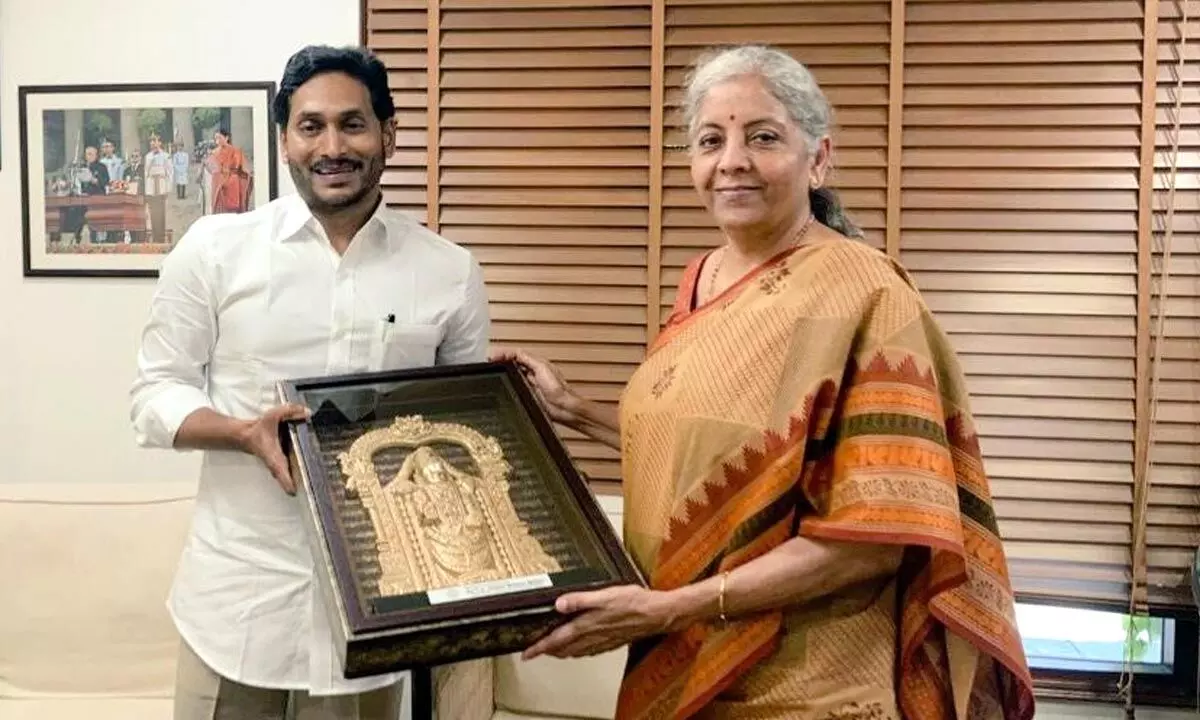 Vijayawada: Andhra Pradesh Chief Minister Y S Jagan Mohan Reddy on Thursday asked the Union Government to enhance the credit limit of the State from Rs 17,923 crore. He said the credit limit was reduced from Rs 42,472 crore in 2021-22 for no fault of the State government and take steps to ensure that the Telangana Government clears Rs 7,058 crore outstanding from the TS Discoms to APGenco for the power supplied between 2014 and 2017.
During his visit to New Delhi on Wednesday evening, Reddy met several Central leaders including Finance Minister Nirmala Sitharaman and Home Affairs Minister Amit Shah.
He asked the FM to pass orders for release of the NREGA (National Rural Employment Guarantee Programme) arrears of Rs 2,500 crore due to the State besides increasing its credit limit.
He urged her to release the pending amount of Rs 36,625 crore under Resource Gap Funding for the fiscal 2014-15 to the State, sanction Rs10,000 crore immediately on ad-hoc basis to expedite the construction of the Polavaram Project and another Rs 2,020 crore to fill the scourge pits formed at the main dam site due to the washing away of diaphragm wall in the flash floods. He told Sitharaman and Amit Shah that AP has so far spent Rs 2,600.74 crore on Polavaram Project from its exchequer and sought the reimbursement of the same from the Central funds and accept the Technical Advisory Committee's revised estimates of Rs 55,548 crore on Polavaram Project, which has been given the national project status by the NDA Government at the Centre.
The Chief Minister also urged the Central government to implement the promise of granting Special Category Status (SCS) to the State.
This is his second visit to Delhi in a month. On March 17, Reddy had met with Prime Minster Narendra Modi and Amit Shah. Shah was apprised of the financial burden of Rs 5,527 crore that the State had incurred on supplying rations to 56 lakh families under Pradhan Mantri Garib Kalyan Anna Yojana (PMGKAY) due to irrational selection of beneficiaries under the National Food Security Act. As a result, the CM said that the State be compensated by the unused ration stocks as recommended by the Niti Aayog.