Begin typing your search...
Andhra Pradesh to invest Rs 3,800 cr on fisheries
Will develop 10 new fishing harbours, 6 fish landing centres to fuel blue economic growth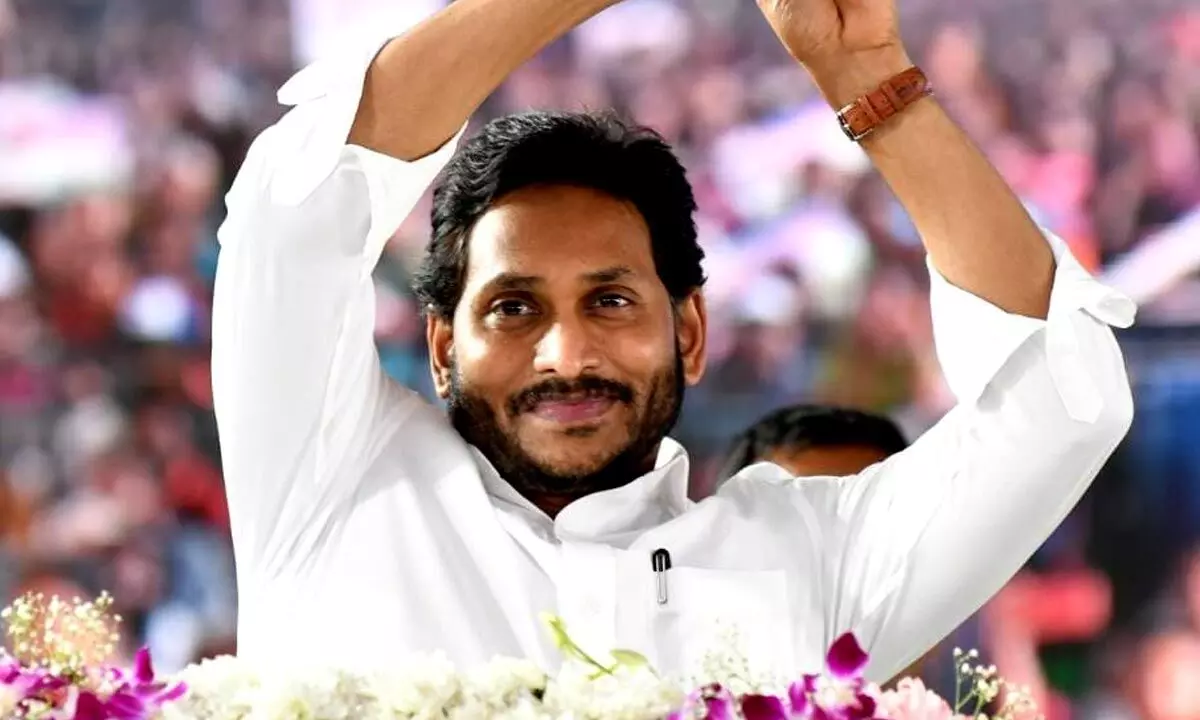 Blue economy
- Setting up an aqua farm in 280 acres at Dindi
- Laid foundation stone for Rs 417-cr Nizampatnam Fishing Harbour
- Releases Rs 123.52 cr under YSR Matsyakara Bharosa
- Fisheries University will focus on R&D
Nizampatnam (Bapatla dist): The Andhra Pradesh government will set up a fisheries university in addition to developing 10 new fishing harbours and six fish landing centres across the State at a cost of Rs 3,800 crore.
Chief Minister Y S Jagan Mohan Reddy said here that the new infrastructure for fishermen in the form of fishing harbours and fish landing centre will stop migration of fishermen.
He was addressing a public meeting here after releasing Rs 123.52 crore under the YSR Matsyakara Bharosa as assistance for the marine fishing ban period from April 15 to June 14 benefiting 1,23 lakh fishermen families across the State. An amount of Rs 10,000 each is credited directly into their bank accounts.
The establishment of a Fisheries University in West Godavari district is also in progress. With AP being the largest exporter of marine products, the university is expected to meet the huge demand for specialised manpower in marine living resources, marine technologies, value added products and supply chain management.
The university will come on a sprawling campus near Narsapuram with focus on research and development. Most of the seafood and aqua products are being transported to other places for value addition for want of required infrastructure and manpower in AP.
The Chief Minister said the government is also setting up an aqua farm in 280 acres at Dindi. As many as 11,385 aqua farmers will be benefited from this, he said, asserting that the government is committed to do more for the economic development of fishermen and aqua farmers. Reddy also released Rs 107.91 crore towards assistance to 23,458 fishermen families who lost their livelihood due to ONGC pipeline works in Konaseema and Kakinada districts. He also laid the foundation stone for the Rs 417-crore Nizampatnam Fishing Harbour.
He told the people to mark the difference between the present and previous governments. While the TDP spent hardly Rs 104 crore for assisting fishermen in the entire five-year rule for the cause, the YSRCP Government has spent over Rs 538 crore in the past four years for assisting the fishermen.
"The TDP Government provided only Rs 6 subsidy on diesel purchase by fishermen for running their boats, spending not even Rs 12 crore annually while the present government is giving Rs 9 subsidy on purchase of diesel incurring an annual expenditure of Rs 25 crore," he said, adding that the ex-gratia to the kin of the diseased fishermen families has been increased to Rs 10 lakh from Rs 5 lakh given during TDP rule.
The Chief Minister said the government spent Rs 2,792 crore for supplying electricity at a subsidy rate of Rs 1.50 per unit for aqua farmers, clearing the outstanding arrears of Rs 451 crores left by TDP rule. Unlike the TDP, the YSRCP government has been implementing various schemes for the welfare of the fishermen, he said.
The new infrastructure for fishermen in the form of fishing harbours and fish landing centres will stop migration of fishermen
- Y S Jagan Mohan Reddy, Chief Minister, Andhra Pradesh