Begin typing your search...
Andhra pins high hopes on 4 Greenfield ports
CM YS Jagan scheduled to lay stone for Machilipatnam Port on May 22 as State focuses on port-led economic growth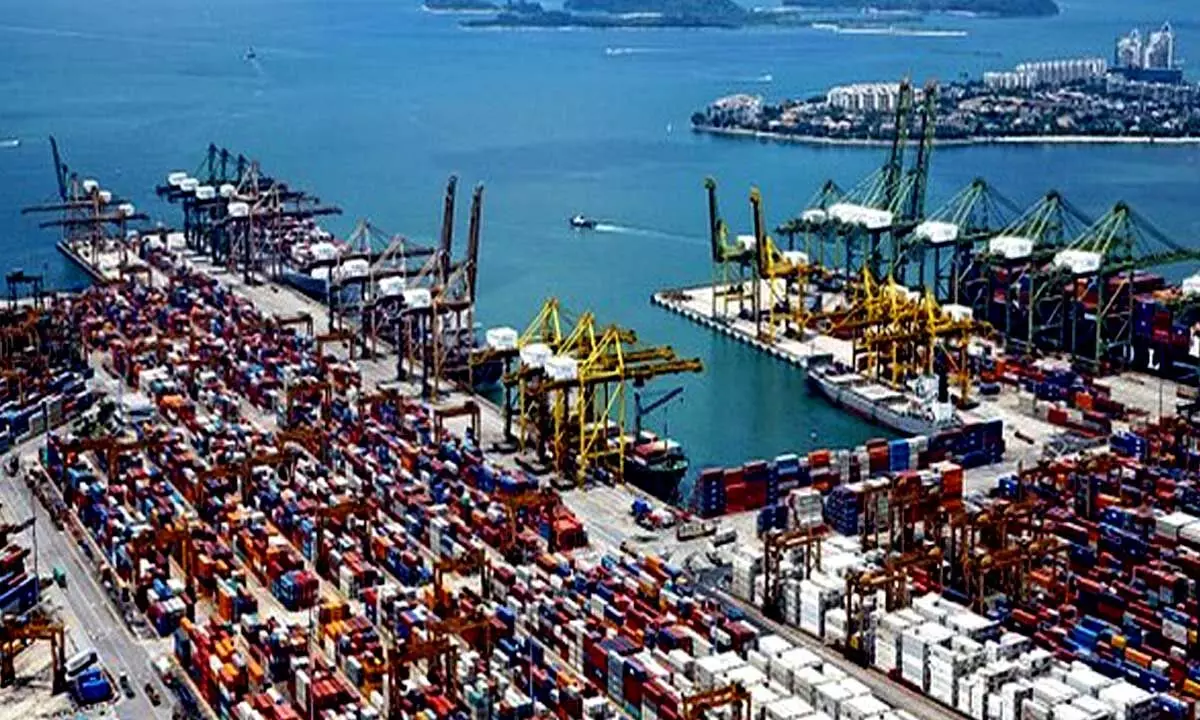 - Machilipatnam Port will be ready in 3 years
- With investment of Rs 5,155 cr, it will handle 35 million tonnes
- Work awarded to Megha Engineering and Infrastructure Ltd
- Mulapeta Port work is on at a cost of Rs 4,362 crore
- Kakinada SEZ Port being developed as a gateway port
Visakhapatnam: With the fast-tracking of work on four new ports being developed in Andhra Pradesh under the aegis of AP Maritime Development Board (APMB), taking advantage of its 974-km long coastline, the State Government is confident of accelerating the pace of port-led development.
Chief Minister Y S Jagan Mohan Reddy is scheduled to lay stone for Machilipatnam Port on May 22. The port, another addition of a green port, is conceptualised as a landlord port model. The construction will be completed in three years with an investment of Rs 5,155 crore to handle 35 million tonnes through four berths-three general cargo berths and one coal terminal. The work has been awarded to Megha Engineering and Infrastructure Ltd (MEIL).
Nestled in the southeastern or Coromandel coast, Machilipatnam, the district headquarters of undivided Krishna district, popular as Bandar, has its existence dating back to Satavahana Kingdom in the third century BC. In the olden days, it was also known as Masulipatnam and the sea trade from here was used by Dutch, French and British as a gateway.
Meanwhile, the civil work on the Mulapeta Port in Srikakulam was launched recently after the Chief Minister laid the foundation stone. It will handle 25 million tonnes in the first phase. The port is estimated to cost Rs 4,362 crore. It is likely to be operational in two years. It will be built on 1,250 acres.
Industries Minister Gudivada Amarnath announced the commissioning of four new ports in addition to existing six viz Visakhapatnam Port in the public sector, Gangavaram and Krishnapatnam in the private sector, will change the industrial landscape of the State and provide thousands of jobs.
Kakinada, a prosperous city in the Godavari delta, is expected to become an industrial hub with the plan to develop PCPIR from Visakhapatnam connecting the rice hub of Andhra Pradesh and a bulk drug park with grant of Rs 1,000 crore by the Government of India towards creation of infrastructure. Kakinada already has two ports namely Kakinada Deepwater and Kakinada Anchorage. Now Kakinada SEZ Port is being developed as a gateway port. Kakinada SEZ Port recently achieved financial closure. It is being built at a cost of Rs 2,123 crore.
The State Government expects to receive the first ship at Ramayapatnam in Nellore district by early 2024. The work on the port was kickstarted exactly a year ago. Almost half of the construction work is over. The contract has been awarded to Navayuga Engineering Company and Aurobindo Realty. In the phase-I, it will have four berths at an estimated cost of Rs 3,736 crore.