Begin typing your search...
Who says Biharis can't be good entrepreneurs
With the likes of Vedanta Chairman Anil Agarwal & RK Sinha, founder of SIS around, it is blasphemy to say that Biharis cannot make their presence felt in business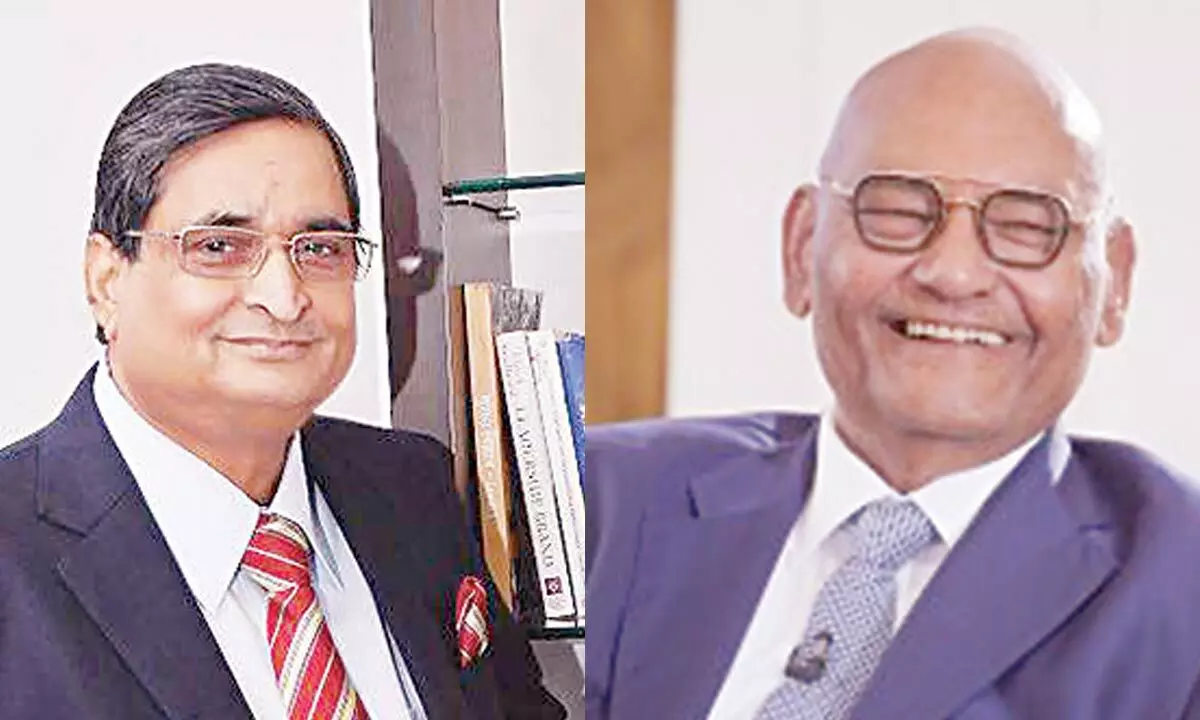 Generally it is believed that Biharis lack entrepreneurship skills and risk taking ability. That is a huge impediment for them to make big in the world of business. It is a different matter that the likes of Ravinder Kishore Sinha and Anil Agarwal of Vedanta group demolish the myth that those who belong to the land where Bhagwan Mahavir got Nirvana, Mata Sita, the wife of Lord Rama, was born and later Mahatma Gandhi launched his famous Champaran movement, are not good in doing business. These days both Patna born Ravinder Kishore Sinha and Anil Agarwal are in news. If Ravinder Kishore Sinha is in news as he has become the sole spokesperson of private security agencies and organic farming in India, Anil Agarwal is in news as his decision to set up a semiconductor facility in Gujarat instead of Maharashtra.
As far as reticent and almost reclusive Ravinder Kishore Sinha's journey as an entrepreneur is concerned, it was started when he lost his job in a media house. That was in early 1970s. Those were the days when he was keenly following and covering the India-Pakistan war from the battle ground in Dhaka for many newspapers and magazines, including the iconic Dharamyug. While covering the war that India won decisively, he became friendly with many, many Indian army officials and jawans.
Once that was over, he came back to his native place, Patna. Alas, despite doing great work, he had to quit his job due to some differences with his seniors. "As I was politically very active and close to great Socialist leader, Jaiprakash Narayan (JP), I met him one day for his guidance. JP knew me well. He told me that I should do some work that is beneficial for the society. As I had less than Rs400 with me, I thought that how can I start some work with such a paltry sum," he vividly recalls even after so many decades.
Well, even when he was planning to do something for survival and more, one day he got an expected call from his friend who was looking for four guys to work as security officials in his factory. That was a defining moment for him. As he knew many war veterans who were retired after the war the 1971, he contacted them and asked them, 'Would they like to work as a Security officer in a factory?' Luckily, he got an affirmative answers from the guys he called them. He had given them the job and became the security officer too. He was not shy of becoming a Security officer after his tryst in the world of media.
And then there was no looking back for him. As message spreads around that he can provide experienced guys to work as Security officials, he started getting request from Patna to other parts of Bihar and later from other cities and states.
And 50 years later, Ravinder Kishore Sinha is considered as a father figure in the world of Private Security in India. The security agency that he established, Security & Intelligence Services (India) Limited (SIS) is giving jobs to over 2.40 lakh people in every state of India with annual revenue of whopping Rs 8,485.2 crores.
From All India Institute of Medical Sciences (AIIMS) to every important historic place in India looked after by Arch logical Survey of India (ASI) and from Oil Refineries to Banks and more, the sturdy and ever alert guards of SIS are there 24x7. SIS provides security, facility management and cash logistics services, which are essential to the functioning of a vibrant and healthy economy. "We have emerged as a trusted leader across these business segments in India and other geographies in the Asia Pacific region," he informs, who was Rajya Sabha MP from 2014 to 2022.
Business apart, Ravinder Kishore Sinha still finds time to write on contemporary issues very frequently. Epitome of knowledge and a prolific reader, he loves to write on internal security, diplomacy, business, agricultural and political issues. These subjects are close to his heart. He is kind of person who always keen to learn new things. He is even giving lectures on organic farming.
According to him, organic farming is an agricultural process, uses pest control derived from organic manure and animal or plant waste. This farming started to respond to the environmental suffering caused by chemical pesticides and synthetic fertilizers. It is a new system of agriculture that repairs, maintains, and improves the ecological balance. Organic farming uses organic inputs, green manures, cow dung, etc. Recently even Prime Minister Narender Modi talked about the importance of organic farming with him. Sinha says, "There are two major principles of organic farming. A. The health of the ecosystem, people, and communities. B. The right balance between ecosystem and environment or nature.
As a celebrated industry pioneer and spokesman, he represents the private security industry before government bodies. He served as advisor to the Ministry of Human Resource Development, Government of India (1999 to 2004). He is a renowned speaker on subjects pertaining to security, loss prevention, training, and disaster management issues and is a regular faculty at universities across India and the US. In recognition of his contribution, the Security Association of Singapore (SAS) honoured him with a Loss Prevention Promoter Award in 2006.
Sinha has also been a champion of industry issues and associations, holding various positions including that of the Regional Vice President, World Safety Organization (WSO) for South Asia (1989-1991); President, National Institute of Security Professionals of India (1990-1995); Area Governor, Association of Security Organization of India (1988- 2001); Chapter Chairman, ASIS for Indian Sub-Continent Chapter (1990-2000); Executive Chairman, International Institute of Security and Safety Management besides being Founder Chairman of the Central Association for the Private Security Industry of India (CAPSI) and the Security Skills Council of India (SSCI).
Talking about his success in business world, he says that "delegating is one of the core responsibilities of a leader. The goal isn't just to free yourself up - it's also to enable your direct reports to grow, facilitate teamwork, provide autonomy, and lead to better decision-making." He is of the opinion that the best leaders build trust in the workplace and on their teams through effective delegation.
Elaborating on the qualities of a leader, he feels that gratitude can even make you a better leader. Yet few people regularly say 'thank you' in work settings, even though most people say they'd be willing to work harder for an appreciative boss. The best leaders know how to show gratitude in the workplace.
With the likes of Ravinder Kishore Sinha and Anil Agarwal around, it is blasphemy to say that Biharis cannot make their presence felt in business.
(The author is Delhi-based senior journalist and writer. He is author of Gandhi's Delhi which has brought to the forth many hidden facts about Mahatma Gandhi)