Begin typing your search...
Who has the last laugh, Harvard or 'hard work'?
Instead of curbing black money, a prime demonetization objective, ironically, the Rs 2000 note seems to have ended up as a black money facilitator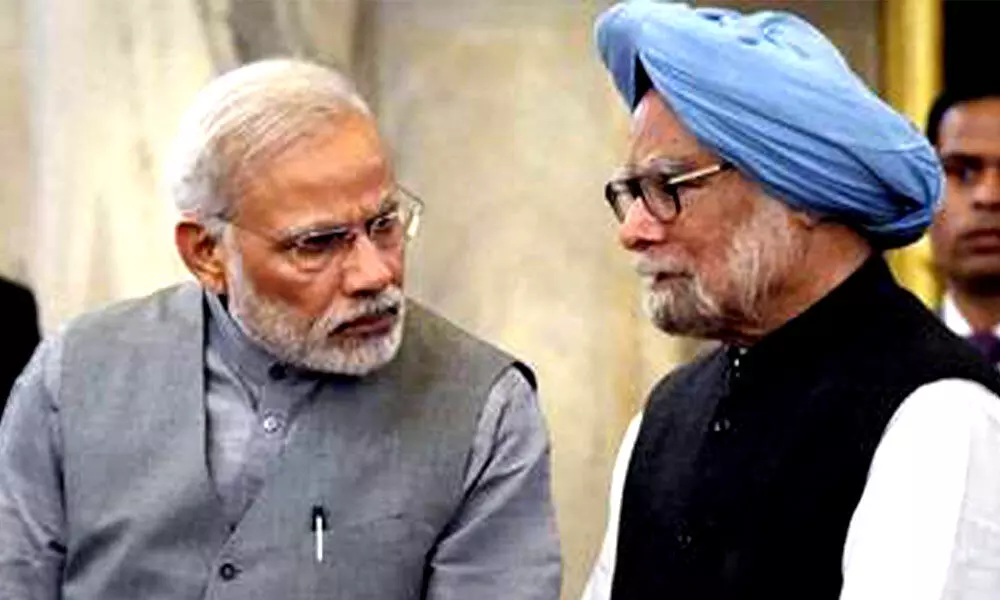 If you use cash quite often to buy necessities and other things, here is poser for you: These days how often your neighbourhood ATM dispenses Rs2,000 notes when you withdraw cash from it? Maybe, your answer to the poser would be like that of mine – three ATMs in my neighbourhood rarely dispense a Rs2,000 note. The security guard posted at these ATMs told me that the currency stacked in the machines normally consists of Rs 200 and Rs 500 notes.
Why the Rs 2000 note, a primary element of Prime Minister Narendra Modi's demonetization design, is unable to make it to the ATM? The RBI data may point to an answer. According to the data, the number of Rs 2000 notes in circulation has dropped by a huge 27 per cent in the past four years – from the peak number of 33,630 lakh in 2017-18 to 24,510 lakh in March 2021. Translated into the value of the Rs 2000 note, this drop is from Rs 6.72 lakh crore to Rs 4.90 lakh crore.
An obvious inference from the data is that the Rs 2000 notes are being hoarded as black money. The Rs 2000 note, because of its small size and higher value than its high-value predecessor, Rs 1000 note, has made it quite easy to hoard large amounts in small space. So, instead of curbing black money, a prime demonetization objective, ironically, the Rs 2000 note seems to have ended up as a black money facilitator. The RBI has reportedly stopped printing new Rs 2000 notes since these notes are not coming back into the system.
Economy hit hard
The government, particularly Prime Minister Modi, has been in denial mode about the fatal economic consequences of demonetization from the very beginning. In March 2017, hardly four months after demonetization, Modi gloated over yet-to-materialize note ban gains at a UP election rally that "hard work is more powerful than Harvard." He was targeting renowned economists like Nobel laureate Amartya Sen and former Prime Minister Manmohan Singh who were highly critical of demonetization and warned of its fatal economic fallout.
Amartya Sen had labelled demonetization as "a despotic action that has struck at the root of the economy based on trust. It undermines notes, it undermines bank accounts, it undermines the entire economy of trust…"
Manmohan Singh, while initiating the Rajya Sabha debate on demonetization, came down heavily on the government, "… the way this scheme (demonetization) has been implemented is a monumental management failure… it is a case of organized loot, legalized plunder of the common people."
Today, five years down the line, any demonetization analysis shows the rosy 'hard work' picture has been obliterated by the bitter reality that was predicted by Sen and Singh. Measured on important economic parameters – GDP growth, employment generation, demand creation, capital availability, informal sector's ease of business – demonetization stands out as the villain of the piece. As if to aggravate the economy's demonetization woes, the government launched a poorly designed goods and services tax (GST) in July 2017, eight months after demonetization. Thanks to the double whammy of demonetization and GST, India's GDP growth rate had been on a downward spiral even before the onset of the Covid pandemic in 2020. Between 2016 and 2019, the GDP growth rate declined drastically by 4.07 per cent. The informal sector of the economy, which transacts mostly in cash, was the hardest hit by demonetization. Most of the demonetization-triggered job loss and income decline happened in this sector. For example, I still remember vegetables, mostly produced and sold in the informal sector, selling at dirt-cheap prices in the weeks following demonetization. Vegetable producers, traders, vendors, and household buyers were all facing cash crunch, causing a fall in vegetable prices. There are numerous examples of micro-businesses still coping with the adverse fallout of demonetization. I am in regular touch with a small book publisher whose business started declining after demonetization. He often recalls that prior to demonetization he was doing well and had a staff of four people. But because of dwindling business post-demonetization, he was compelled to do away with his staff. Then the Covid pandemic made matters worse for him. Today, he is running business just in name with negligible earning.
Promises remained promises
Modi declared demonetization along with tall promises, which touched a chord with the masses. The promises were: eliminating black money, curbing counterfeit currency and terror finance. Today, these promises lie in tatters. Corruption, the main source of black money, is as omnipresent as it was pre-demonetization; terrorism continues to hold sway over Kashmir, implying terrorism financiers have remained unscathed by demonetization; and the bank cashier using the fake currency detecting machine is proof enough that fake notes are still a serious concern.
The biggest jolt to the demonetization war against black money came with the RBI announcement that 99.3 per cent of the banned currency was returned and exchanged for new notes. The paltry 0.70 per cent currency, which was rendered worthless, amounted to a minuscule Rs 10,000 crore in comparison to Rs 4-5 lakh crore, the black money figure doing the rounds but not confirmed officially at the time of demonetization.
The black money hoarders reportedly took advantage of the loopholes in the haphazardly implemented demonetization scheme and succeeded in legalizing their dubious money. This also rendered useless the Modi government's amnesty scheme for black money hoarders, which netted a mere Rs 5,000 crore.
Another significant development is that about 25 per cent of the demonetized currency was deposited in 17.92 lakh bank accounts which the Income Tax department has identified as suspicious accounts. That the scrutiny/enquiries about these accounts are still continuing is a critical comment on the government's proclaimed steadfastness to eradicate black money.
Bumper cash in cashless India
In the demonetization season of moving goal posts, one fine day, cashless India to be achieved by promoting digital payments was presented as a new goal post. About a year later, when India's cash-to-GDP ratio declined from the normal 12 per cent to 9 per cent, Modi was quick to credit this decline to demonetization. Addressing a meeting at The Institute of Company Secretaries, he asked "Was it possible if a new era of honesty had not been ushered in the country, in the economy of the country?" However, today the story is different with the current cash-to-GDP reaching 14.5 per cent, the highest since independence. The high ratio is the result of a huge 57 per cent growth in cash in circulation (CIC) – from Rs. 17.97 lakh crore (November 4, 2016) to Rs 28.30 lakh crore (October 8, 2021).
Apparently, the Modi government's thinking was that cashless India or digital payments would cause a substantial reduction in CIC. However, India has witnessed the surprising phenomenon of simultaneous growth in both CIC and digital transactions. Actually, bringing a decline in CIC is not easy because it fulfils the needs of the informal economy which employs majority of India's population. And, this population gets paid and spends in cash. Perhaps, this is the reason that in tier four cities, 90 per cent of e-commerce transactions happen via cash payment. In contrast, tier one cities account for 50 per cent e-commerce transactions involving cash payment. Regarding the government's emphasis on cashless economy, a question comes to mind – Can India be really cashless when political parties spend colossus amounts on electioneering, violating with impunity the limits set by the Election Commission. It's an open secret that cash, often unaccounted, forms a substantial chunk of this expenditure. And, this cash is the root cause of many an economic ill. Without a concrete initiative by the political class to distance itself from dubious money, all other efforts to treat economic ills are nothing but cosmetic changes.
(The author is a Delhi-based freelance journalist)