Begin typing your search...
Whisper and Network 18 to host a 3-hrs telethon on period health
It aims to bring together various stakeholders, from students and teachers to celebrities and ministers in the government to emphasize the need for period education in school curriculum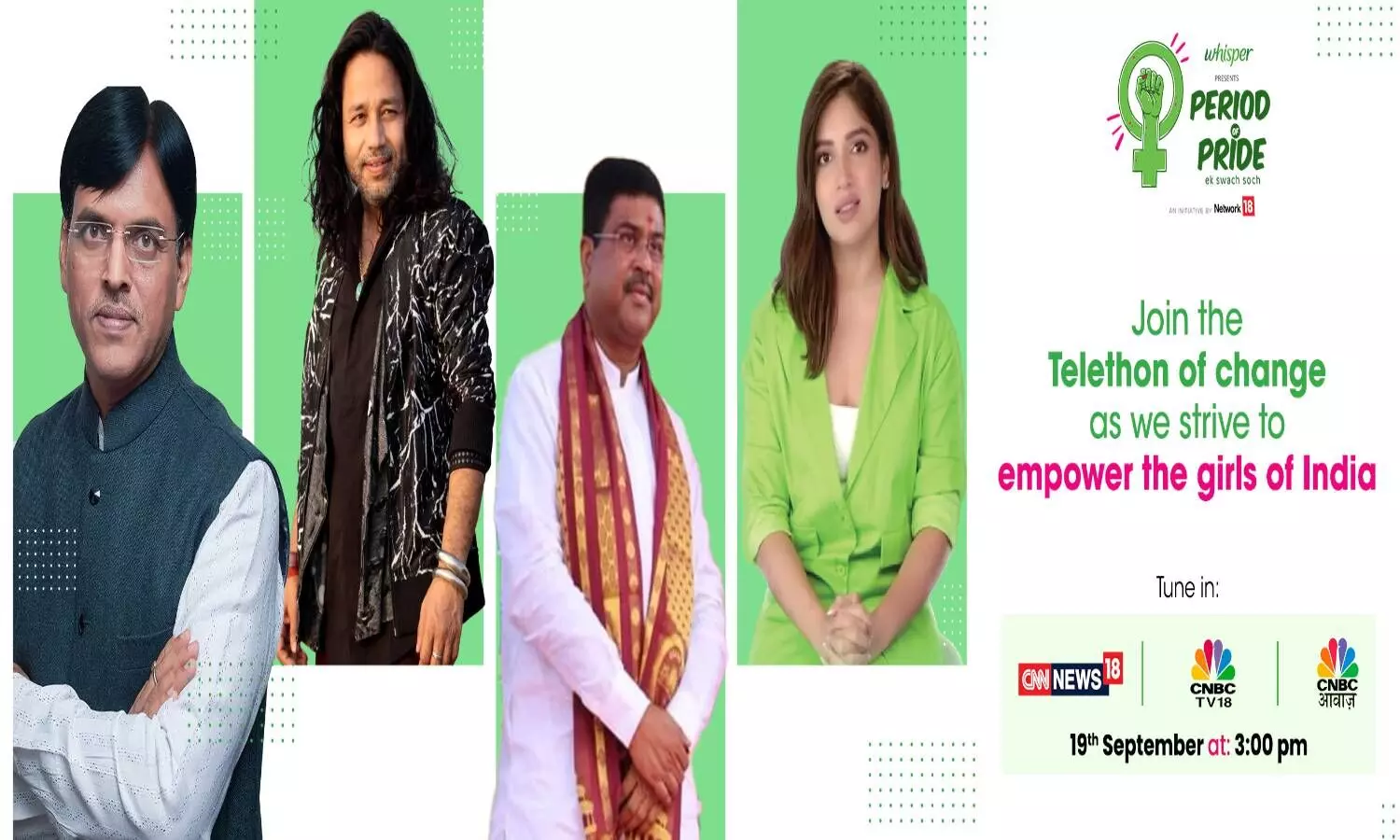 Hyderabad: Whisper, a leading feminine care brand working on period awareness and the hygienic management, and media conglomerate Network 18, is hosting a telethon on period as part of its six-month-long campaign 'Period of Pride - Ek Swach Soch'.

The three-hour telethon spearheaded by actor and campaign ambassador Bhumi Pednekar will bring together various stakeholders and policymakers in the government to discuss period awareness and to address a petition signed by 10 lakh people to make period education mandatory in the school curriculum. The telethon will be aired on CNBC-TV18, CNN News18 and CNBC Awaaz and their respective Facebook and Twitter handles on September 19, at 3 pm.
Present for the telethon will be Union Education Minister Dharmendra Pradhan, Union Health Minister Mansukh Mandaviya, Chief Minister of Assam Himanta Biswa Sarma, CM of Gujarat Bhupendra Patel, Chief Minister of Chattisgarh Bhupesh Baghel, and Women and Child Development Minister of Jharkhand Joba Majhi.
Campaign ambassador Pednekar will lead the telethon, which will bring together change-makers from all walks of life - including badminton champion Jwala Gutta, industry leader Naina Lal Kidwai, actor Neha Dhupia, singer Jonita Gandhi, India's youngest mayor Arya Rajendran and young nominees of the International Children's Peace prize, among others.
Talented performers, including Harshdeep Kaur, Kailash Kher, Meri Zindagi - an all-women band from Uttar Pradesh, Shilpa Rao, Tulsi Kumar and Shankar Mahadevan will lend their voices with powerful performances to show their support.
Over the span of six months, the 'Period of Pride – Ek Swach Soch' campaign brought together adolescent school-going girls, teachers, women and mothers in rural and urban areas from across the country, and found immense support from decision-makers in the government. From panel discussions with members of the medical fraternity, teachers, students, and key stakeholders to stress the need for a structured education module in schools to conducting mother-daughter period hygiene awareness programme, the campaign was instrumental in igniting conversations on the subject of periods nationwide.
Avinash Kaul, CEO, Network 18 (Broadcast) and MD, AETN18, said, "It's 2021 and yet menstruation continues to remain an uncomfortable topic among people, young and old. We believe that by incorporating period awareness in school curriculum, we can take a step towards reducing the stigma associated with periods in classrooms. This is also a long-term investment towards promoting gender equality."
Akhil Meshram, Senior Director, Category Leader Whisper Indian Subcontinent at Procter and Gamble, added, "Even today period taboos prevail in India and often impact the future of young girls. 'Period of Pride' is a deliberate effort to bring period education and their hygienic management to the forefront. We are aiming to not just drive awareness about the importance of period education and protection but also make real on-ground change by asking for the mandatory inclusion of period education in the school curriculum. Our campaign has received immense support from policymakers in the government as our goals align with the PM's vision as well as the Swach Bharat Mission guidelines. Together, we can change what periods represent too many - from shame to strength and pride; and Whisper is proud to be at the forefront this change."
Over 2.3 crore girls in India drop out of school every year at the onset of puberty due to lack of period protection and education. Many adolescent girls continue to be completely unaware of what a period is till they get their period for the first time. The prevailing culture of shame surrounding periods makes it even harder for young girls to seek information about this natural, biological process, affecting their futures. Creating period awareness through education is the key to not just keeping girls in schools and fulfilling their dreams but also building an entire generation that associates periods with strength rather than shame.
Period of Pride also turned into a massive national movement for girl child education and empowerment, as the campaign collected over 10 lakh signatures for a petition demanding mandatory inclusion of period education in school curriculum.