Begin typing your search...
Time to cement the surge in demand
India's cement production has been going up in the last few years, after a FY21 drop to less than 300 million tonnes. Currently, it stands around 350 million tonnes.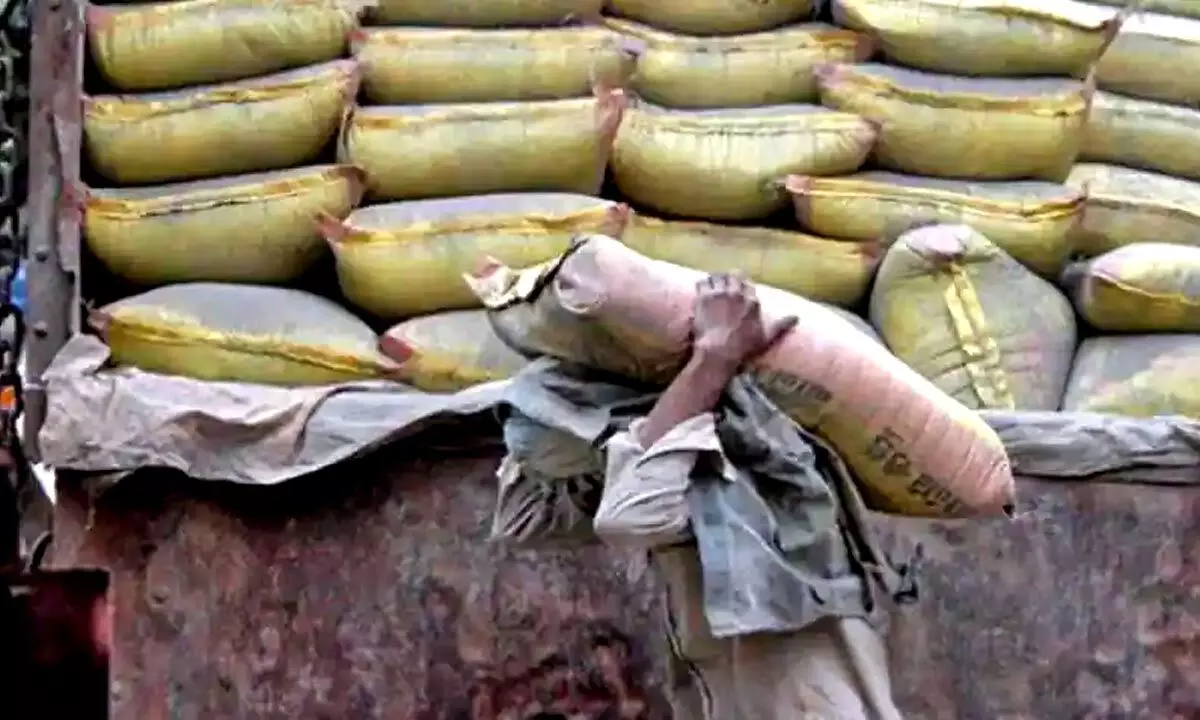 India's cement production has been going up in the last few years, after a FY21 drop to less than 300 million tonnes. Currently, it stands around 350 million tonnes. According to various sector analysts and research organisations, it will steadily climb, thanks to a robust infrastructure growth. A recent study by Moody's, for instance, said that India's cement production will climb by around 6-8 per cent over fiscal years 2023 and 2024, following a 21 per cent jump in FY22. Along with the jump in production, infrastructure-led investments and mass residential projects will keep India's cement demand strong, analysts feel.
Cement demand grew 11 per cent on-year in the first 10 months of this fiscal, led by rapid execution in infrastructure projects and strong traction in the real estate and rural affordable housing segments. Experts and analysts are of the view that the momentum is likely to stay healthy in the remaining months of this fiscal as it is a seasonally strong period for construction activity across regions.
Buoyed by the infrastructure-focused Union Budget, cement demand is set for its third straight year of growth with a 7-9 per cent jump to nearly 425 million tonne (MT) in fiscal 2024, suggested the latest Crisil study.
Moody's subscribes to the view. A growing housing sector, which typically accounts for 60-65 per cent of the country's cement consumption, will remain a key demand driver. Also, continued large investments in roads and infrastructure projects will fuel cement demand, said the Moody's study.
Interestingly, India built 12,000 km of highways in 2022 and this momentum will likely continue in 2023 and 2024, thanks to various government initiatives. Now let us consider what the last Union Budget offered for the infra sector. In the Union Budget 2023-24, the Centre allocated $1.8 billion for the creation of safe housing, clean drinking water and sanitation and increasing road and telecom connectivity, among other initiatives. The Centre has also allocated $9.6 billion to address urban housing shortages. The outlay for affordable rural housing under the Pradhan Mantri Awas Yojana – Gramin (PMAY-G) has also grown 12.5 per cent in a pre-election year.
Analysts have reasons to be further optimistic about a higher demand for cement. The next fiscal is expected to see infrastructure and affordable rural housing segments propelling growth. The highest traction is expected from roads, where the total outlay for the Ministry of Road Transport and Highways and the National Highways Authority of India has risen 25 per cent and 14 per cent, respectively, year-on-year.
One has to keep in mind that while cement demand remained solid in the world's second-largest cement market for most of FY23, profitability slid sharply, largely owing to elevated costs of pet coke, coal and diesel. However, it is expected that a sequential, quarter-on-quarter, decline in these costs will prevent a further decline in profitability, although a return to the unusually high profits cement producers enjoyed in fiscal 2022 is highly unlikely. When it comes to pricing, the average cement price was flat in January, with a slight uptick in February, as manufacturers targeted volume growth and market share gains in a traditionally strong March quarter, analysts said. Construction activities typically pick up in the fourth quarter, leading to an increase in cement demand.