Begin typing your search...
The key to village prosperity lies in assured farm income
The success of Jatagharra village in bringing about an amazing turnaround has a lesson for policy makers all across the world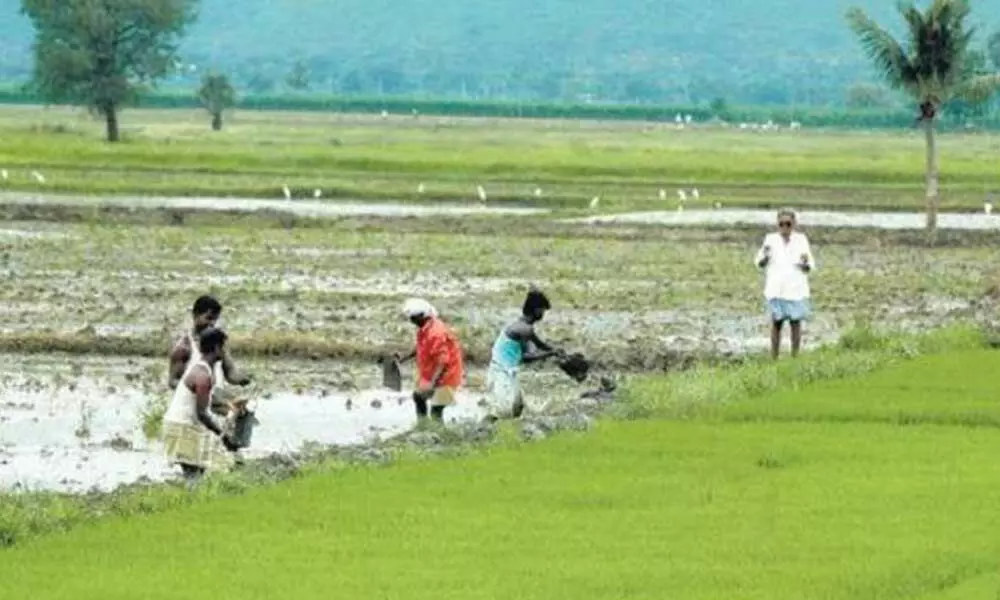 Jatagharra is a tiny village near the city of Dhamdha in Durg district in Chhattisgarh. In the midst of a sea of depravity that we see around, this vibrant village has turned into an island of prosperity. Incredible as it may sound, it is an economically viable agriculture that has brought about the transformation.
For about 90 to 100 households that inhabit the village, the steady improvement in rural lifestyle says it all. According to a news report in the popular Hindi daily Patrika, Jatagharra has now turned into a dream village, boasting of 25 cars, 45 air-conditioners, 30 German shepherd dogs, and even some families affording modular kitchens, expensive smart phones and electronic kitchen gadgets. With 70 tractors and ample farm equipment, much of the 1,400 acres of the village farm land is under tomato cultivation. Considering that only two persons from a population of about 700 in the village are in government service, the remarkable change can only be ascribed to agriculture.
But before you form any misconception and start blaming tomato farmers in the rest of the country for not adopting improved technology to increase crop productivity leading to higher incomes, let me correct you. It happened the other way around. It was actually a sustained period of higher incomes that brought about the transformation. With a higher income accruing from tomato harvests, farmers were able to invest in crop management using appropriate technology. The loud message from the success story crafted by this village therefore should be crystal clear: the key to village prosperity lies in providing farmers with an assured and profitable income.
Along with a young Raipur-based journalist and writer, Govind Patel, author of a popular booklet on tomato cultivation, I had travelled to Jatagharra village three years ago to meet Jalam Singh Patel, a progressive tomato grower. Taking me around his farm, Jalam Singh had explained how he had been successful in converting his farming activity into a business enterprise. Especially at a time when news reports of angry farmers throwing tomatoes on the streets had appeared quite frequently, I was very keen to learn from him how he had managed to do so well.
To cut the long story short, the reason for farmers like him to do exceptionally well was because they managed to take advantage of the market by ensuring an early harvest in October-November before the arrival of the tomato crop in different states. Keeping the date with early harvest enables them to get a higher price, often in the range of Rs 1,200 to Rs 1,400 per crate of 24 to 28 kg, which means roughly around Rs 50 per kg. Compare this with normal times when tomato crop influx causes prices to drop, often as low as Rs 8 to Rs 10 per kg. What the farmer's earn in such difficult times is only a fraction of what the end consumer price is.
Govind Patel explained to me how a steady flow of high prices, with prices even touching Rs 57 per kg for about three months last year when crop in most parts had failed, is the reason why farmers in Jatagharra village have managed to hold on. Compare the high price farmers in this village have been able to continuously get with the promise of a minimum of Rs 4 per kg for tomato farmers under the Bhavantar Bharpai Yojana in Haryana, the reason why and how Jatagharra has evolved into a modern and vibrant village becomes very clear. An assured and profitable income by way of a guaranteed minimum price therefore is the key to achieve the Prime Minister's vision of Sabka Saath Sabka Vikas.
But not every farmer can be expected to go for an early harvest. If they do so, as many urban dwellers will begin to chant citing the example of Jatagharra, they will face the same kind of steep drop in prices that happens at the time of a glut. The answer therefore is to ensure that tomato growers, like other farmers growing wheat and rice, are provided with a guaranteed price to ensure they don't run into losses. At least the cost of production plus a reasonable profit margin should be ensured come what may. Assure the farmers a rightful price and they will bring about a rural transformation for the better. That for sure will be no less than an economic miracle.
The denial of a guaranteed price to farmers is what ails agriculture. Not only in India, farmers in the developed countries too face a severe agrarian distress. Whether in America or in India, the reason behind the worsening crisis on the farm is the sucking of wealth from the bottom to the top. If the wealth had stayed in the village, as had happened inadvertently in Jatagharra, the rapid transformation that it brings in the lives of the downtrodden is something unimaginable.
We have allowed it to happen for several decades now. It is time to stop that practice, and ensure that farmers get the rightful price for their farm produce. I am glad that Tom Vislack, the US Agriculture Secretary, too acknowledged this when addressing the 112th anniversary convention of the National Farmers Union (NFU) in Minneapolis last week, he said: "For too long, we have had an extraction economy in rural America ... We need to create a system where the wealth created from the ground stays closer to the ground." The extraction economy that the USDA Secretary talked about has been prevalent all over the world. But despite making the right noises, I was disappointed to see Tom Vilsack failing yet again to spell out a meaningful way to reverse the trend.
There is money in agriculture. After all, how is that while farmers struggle to survive, the entire agricultural supply chain rakes in financial gains. How is that while corporate entering agriculture and that includes e-platforms and digital platform outlets, makes tonnes of money while the farmers sleep with a hungry stomach? This is simply because we have for too long allowed an exploitative market economic system in agriculture to prevail that has wilfully eaten into farm wealth. Unless that is checked, I don't think the kind of technological investments being made in agriculture will equip farmers to weather the crisis. It is just another smokescreen being created so as to continue with the extraction of wealth from the ground.
The economic wealth farmers create must give them an economic advantage. It is in this context that I find the success of Jatagharra in bringing about an amazing turnaround has a lesson for policy makers all across the world. Guarantee farmers a minimum assured price, enough to provide them with a living income, and they will do the rest. That's the way to work from the bottom-up.
(The author is a noted food policy analyst and an expert on issues related to the agriculture sector. He writes on food, agriculture and hunger)