Begin typing your search...
Meet PRS Oberoi, the Bhism Pitamah of corporate world
He became chairman of Oberoi hotel in 1988. Prior to him, his father Mohan Singh ji held the control of Oberoi hotel. The credit for bringing luxury in hotel sector in India goes to him only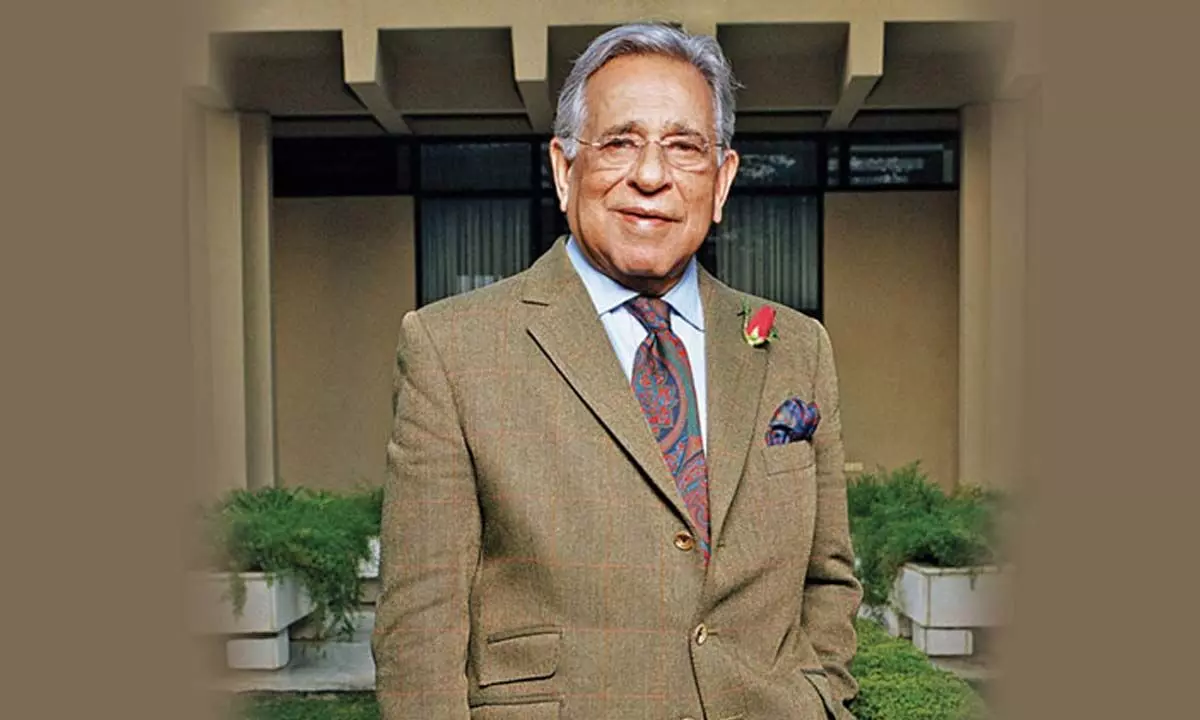 A strange mindset has been in vogue where we simply end by praising only a few people of a particular field. This situation also exists in the business world. Some intellectuals and qualified people are thinking that they are doing enough by simply talking about Ratan Tata, N Narayana Murthy, Azim Premji, Mukesh Ambani etc. No doubt these are the premier celebrities of the corporate world. But, they forget to talk about Prithviraj Singh Oberoi (PRS). He is also known as Vikky Oberoi. The credit for bringing luxury in the hotel sector in India goes to him only. He recently vacated the post of chairman of Oberoi hotel group at the age of 93. It is worth mentioning that world class Oberoi hotels in India and abroad contributed significantly in brightening the image of Oberoi's and India. It is known to all that before industrial reforms of the 90s, Indian brands like Tata, Godrej, Mahindra and Oberoi were the only few to be recognised outside India.
Foreign tourists and businessmen visiting India love to stay in Oberoi trident of Mumbai and Oberoi continental of Delhi. Both these are constructed by Vikky Oberoi. He was completely engaged from planning to operations. He decided matters himself and only informed his dad Sardar Mohan Singh Oberoi. It is said for PRS Oberoi that he convinced his father to start a new hotel in Delhi also. However one Oberoi hotel was operational at that time in old Delhi. This is an incident of the early years of 1960. At those times only Ashoka hotel and Imperial hotels were decent luxury hotels for any tourist. The Oberoi father- son duo purchased land for their Delhi hotel on Zakir Hussain road. It is just next to the Delhi golf club.
PRS Oberoi assigned Peelu Modi as designer. Architect from India and all over the world came with their designs. But Peelu Modi Childhood friend of Pakistan PM Zulfikar Ali Bhutto and elder brother of Chairman of Tata Rusi Modi being a political personality was also an experimental architect. He made a splendid design of the Oberoi New Delhi. It became operational in 1965. Oberoi continental hotel was recognised as a prestigious luxury hotel. Erstwhile, Ashoka hotel was only a decent hotel. It was started in 1956. In the same year, the hospitality of all the delegates of the world taking part in the UNESCO convention were accommodated in this hotel. For the last six decades, Ashoka hotel proudly hosted hundreds of state heads and renowned personalities of the world. Its grandeur is fabulous.PRS Oberoi despite being a global citizen was Indian by heart. Because of his thoughts, all the staff started welcoming their guests by doing "Namaskar" with folded hands since 60's.
He continues to believe that Namaskar is the Indian identity. Visitors must get an image that the hotel belongs to India. We have not heard the name PRS Oberoi linked to any controversy. It is uncommon. Being in the business world people often make some slight mistakes. Cases of Tax evasion are widely seen. But Oberoi hotel is free from such allegations. By this PRS Oberoi is setting an example that one can succeed by even maintaining honesty.
PRS Oberoi was heartbroken when his favourite Trident hotel was destroyed in 26/11 Mumbai terrorist attack. Here dozens of innocent people were also killed by Pakistani terrorists. PRS Oberoi was sad but at the same time he was giving a message to the world that he and his country can flourish even after starting from scratch. Then under his supervision renovation of Trident hotel was accomplished. He shifted from Delhi and stayed in Mumbai for months. He wholeheartedly spent money on its re-construction. Means PRS Oberoi recreated it from a pile of ashes. One more thing, India has hundreds of industrialists. But PRS Oberoi stands at a different place. He knows the technique to earn prestige for brand value in the market. He is Bhism Pitamah of the hotel industry in true sense.
He became chairman of Oberoi hotel in 1988. Prior to him, his father Mohan Singh ji held the control of Oberoi hotel. Even in the lifetime of his father he started to take important decisions. He was a future visionary person. He was God gifted the qualities where one knows the sphere to invest in a manner to generate profit. He opened his hotel in Gurugram 10 years back and invested heavily in it. Few people speculated that he will not earn from his Gurugram investment. But they were proved wrong. Gurugram has changed a lot in the past decade. It has transformed into an IT hub. Thousands of foreigners visit and stay here regularly. His hotel in Gurugram is functioning in full capacity. Actually, people on the zenith are expected to understand the possibilities of the future. This way PRS Oberoi is fabulous. It should be expected that veteran PRS Oberoi will continue to be an inspiration for the corporate sector of India.
(Writer is senior editor, columnist and Former MP)