Begin typing your search...
How medical education in India tilted in favour of urban elites
There is a need for massive expansion of medical education infrastructure; India needs to make them more inclusive and affordable to accommodate the aspirations of students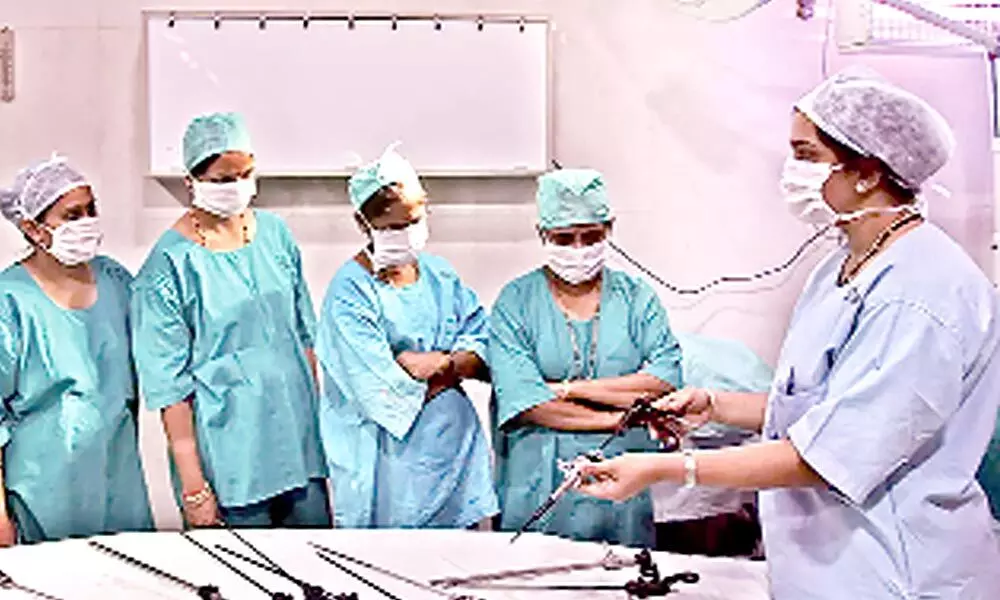 The crisis in Ukraine has brought in focus the need for expanding medical education infrastructure in India, which should be inclusive and affordable. Nearly 20,000 students were chasing their MBBS dreams in Ukraine when the crisis gripped the Eastern European nation. There are many other countries where a large number of Indian students are pursuing their MBBS course. After completing the course, these students have to qualify a screening test back home called Foreign Medical Graduates Examination (FMGE) for registration to practice in India. Since they are not put to proper test and assessment by the universities in foreign countries while enrolling them, the Screening Test Regulations, 2002, have been amended to mandate qualifying NEET for those who wish to pursue foreign medical course. Hype over academic rigour and complexities is one thing but not having enough avenues for aspiring students to pursue medical education in their own country is not a happy situation as well even after 75 years of Independence.
It has also come out quite prominently that medical education in the private sector in India is very costly, which drives students from lower-medium income families to go abroad if they fail to get into any government college here. The cumulative cost of an MBBS degree in a good private university in India is estimated to be Rs 1 crore or even more. Public or private, medical education should be affordable for all. Costly education means denial of right and opportunity to poor students to acquire quality education, and the worst sufferers among them are the students from socially and educationally backward communities, Scheduled Castes (SCs) and Scheduled Tribes (STs). Most of them cannot afford to do MBBS even in Ukraine as paying fees in government medical colleges and meeting other expenses are also quite challenging for them. For them, there should be freedom from fees in government and private medical colleges.
Even if the parents of poor students can manage to meet the expenses of their wards by taking loans from money lenders by mortgaging their properties if any or selling a portion of land, they have to compete with well groomed students in the entrance test – National Eligibility Entrance Test (NEET), which has become a source of million dollar income for India's coaching industry. These coaching institutes are dominated by the students from well-off families. Some of them, but very few, are those whose parents cannot afford the coaching cost but have to manage somehow as their children aspire to be doctors. Thanks to affirmative measures like reservation, some of them manage to get admission but the majority of them have to suppress their aspirations for want of resources. A painful situation, indeed!
If education – whether medical, engineering or management – being provided by top seats of learning like AIIMS, IIMs, IITs and their counterparts in private sectors is out of the reach of masses, then we are only sustaining and widening the gap between haves and have-nots. Urban elites are not only influencing policies for the poor masses but are also tilting them in their own favour. NEET-JEE is heavily in sync with the syllabus of Central Board of School Examination (CBSE) and NCERT, and the dynamics of what guide and make India's coaching sector thrive. The urban elites are rarely seen even joining the discourse over the closure of coaching institutes for top courses. As a result, naturally talented lots do not get into where they should be while those who have been tutored to clear entrance tests are dominating these great seats of learning. It is not to suggest that they are not talented but certainly they are not the first among our talented lot. They shine thanks to the facilities and privileges they easily access. Others have to struggle a lot, as they have to cope with multiple deficiencies at various levels.
This dichotomy in higher education in general and medical education in particular has to be addressed at the earliest. It has a lot to do with the future of the nation. In a country like India where 80 per cent people live in rural areas and are dependent on the rural economy cannot allow urban elites to usurp quality opportunities and facilities at the cost of the rightful share of those living in villages. It is heartening to note the Central government is planning to have a medical college in every district of the country. It can easily be done by upgrading District Hospitals. In the past seven years, the number of medical colleges has gone up to nearly 600 from about 385 in 2014. India now has 22 AIIMS. The number of medical graduates and post graduates seats has gone up from nearly 80,000 to 1.5 lakh. It is a positive development.
However, the representation of OBC, SC and ST students in medical colleges and universities is not in proportion to their aspirations and population despite the fact that they are the backbone of what is called and relished as unity in diversity. According to the result of National Eligibility-cum-Entrance Test (UG) – 2021conducted by the National Testing Agency (NTA), 770857 unreserved and economically weaker section (UR/EWS) candidates were declared qualified based on qualifying criteria, 66978 other backward class (OBC) candidates, 22384 SC candidates and 9312 ST candidates. It is estimated that there are around 90,000 MBBS seats in the country's medical colleges. In a nutshell, there is a need for massive expansion of medical education infrastructure in India to accommodate the aspirations of the majority of students in general and those from marginalized sections of society in particular. And the education should be of top quality. It is certainly a tall order but as a nation we know now how to convert every challenge into a positive opportunity to ensure inclusive and resilient growth!
(The writer is a senior journalist and author. The views expressed are strictly his personal)