Begin typing your search...
Higher education institutions must reach out to masses in new India
There is no dearth of policies. What is required is willingness of all stakeholders to go extra mile in uplifting quality of higher education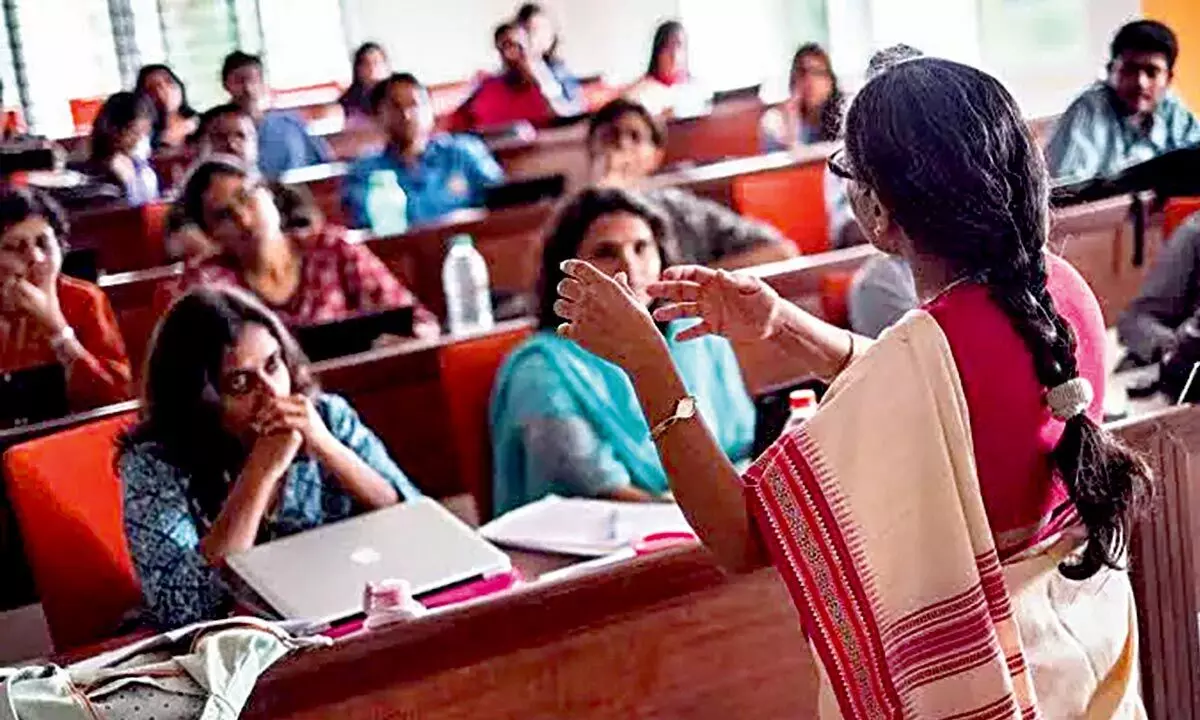 Quality education is of vital importance. It makes a real difference in one's life. However, the delivery of quality education is not an easy proposition. It involves huge investment and commitment as well. Making quality and affordable education available to all is quite challenging but certainly not impossible. The Union Education Ministry recently released the ranking report of higher education institutions (HEIs) in the country. It is a laudable exercise. There is a need for continuous assessment of every seat of learning. A vibrant and inclusive education system makes the task of enabling youth to be future ready easier.
The National Institution Ranking Framework (NIRF), which was launched in 2015, is based on five broad parameters such as teaching, learning and resources; research and professional practice; graduation outcomes; outreach and inclusivity; and perception. It is encouraging indeed to note that the total number of applications for ranking in various categories have increased from 3,565 in 2016 to 7,254 in 2022, that is, a total increase of 2,360 (97.28 per cent increase) in unique institutions and 3,689 (103.48 per cent increase) in total applicants.
Some of top-ranking institutions are Indian Institute of Technology (IIT), Madras; Indian Institute of Science, Bengaluru; IIM, Ahmedabad, All India Institute of Medical Sciences (AIIMS), New Delhi; Jamia Hamdard, New Delhi; Miranda House of Delhi University; IIT- Roorkee; National Law School of India University, Bengaluru; Saveetha Institute of Medical and Technical Sciences, Chennai. As our collective goal is to create 'a knowledge-based economy which is innovation-led and technology-driven,' our higher educational institutions in general and the top-ranking ones in particular have to play an inclusive role by reaching out to the masses. It will be possible only when quality and affordable higher education is made easily accessible to the marginalized and deprived sections of society. Their number is too big. Hence, bigger efforts will be required to accommodate their educational aspirations. The idea is not to enroll each one of them but to facilitate them so that a good number of them get into all top ranking HEIs every year. They might not be as good as their counterparts having studied in top schools but they can certainly be prepared through various gap filling efforts to compete with them.
To start with, our HEIs should ensure that the reservation policies of the Central and state governments for OBCs, SCs, STs and EWS is complied with in totality and without any variations. It should be done in a mission mode. It will be appreciated by all if top ranking institutions in the private and public sector organize preparatory classes for them so that they fare well in entrance tests. Since Amrit Kaal is going to be the most crucial period for new India, socially and educationally backward communities have to be mainstreamed through multiple enabling measures. Affirmative policies for them are certainly path-breaking but more efforts are required to be made to ensure that our targeted students are not deprived of the benefit of affirmative policy under any circumstances and in any part of the country. We cannot afford any longer that quality and affordable higher education remains inaccessible to women, disabled and poor as accessible higher education is necessary for the 'full development of the human personality and the sense of its dignity.' Rich or poor – the quality of education should be the same and should also be accessed by them with ease!
The Sustainable Development Goals (SDGs) also recognize that access to higher education is vital to lifelong learning. The SDG 4 includes access to higher education in its 3rd target: "By 2030, ensure equal access for all women and men to affordable and quality technical, vocational and tertiary education, including university." This target emphasizes that higher education must be accessible to all and of high quality. Increased access to higher education enables people to maximize their potential and further universal sustainable development. Higher education also enables individuals to expand their knowledge and skills, clearly express their thoughts both orally and in writing, grasp abstract concepts and theories, and increase their understanding of the world and their community.
It has also been shown to improve an individual's quality of life. Studies show that as compared to high school graduates, college graduates have longer life spans, better access to health care, better dietary and health practices, greater economic stability and security, more stable employment and greater job satisfaction, less dependency on government assistance, greater understanding of government, increased community service and leadership, more self-confidence, and less criminal activity and incarceration.
The Covid-19 pandemic has made the task of imparting education quite challenging. Reliable data in the public domain points out a lot of things. For example, before the coronavirus crisis, projections showed that more than 200 million children would be out of school, and only 60 per cent of young people would be completing upper secondary education in 2030 globally. 617 million youth worldwide lack basic mathematics and literacy skills. Some 750 million adults – two thirds of them women – remained illiterate in 2016. Half of the global illiterate population lives in South Asia, and a quarter live in sub-Saharan Africa. In ten low and middle-income countries, the children with disabilities were 19 per cent less likely to achieve minimum proficiency in reading than those without disabilities. India is certainly much better placed than many other countries in ensuring that school and college students have access to continued learning. Gaps in the availability of content and connectivity were addressed with a wholesome approach and facilitated inclusive learning opportunities for children and youth during the sudden and unprecedented educational disruption caused by Covid-19. The new National Education Policy-2020 is going to open up a number of greener avenues by making higher education more inclusive and resilient. Vocational education has been integrated into the higher education system, while the National Apprenticeship Training Scheme has been extended for the next five years with an outlay of Rs 3054 crore. It will make, through apprenticeship, around 9 lakh students employable. Under this scheme, students will be given apprenticeship in emerging and frontier technology such as Artificial Intelligence and drone technology. Apprenticeship scheme and internship embedded course will create a sustainable skilling eco-system.
The scope of the National Apprenticeship Training Scheme has been broadened to give apprentices to students from humanities, commerce and science besides engineering stream. The Academic Bank of Credit has been launched to digitally store the academic credits earned from various recognized HEIs so that the degrees from an HEI can be awarded taking into account credits earned. e-PGPathshala content is being used by universities for blended learning. There is no dearth of policies and programmes. What is required is the willingness of all stakeholders to go the extra mile in uplifting the quality of higher education and making it more accountable, transparent and inclusive!
(The writer is a senior journalist,
author and columnist. The views
are strictly his personal)