Begin typing your search...
Challenges & opportunities of being 5th largest economy of the world!
The task ahead is enormous and multifaceted. India needs to invest a lot in human development through health and education for sustainable growth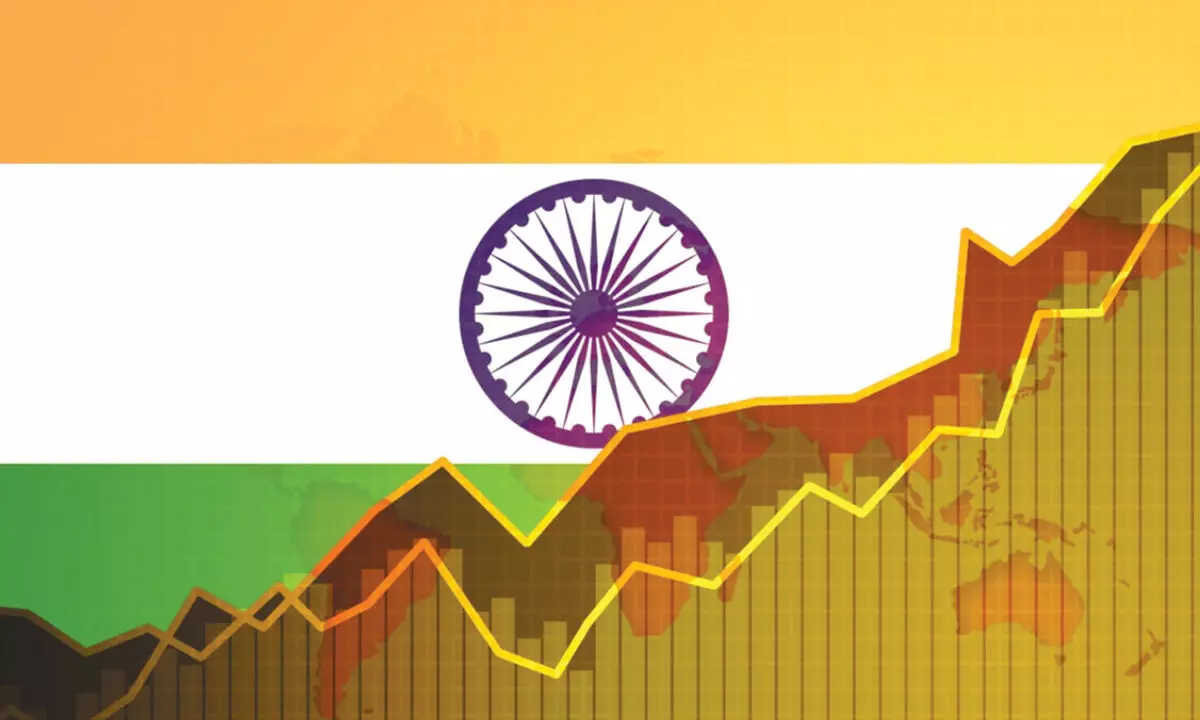 It is a great milestone – India surpassing the United Kingdom to become the world's fifth largest economy. If all goes well, we will soon be the third largest world economy after the US and China. At present, India is being rated as the fastest growing economy among G-20 countries. In fact, there are multiple feathers to our cap. For example, we are number one in the world in terms of smartphone data consumers, second in terms of internet users. India is the third largest energy consumer country in the world. In the last eight years, over 100 billion-dollar companies have been created. New companies are being added every month. It took India around 800 days to reach the first 10,000 startups after 2014, and less than 200 days for 10,000 new startups. In the last ninety-six months, the total number of startups has gone up to nearly 70,000. These startups are spread across every state and more than 650 districts of the country. About 50 per cent of them are in Tier-II and Tier-III cities.
It is also being claimed that today India is witnessing an unprecedented investment in social and physical infrastructure. An environment of consensus has been created to implement the new National Education Policy-2020, while on the other hand, the work is going on to implement the new health policy. We don't have any government owned airline today but a record number of new airports are being built in India, connecting small cities with air routes in collaboration with private sector players. A number of new mobile towers are being installed by private sector players as 5G is knocking on the door of India. We also have the world's best digital transaction platform – Unified Payment Interface (UPI). As much as 40 per cent of global digital transactions are being done in India. Under the PM Kisan Samman Nidhi, about two lakh crore rupees has been transferred to the bank accounts of more than 11 crore farmers of the country.
Today, three crore poor people of the country have got their pucca and new houses, where they have started living. More than 50 crore poor people of the country have the facility of free treatment up to Rs 5 lakh. Over 25 crore poor people of the country have accident insurance and term insurance of Rs 2 lakh each. About 45 crore poor people of the country have Jan Dhan bank accounts. Under the PM SVANidhi scheme, 35 lakh street vendors of the country have received financial help. Loans worth more than Rs 20 lakh crore have been given to small entrepreneurs across the country under the Mudra Yojana. Among the borrowers there are about seven crore such entrepreneurs who have started a business for the first time and have become new entrepreneurs. That is, with the help of Mudra Yojana, more than seven crore people are associated with self-employment for the first time, and 70 per cent loans have gone to women entrepreneurs.
No doubt, the best possible efforts are being made to build a stronger, much more vibrant and inclusive India but in jubilation we must not be oblivious of gaps, which point a lot to the common people, policy makers, public policy experts and other stakeholders. The latest Human Development Report – Uncertain Times, Unsettled Lives: Shaping our Future in a Transforming World - launched by UNDP – ranks India 132nd out of 191 countries. India's HDI value of 0.633 places the country in the medium human development category, lower than its value of 0.645 in the 2020 report. India ranked 131st among 189 countries in the 2020 human development index. "Like global trends, in India's case, the drop in HDI from 0.645 in 2019 to 0.633 in 2021 can be attributed to falling life expectancy - 69.7 to 67.2 years. India's expected years of schooling stand at 11.9 years, and the mean years of schooling are at 6.7 years," the report says.
Human development - a measure of a nation's health, education, and average income - has declined for two years in a row - 2020 and 2021, reversing five years of progress. Though the trend is in line with the global decline, indicating that human development across the world has stalled for the first time in 32 years, we need to be more focussed and steadfast in our inclusive pursuits. The HDI measures progress on three key dimensions of human development – a long and healthy life, access to education, and a decent standard of living. It is calculated using four indicators – life expectancy at birth, mean years of schooling, expected years of schooling, and the Gross National Income (GNI) per capita. No one can deny the fact that India's growth story reflects the country's investments in inclusive growth, social protection, gender-responsive policies, and push towards renewables to ensure no one is left behind but the gaps between opportunities, benefits and the targeted groups remain monstrous.
Child labour, caste-based discrimination and poverty are closely inter-linked in India, according to a UN report which highlighted contemporary forms of slavery, including severe discrimination against Dalit women in South Asia due to which they are systematically denied choices and freedoms in all spheres of life. Human Rights Council Special Rapporteur Tomoya Obokata in his recent report on contemporary forms of slavery, including its causes and consequences, said that deep-rooted intersecting forms of discrimination, in combination with multiple other factors, are the main causes of contemporary forms of slavery affecting minorities. The report also notes that systematic discrimination has profound implications for the ability of affected individuals and communities to live a life of dignity and enjoy human rights on equal footing with others. Marginalized communities often remain overlooked in public policies and national budgetary allocations, and their access to justice and remedies in cases of human rights violations, including contemporary forms of slavery, is generally limited. Our inability to end caste-based discriminations is a sad reflection on us as a nation.
It is a welcome development that India @ 75 has renewed its resolve to end TB by 2025. TB is directly linked to severe malnutrition and poor hygiene among other things. Nothing can be so gratifying to see the elimination of malnutrition from the country in the next three years. No malnutrition means no chronic poverty, which means a minuscule percentage of people living below the poverty line. Low immunity – a significant fall out of malnutrition – is regarded as one of the common reasons why TB infection breaks into TB disease. People suffering from HIV, stress, diabetes, damaged lung condition; alcoholics and smokers whose general health condition is poor also have the possibility of getting the disease. It is at this stage that they start showing symptoms. Incidence of TB is quite high across the world. Out of the total cases, more than 26 per cent are from India. This includes both multidrug-resistant TB and HIV TB cases. Needless to say, the task ahead is enormous and multifaceted. We need to invest a lot in human development through health and education for sustainable growth.
(The writer is a senior journalist, columnist and author. The views expressed are strictly his personal)