Begin typing your search...
Can BJP's Priyanka Tibrewal defeat Mamata in Bhowanipore bypoll?
The threats of Cyclone Gulab over coastal Bengal may have gone, but the Saffron leadership is certainly praying for a Cyclone Lotus at Bhowanipore in downtown Kolkata.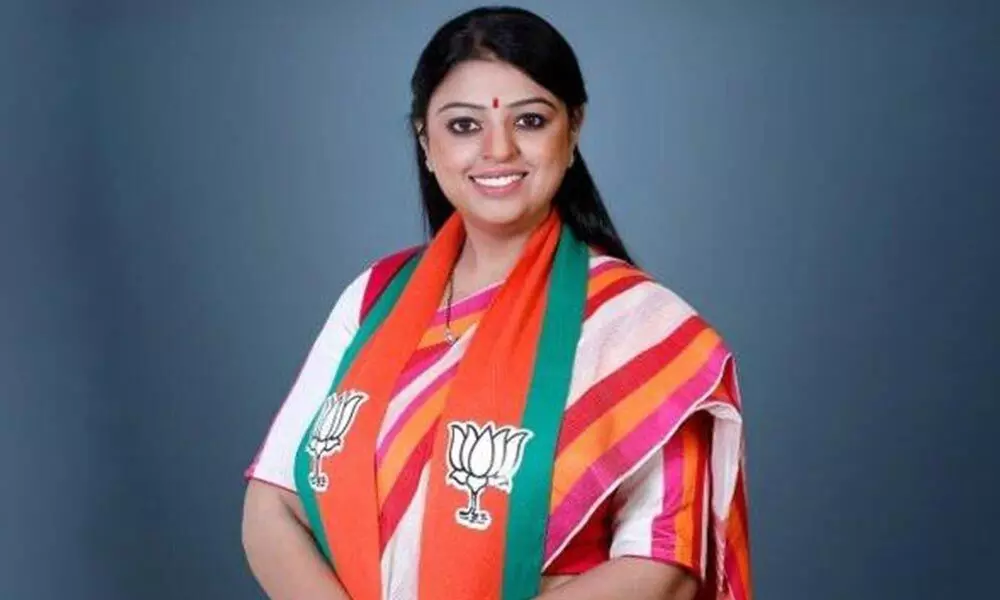 The threats of Cyclone Gulab over coastal Bengal may have gone, but the Saffron leadership is certainly praying for a Cyclone Lotus at Bhowanipore in downtown Kolkata. And that's not without reasons. Only a deadly cyclone like this, can upset Mamata's applecart. The bypoll for Bhowanipore Assembly constituency, from where West Bengal's third time Chief Minister Mamata Banerjee is taking on BJP's almost political greenhorn Priyanka Tibrewal, is taking place on Thursday and the results will be out on October 3. Mamata is no longer a threat to BJP in Bengal alone, but her political marches in states like Tripura, Assam, Goa are certainly causing some headaches to the Saffron leadership nationally.
From Mamata Banerjee's side, the Bhowanipore by-election is going to be the first lifeline to continue in office, after she had lost to her one-time Man Friday, Suvendu Adhikari, who is now BJP's posterboy in the state. Priyanka Tibrewal, with two electoral defeats to her credit- both with huge margins- one at Kolkata Municipal Corporation election and another at the recently concluded state legislative polls, is certainly not a strong candidate against the stormy petrel, by any stretch of imagination. But politics is a game of glorious uncertainty and being a greenhorn may prove to be somewhat advantageous….at least the BJP leadership is hoping so. The Bengal BJP is also banking heavily on a fairly large non-Bengali vote bank in the constituency.
However, Tibrewal is more arithmetic and has other disadvantages than one. The previous BJP candidate (Rudranil Ghosh) lost to TMC's Sobhandeb Chattopadhyay by over 28,000 votes in the April polls and Tibrewal herself lost to TMC's Swarnakamal Saha at nearby Entally by more than 50000 votes. Electorate's minds are not expected to sea such dramatic changes in just four months, unless there is a storm or cyclone.
No Saffron heavyweights were seen campaigning for Tibrewal, except for Smriti Irani and Manoj Tewari- both from outside Bengal. Her political mentor and former Union Minister- Babul Supriyo switched camps and joined TMC, days after she was nominated. Other party stalwarts from the state including party MPs- Locket Chatterjee and Rupa Ganguly were conspicuously absent in the campaign train. Just when political grapevines had it that the BJP leadership was not serious about giving Mamata a run for her money at Bhowanipore, BJP's immediate past president Dilip Ghosh paid a visit on the last day of campaign and was stopped by the TMC activists before he could start his campaign.
While CPIM has fielded a little known candidate- Srijeeb Das, Congress did not field anyone against Mamata. Therefore, the possibility of anti-BJP votes getting consolidated cannot be ruled out altogether. And that's what the TMC is trying to do. There was however no complacency on party of the Mamata's party. Not only Mamata herself campaigned aggressively across the constituency and paid visits to all religious places- Laxmi Narayan temple, Gurudwara, Jain Temple, mosque and others, but the entire TMC upper-rung concertedly campaigned in Bhowanipore.
Interestingly, the Bhowanipore by-election is coinciding with Mamata's national dreams and aspirations. And Mamata minced no word in mentioning that during her campaign trail. In the April-May polls in the state, it was Mamata Vs Modi-Shah-plus all central agencies and Mamata had won that battle emphatically. This time round at Bhowanipore, it is only Mamata Vs Priyanka Tibrewal. Apparently therefore it looks like a cakewalk. But don't forget that at Bhowanipore, Mamata's erstwhile constituency, the TMC vote-bank had been dwindling and the seat, for some reasons, had been turning out to be somewhat uncertain and difficult before the last polls and many think that's why Mamata had wanted to move to a new seat.
At this point, the possibility of BJP wresting the seat from TMC looks extremely low. But quite like in the game of cricket, in politics also nothing can be predicted until the last ball is bowled.