Begin typing your search...
Artificial intelligence powering aerospace to the zenith
Technology changes the way businesses interact with their customers and take strategic decisions to build workflows.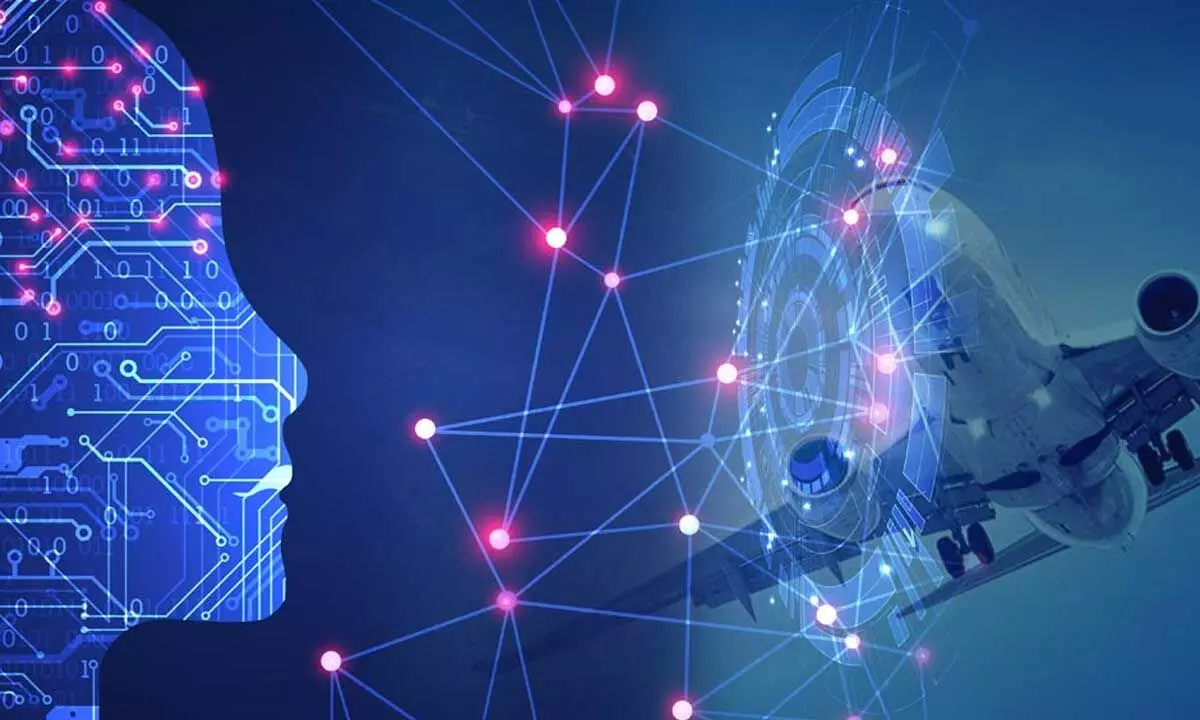 Technology changes the way businesses interact with their customers and take strategic decisions to build workflows. For instance, actions like booking a flight via phone or conducting offline surveys seem unusual these days. Real-time access to data - the 21st-century oil - allows organisations to take informed steps towards operational efficiency.
AI is a powerful tool that ought to be used by companies across segments and industries, especially technical, complicated ones like aerospace and defence.
Artificial intelligence and its cognitive technologies that make a sense of data can streamline and automate analytics, machinery maintenance, customer service, apart from many other internal processes and tasks. On that count, AI technologies are useful for various aspects of airline operation management.
The main applications of AI and data science in the airline industry: Revenue management; air safety and airplane maintenance; feedback analysis; messaging automation; crew management; fuel efficiency optimization; in-flight sales and food supply; fraud detection; in-airport self-service and flight management and autonomous taxi, take-off, and landing in the future
Russia's military might is well-known around the world. The Foundations for Advanced Research Projects is the country's equivalent of DARPA in the United States. Top leaders have been promoting development of AI-based technology for the military. According to reports, the Russian military is considering using AI, big data and ML to conduct more effective information operations. Russia is currently investing extensively in artificial intelligence (AI) for the identification, analysis and refutation of misinformation in both the commercial and defence sectors.
India is also taking small measures to incorporate AI-based technology into its combat and surveillance projects. In reality, the Ministry of Defence formed a high-level Defence AI Council (DAIC) in 2019, tasked with delivering strategic direction for AI adoption in the defence sector. The major objective of the DAIC is to guide government-industry collaboration for deployment of such breakthroughs. In a series of tests that were performed, aerospace company Lockheed Martin set its VISTA X-62A tactical test aircraft on a modified F-16D aircraft. The plane was flown for a staggering 17 hours across 12 different flights above Edwards Air Force Base in California. As part of the simulation test, a pair of Getac tablets was installed in both cockpits during the flight that houses the company's AI system. The software can initially perform different characteristics of an aircraft for analysis, and this time it took on the form of a human pilot. The project's primary goal is to one day send planes into the sky autonomously.
One of the primary challenges with deploying AI-based technologies is the financial and expertise investment required. How much can one afford to fund infrastructure capabilities for constructing such technologies, especially in middle-income nations like India, where a large portion of the population is still living in poverty, is a huge challenge? The conceivable solution is for policymakers to determine which AI programmes are required for national security and to strive towards that.
The impact of AI in defence is enormous. Those looking to get ahead must recognize not only the benefits it will bring, but the challenges it will create, and perhaps, more importantly, how to adapt to overcome these challenges. As AI in defence increases, so does the number of ethical questions, particularly around autonomous weapon systems. Additionally, the complexity of the defence acquisition process is a deterrent for some commercial companies to partner with governments, while cooperation on both sides is vital for technology procurement.