Begin typing your search...
Telangana to play lead role in e-mobility: KTR
The Minister attends the foundation stone laying ceremony of Amara Raja Batteries' advanced energy research & innovation centre - E Positive Energy Labs in the city on Friday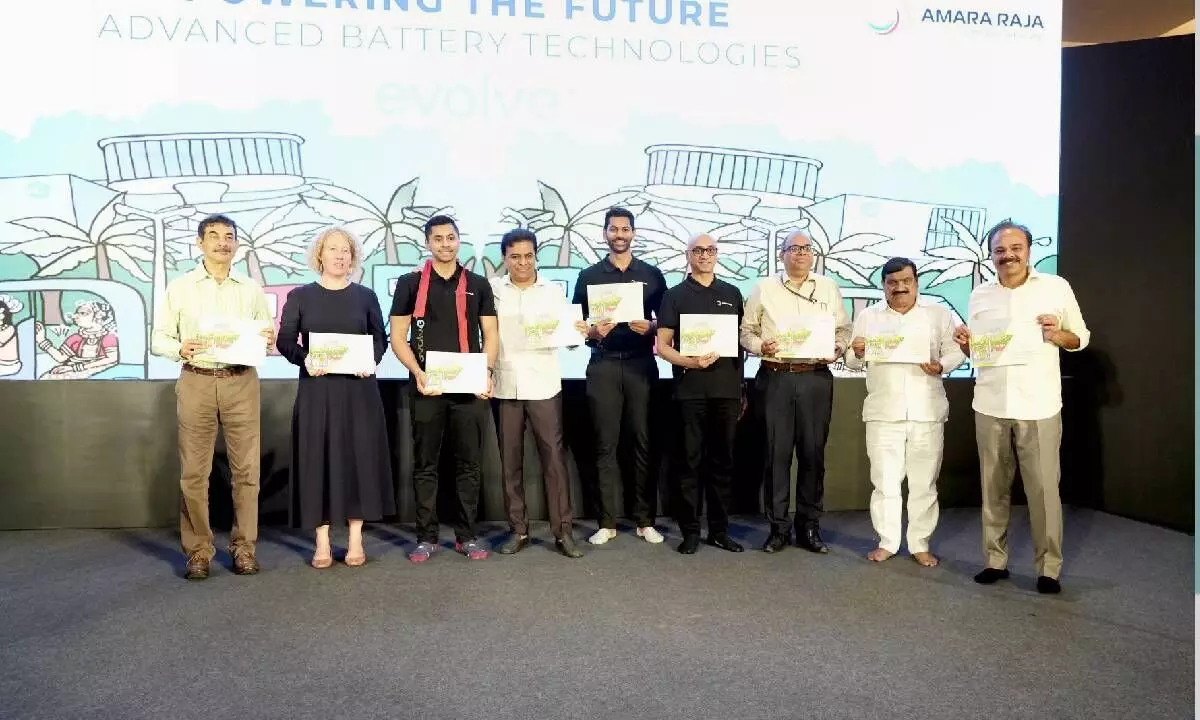 Hyderabad Amara Raja Batteries Limited(ARBL), one of India's leading industrial and automotive battery majors, held the foundation stone laying ceremony of Amara Raja advanced energy research & innovation centre called 'E Positive Energy Labs' at the GMR Aerocity near Hyderabad airport on Friday.
Telangana Industries Minister K T Rama Rao was the chief guest at the event. On the occasion, he said: "The State government has created four manufacturing clusters under Telangana Mobility Valley to facilitate companies across different segments, including electric vehicles (EVs), advanced cell chemistry batteries, hydrogen fuel cells, and engineering and research facilities."
He said, "The first energy park in India was set up at Divitipally. ARBL is the anchor company, while its construction is proceeding at a rapid pace. Zaheerabad and Sitarampur have been identified as electric vehicle and component manufacturing clusters, while Enkathala has been designated as a research and innovation cluster. Telangana has a thriving ecosystem of companies active in the EV sectors.""The market for EV batteries in India has the potential to reach 260 gigawatt hours by 2030. Out of that, 60 per cent domestic demand is projected to be manufactured in India by 2030, with Telangana aiming to host around 30 giga watt hour lithium-ion facilities by then," the minister said, announcing the State government support in developing a successful domestic battery manufacturing ecosystem.
He further said, "Telangana had taken up a first-of-its-kind initiative by appointing the Telangana State Mineral Development Corporation (TSMDC) to work directly with joint venture partners in Latin American countries to secure access to lithium and other minerals. Hyderabad has emerged as the preferred location for establishing R&D, design, and engineering facilities.
The 'E Positive Energy Labs' aims to drive breakthroughs in energy storage, electric mobility, renewable energy integration and more. The centre is an important milestone in Amara Raja's journey of establishing a 'Giga Corridor' with investment of Rs 9,500 crore that will encompass this research facility and a Gigafactory at Divitipalli for manufacturing Li-ion cells and battery packs.
Jayadev Galla, CMD of ARBL, said: "The centre will serve as a much-needed catalyst for multi-stakeholder collaboration and for fostering entrepreneurship in this fast-emerging sector. It is a testament to our dedication to fostering innovation and shaping the future of energy. It will accelerate the development of innovative solutions that address the evolving energy storage needs of our society."
"India has set ambitious targets for electric mobility and renewable energy storage capabilities, we expect our new 'E Positive Energy Labs' to be a significant needle-mover in India's energy transition and hope to foster collaboration and innovative spirit in the Energy & Mobility space," said Vikramadithya Gourineni, Executive Director, ARBL.