Begin typing your search...
SC refuses bail to Yes Bank founder Rana Kapoor
A bench of justices Sanjiv Khanna and SVN Bhatti pulled up the ED for the slow pace of investigation in the case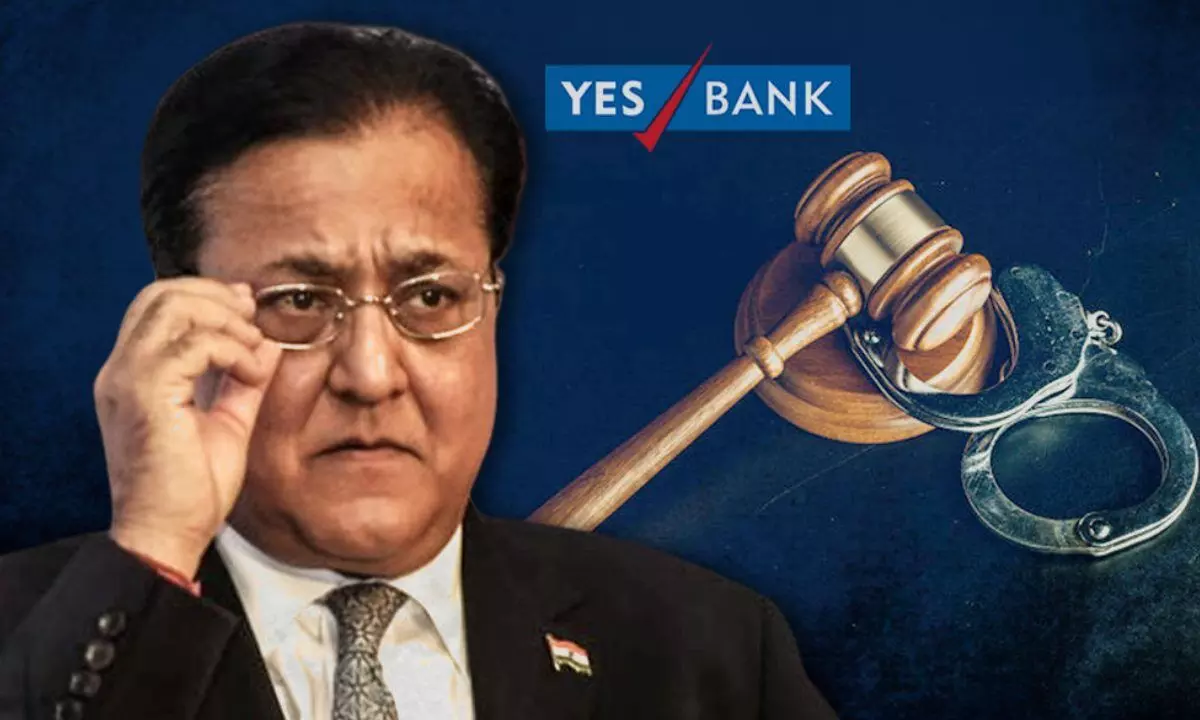 New Delhi: Extraordinary cases involving high stakes should be taken up on high priority, the Supreme Court on Friday told the Enforcement Directorate while refusing to grant bail to Yes Bank founder Rana Kapoor in a money laundering case.

Observing that Kapoor has rocked the entire financial system of the country, a bench of justices Sanjiv Khanna and SVN Bhatti pulled up the ED for the slow pace of investigation in the case. "There are some cases which are extraordinary and which involve high stakes. You have to take it on high priority. You cannot take it like this. Point is that once he gets bail, you will not be able to finish the trial for the next hundred years", the bench told Additional Solicitor General SV Raju, appearing for the Enforcement Directorate.
Raju said it becomes difficult to trace the money trail which goes to foreign countries and therefore the probe agency gets information in bits and pieces from abroad and hence the delay. Justice Khanna said that by looking at the case diary it seems that things are moving at a slow pace. The bench, which eventually allowed senior advocate Abhishek Singhvi to withdraw the plea, said he can file a fresh plea for bail once he completes half a sentence in custody. It said, "Normally, we consider the bail petition on the basis of the period already undergone. He is the one who rocked the entire financial system. Did the Yes Bank not run into difficulty." Singhvi said Kapoor is one month short of serving half of his total sentence in the offence for which he is accused of and there was no loss of the public money.
The bench said, "Sorry, this is not a case to interfere at this time. You can come after some time." On May 4, the Bombay High Court had refused to grant bail to Kapoor in connection with the DHFL money laundering case, noting that he was one of main accused in the case and he faced a "serious charge" of having laundered public money. It had said Kapoor misused his official position to gain undue financial benefit for himself, his family members and associates and around Rs 378 crore have been invested overseas for which the investigation is still on.
The high court had said it cannot ignore Kapoor's role in the crime, the magnitude and seriousness of the crime and there was also an apprehension of tampering evidence. Kapoor had sought bail on the ground that he had been in custody since March 2020 and trial in the case would take a long time to begin and that his custody was not required. In 2018, Yes Bank allegedly invested Rs 3,700 crore in short-term debentures of DHFL.
It also sanctioned a loan of Rs 750 crore to a subsidiary of DHFL. Kapoor allegedly received kickbacks of Rs 600 crore by extending a loan to DOIT Urban Ventures (India) Pvt Ltd, which is wholly owned by RAB Enterprises, a company owned by Kapoor's wife and daughters. His first bail application was rejected in February 2021 by the high court. Kapoor had filed the second bail application on the ground that the maximum sentence under the Prevention of Money Laundering Act (PMLA) was seven years, and Kapoor had been in custody for three years