Begin typing your search...
Royal Thai Consulate-General to hold awards event in Hyd
To recognise the efforts of individuals and organisations from two Telugu States in boosting the relations between Thailand and India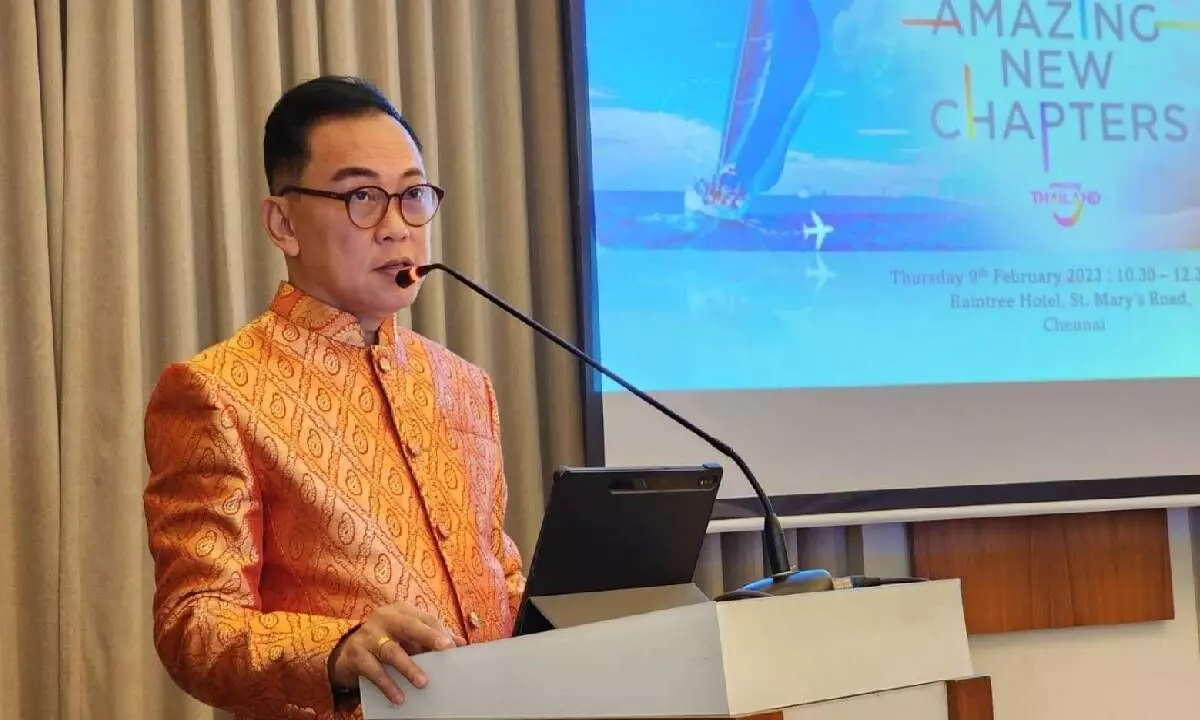 Hyderabad The Royal Thai Consulate-General, Chennai will be conducting Thailand – Telangana & Andhra Pradesh –Friendship Awards of Excellence on 21 July, 2023 in Hyderabad. It is planning to hold this awards ceremony to recognise the efforts of individuals and organisations from two Telugu States in boosting the relations between Thailand and India.
The Consul-General facilitates trade and business activities between Thailand and India's five Southern States – Tamil Nadu, Karnataka, Telangana, Andhra Pradesh, Kerala and a Union Territory – Pondicherry. It acts as a facilitator and helps businesses from the two countries to support each other and collaborate in areas of interest.
"We present these awards to the people and companies who have been contributing in making and strengthening the relations between Thailand and India. Over the years, they were called as 'Friends of Thailand'," Nitirooge Phoneprasert, Consul-General of Thailand in Chennai, told Bizz Buzz in an exclusive interview.
He said, "The embassy organises several events across India to promote business investments from India in multiple areas. It works towards smoother resolution for the problems of any Thai company operating in Southern States by speaking to the relevant Indian governments and officers, and vice versa."
"Any private or government entity can also come in touch with us if they have specific interest to invest in Thailand or trade with our nation. We can help them in their endeavours. The consulate office in Chennai is here to help and facilitate all the trade and investment matters," Nitirooge said.
He further said, "Not only facilitating the Thai traders but we are also helping Indians going to Thailand in search of new business opportunities. For those who are interested to do business or to set up their shops or trade their items in Thailand, we provide them information and connect with the right partner." Thailand and India have deep historic and cultural connections. The geographical proximity has led to connections and improved trade relations. The bilateral diplomatic relations gradually evolved in mutually beneficial partnership. Last year, the embassy celebrated 75 years of diplomatic relations between both nations. Prior to the pandemic period, Indians were one of the largest groups of tourists to Thailand, with more than 1.9 million arrivals in 2019. Post Covid, the number of tourist arrivals from India decreased drastically. Last year, the number started picking up to touch one-million-mark but not reached the pre-pandemic level. It could be 1.3 million this year.