Begin typing your search...
Renowned Telangana folk singer Gaddar passes away
Born as Gummadi Vittal Rao at Toopran in Medak district in 1949, the renowned folk singer and poet went on to become popular as 'Gaddar'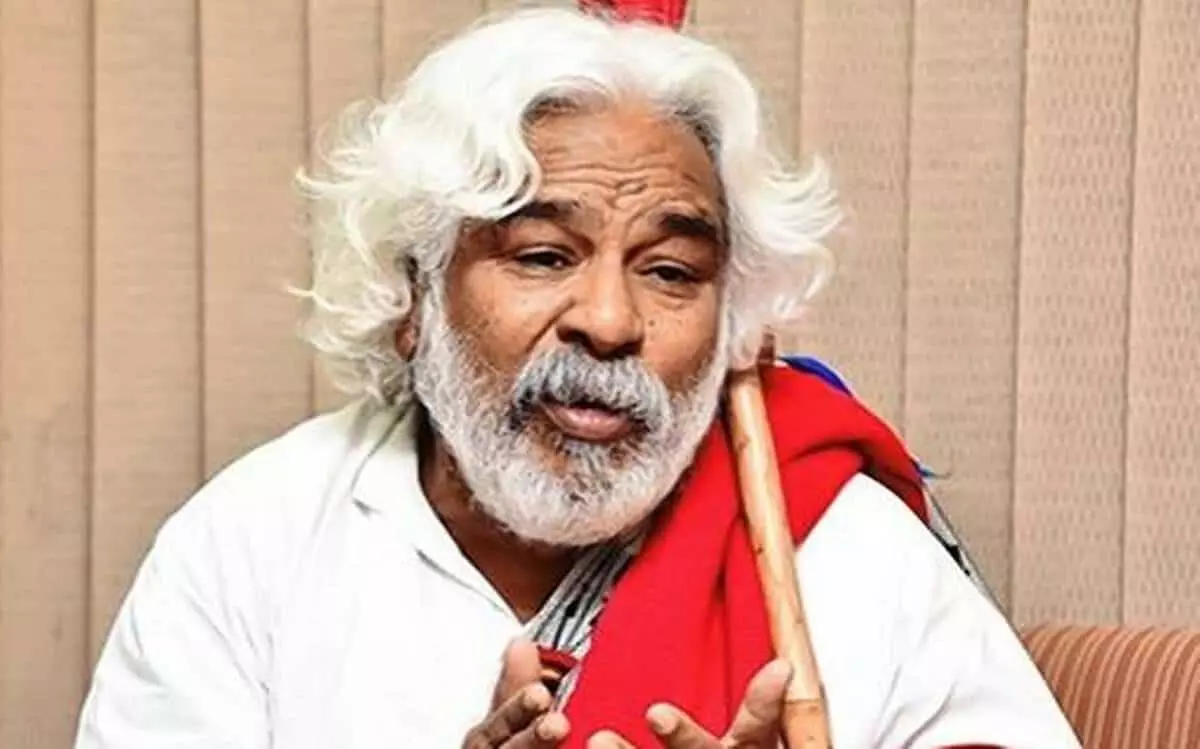 Hyderabad: Renowned Telangana folk singer and balladeer Gaddar, who was popularly known for his revolutionary songs during the 1980s and later during the Telangana statehood agitation, passed away here on Sunday due to ill-health. He was 74.
Born as Gummadi Vittal Rao at Toopran in Medak district in 1949, the renowned folk singer and poet went on to become popular as 'Gaddar'. Gaddar died at Apollo Spectra Hospital in the city due to lung and urinary problems and advanced age, the hospital said in a statement. He was suffering from severe heart disease and got admitted on July 20. He underwent a bypass surgery on August 3 and recovered from it, the hospital said. However, he has had a history of lung and urinary problems, which along with advanced age, became aggravated and led to his passing, it said.
Tributes poured in condoling the death of the balladeer. Union Minister and Telangana BJP president G Kishan Reddy said Gaddar, who played a key role in spreading public awareness on various issues, gave an impetus to the Telangana statehood agitation with his songs. A former naxalite, Gaddar had led an underground life, including in the forests. Subsequently, he had joined the mainstream and voted for the first time in his life in the Telangana Legislative Assembly polls in 2018.
Congress leader Rahul Gandhi tweeted, "Saddened to hear about the demise of Shri Gummadi Vittal Rao, Telangana's iconic poet, balladeer and fiery activist. His (Gaddar) love for the people of Telangana drove him to fight tirelessly for the marginalised. May his legacy continue to inspire us all," he said. Gaddar had attended a Congress public meeting addressed by Rahul Gandhi at Khammam in Telangana on July 2.
Andhra Pradesh Chief Minister Y S Jagan Mohan Reddy called Gaddar a revolutionary man. "He was the voice of the downtrodden and fought for social justice through his inspiring songs," Reddy said in a statement, and conveyed his condolences to the singer's family members. TDP chief N Chandrababu Naidu also posted on Twitter about the passing away of the popular singer, who is equally famous in both the Telugu states and popular for his revolutionary ballads. "A prolific chapter in public movement and human rights campaign has come to an end with the passing away of Gaddar. He moved the masses with his voice," tweeted Naidu, and expressed his sympathies to the deceased campaigner's family.
TDP general secretary Nara Lokesh said he is devastated to know that Gaddar's voice has been silenced by death. Remembering his stellar contribution in achieving statehood for Telangana through his songs, Lokesh said Gaddar had emerged as the voice of the movement. A decade ago, his song 'Podustunna Poddu Meeda Nadustunna Kaalama Pooru Telanganama' had become the anthem of Telangana achievement movement.