Begin typing your search...
Like G-20 nations, swear by proven traditional agri practices and evolve a new resilient pathway
Developing agro-ecological farming systems is unfortunately at the mercy of bureaucrats who control agriculture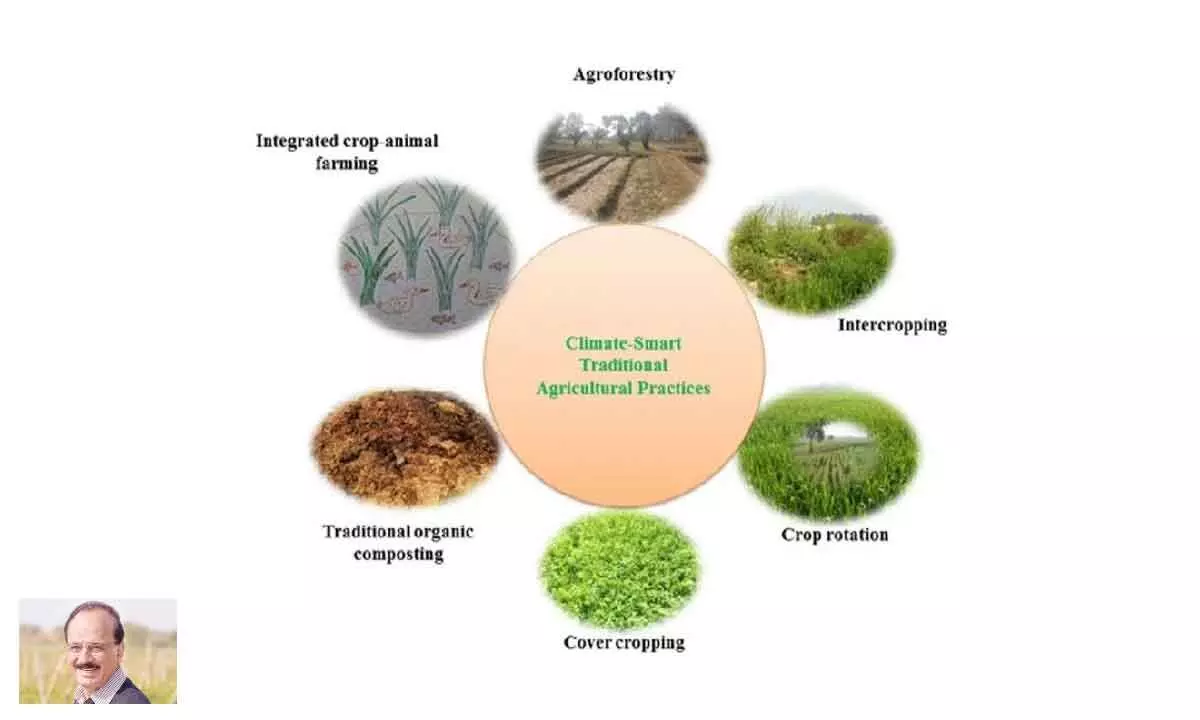 Considering that only 12 per cent of the Sustainable Development Goals (SDGs) have been met so far, and the 2030 cut-off date to achieve the global targets is getting closer, the G-20 declaration was expected to serve as a launching pad for a renewed vigour and drive to attain the ambitious goals, especially those addressing food, hunger and hidden hunger.

An inkling towards this came when Prime Minister Narendra Modi had earlier said: "Traditional practices from different parts of the world may inspire us to develop alternatives for regenerative agriculture."
This is exactly what I had emphasised in these columns earlier. G-20 leadership provided enormous opportunities for India to recast the agriculture narrative and show the inherent strengths of an ecologically sustainable pathway that a developing country's agriculture had amply demonstrated.
In my article 'India should use G-20 Presidency to rebuild food security, agri narrative' (Feb 16, 2023), I had opined: "With agriculture being held responsible for a third of global Green House Gas emissions, the challenge is to move away from the food system transformation that the transnational corporations are coming up with (one that UN Food Systems Summit recently endorsed) and instead transient towards time-tested and ecologically sustainable regenerative farming systems."
Some weeks later, in another article: 'Tech-driven agri-practices pose a bigger threat'(Mar 30, 2023) my worry was that if G-20 countries were to do what the rich developed countries are wanting us to do, then what is the way out to chart a new pathway from the climate crisis the world is confronted with.
Reading the 'Deccan High-Level Principles on Food Security and Nutrition 2023' based on the common position arrived at by G-20 Agriculture Ministers at a conference in Hyderabad on June 16-17, the seven broad principles laid out are expected to serve as basis to assure food and nutritional security. These principles have also been highlighted in the eventual G-20 declaration. Whether these 'high-level principles', as they are called, will lead to any substantial change in the intensive farming practices already being pushed globally leading to agriculture practices that are responsible for one-third of gas emissions, or will these principles bring about a much needed shift towards safe and healthy food only time will tell. But what is apparent is that the cleverly worded document will only encourage more of the same.
For those of us who have followed international negotiations over the years, the principles being proposed offer nothing that has not been said before. Of course, since digital technology was not a hot subject then, it is now being promoted to lead the transformation towards sustainable food systems. Just by adding the prefix 'sustainable', 'scalable' and 'inclusive' does not in any indicate the direction that has to be followed. But as has often been seen, the effort is to use the buzzwords that the civil society and the farm unions come up with and to drive home the point that the policy makers are well aware of its need and importance.
Let me illustrate. Not sure if the timing was deliberate, but a few days before the G-20 Summit in New Delhi, the Indian Council of Agricultural Research (ICAR), perhaps the second biggest public research, education and extension infrastructure in the world, signed an MoU with the multinational agri-business and agri-biotech giant Bayer for 'resource-efficient technology development and enhancing farmers income through regenerative agriculture.'
Strange that a company that faces a lot of roundup- related lawsuits in the United States, after it acquired the technology giant Monsanto, should be welcomed by ICAR as a partner.
Moreover, since Bayer's group sales increased to Euro 50.739 billion in 2022, one is left to wonder why it needs to get into an agreement with ICAR for activities that it can undertake on its own.
Anyway, the point I am trying to make is that the time has come when we should refrain from being swayed by the amicable and politically-correct language used in international declarations, but try to read between the lines. Incidentally, the 'high-level principles' are adopted a few weeks after the ICAR announced opening up for joint collaborative agricultural research projects with private companies. It had also signed an agreement with the ecommerce platform Amazon which had set up a 'Kisan Store' to market agriculture inputs.
As I said earlier, even the language of various agreements being signed is invariably the same. 'Empowering the farmers', 'capacity building', 'resource-efficient technological development' and 'transfer of technology'. How will the spate of memorandums being signed with private companies go by the broader principles laid out will be examined and evaluated. 'Responsible investment' is another catch-phrase that is commonly used when we have to justify private investments even over-looking the company's track-record.
Instead of following the same corporate-led transformation that the US is trying to promote, G-20 presidency had given India a unique opportunity to shift international focus to develop alternatives for regenerative agriculture. The 'high-level principles' on food and nutritional security should have envisaged a clear roadmap to shift the focus from toxic farming practices towards healthy farming practices. In fact, the G-20 Agriculture Ministers conclave in Hyderabad could have easily included a field trip to community-managed natural farming systems in Andhra Pradesh, considered to be the world's largest agro-ecological farming system, to showcase how over the years about 700,000 farmers have been converted from chemical farming to non-chemical farming systems.
One of the biggest stumbling blocks to develop agro-ecological farming systems is the control of agriculture in the hands of bureaucrats. Generally, given a few exceptions, these bureaucrats who have the final say in formulating policies and frameworks know more about what the companies are doing, and thereby build up the same faulty narrative. Many of them have publicly acknowledged the faith they have in corporate agriculture, and the past track-record shows many of them have settled with them for post-retirement jobs. The 'high-level principles' too flow from the prescriptions the bureaucracy made during the series of meetings.
Perhaps the best way should have been, besides listening to farming communities, to engage with centres of excellence like the Rodale Institute in the US and the IFOAM's Research Institute for Organic Agriculture (FiBL) in Switzerland, among others, to frame a regenerative pathway for global agriculture. Even though the bureaucracy may not find this fanciful, it can still be done.
Along with numerous other civil society groups and people's movement's working on agro-biodiversity and agro-ecological farming systems in India and elsewhere, a parallel effort can be made.
While India has passed the Presidency baton to Brazil, I hope in the days to come we will see Brazil putting up a strong framework on agro-ecology and regenerative agriculture. Let us learn from and document the time-tested traditional agricultural practices that are still followed in most G-20 countries (minus the rich G-7 block), and constrict a new resilient pathway that can be truly sustained in the long-run. This is what the world needs.
(The author is a noted food policy analyst and an expert on issues related to the agriculture sector. He writes on food, agriculture and hunger)