Begin typing your search...
Kerala Government Designates Containment Zones Following Nipah Virus Fatalities
The Kerala government has issued a set of guidelines in response to several reported cases of the Nipah virus in the southern state.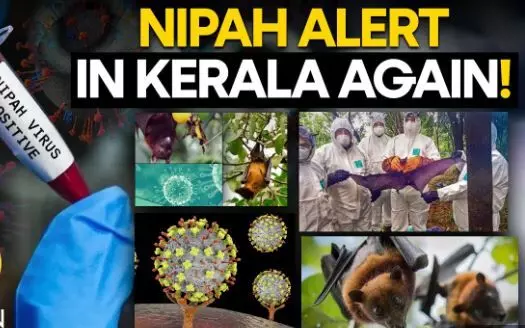 The Kerala government has issued a set of guidelines in response to several reported cases of the Nipah virus in the southern state. These guidelines include the declaration of seven village panchayats in Kerala's Kozhikode, where two Nipah virus-related fatalities occurred, as containment zones with restricted entry and exit. The identified containment zones are Atanchery, Maruthonkara, Tiruvallur, Kuttiyadi, Villyapalli, and Kavilumpara, according to Kozhikode District Collector A Geetha. Local police have been instructed to cordon off these areas, and within containment zones, residents are required to wear masks, use alcohol-based hand sanitizers, and maintain social distancing.
Travelers on National Highways and State Highways, as well as buses operating along these routes, are prohibited from stopping within the containment zones. Additionally, the state government has mandated that only medical shops and essential item outlets, including food stores, can remain open until further notice. Essential item stores are permitted to operate from 07:00 am to 05:00 pm, while medical shops and other healthcare centers have no time restrictions, in accordance with the guidelines.
To contain the outbreak, authorities have closed schools and offices in the affected areas. Kerala Education Minister V Sivankutty has instructed the Public Education Director to organize online classes for students in all schools located in containment zones. Local government institutions and village offices have been directed to operate with minimal staff, while banks, government and quasi-government entities, educational institutions, and anganwadis will remain closed.
As per the state government, there have been two Nipah virus-related deaths and two confirmed cases in Kerala's Kozhikode district. The first death occurred on August 30, with the second on September 11. The deceased individuals were 44 and 40 years old at the time of their deaths, respectively.
Following the confirmation of Nipah virus deaths in Kozhikode, Kerala Chief Minister Pinarayi Vijayan urged residents not to panic and to adhere to necessary precautions. He emphasized the importance of following instructions from the health department and law enforcement agencies and cooperating with imposed restrictions. Kerala Health Minister Veena George reported two active Nipah cases in Kozhikode as of Tuesday, including a nine-year-old boy and a 24-year-old relative of one of the deceased.