Begin typing your search...
Indian-Americans waiting for Modi with bated breath
Prime Minister will lead a yoga session for the first time at the UN Headquarters in New York on the 9th International Day of Yoga on June 21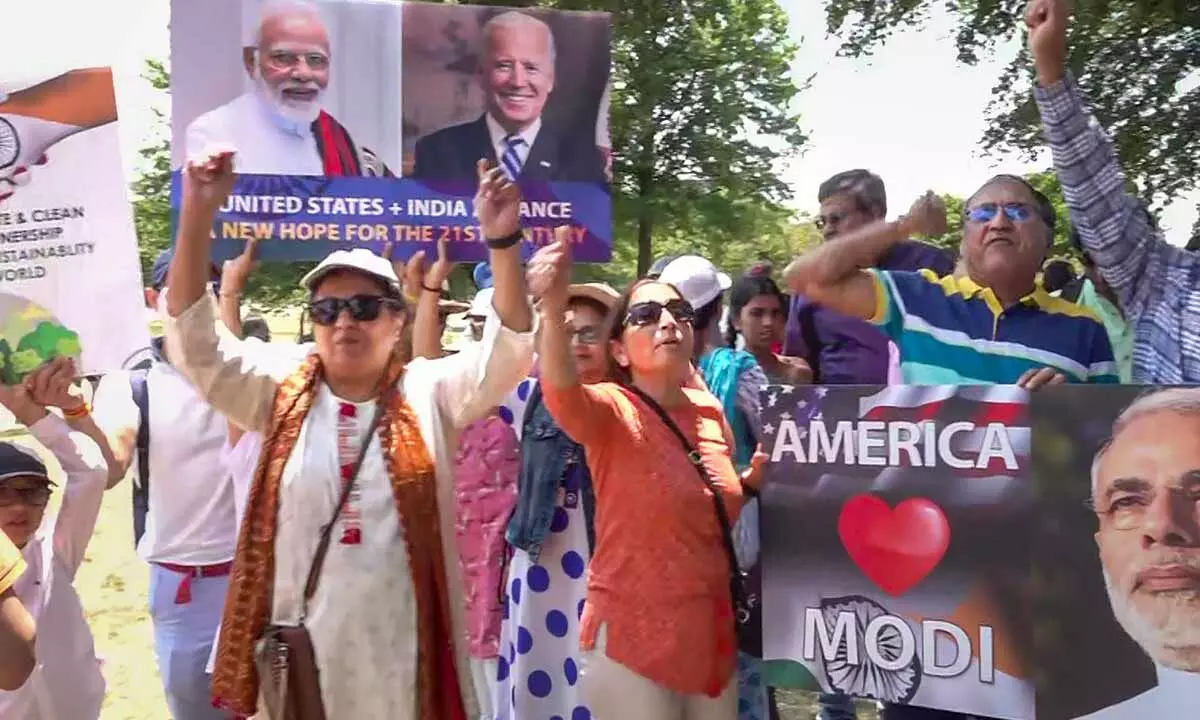 New York: If a mood of happiness and excitement has gripped a large chunk of Indian Americans ahead of Prime Minister Narendra Modi's US visit, Vijay Sharma's restaurant, in the heart of this pulsating city, is feeding that appetite. An engineer by profession and restaurateur by passion, Sharma and his wife Suman Lata speak gushingly about how Indian Americans like them have grown more confident and prouder of their identity as Modi has worked to "enhance India's global image". "Modi is leading a Yoga session in a global body like United Nations here. Isn't this good," he asks.
Prime Minister Modi will lead a yoga session for the first time at the UN Headquarters in New York on the 9th International Day of Yoga on June 21.
At one of the tables at his restaurant 'India at Times Square' is Dinesh Bohra, an Indian holidaying in the US. Bohra lets any other diner at the 80-seater restaurant, which serves a variety of Indian food, who would care to listen that he has postponed his flight back home by three days as he is trying to get a by-invitation-only seat at the June 23 community event in Washington DC, which the prime minister will address. "I want to be a witness to it," he says, munching on his snacks at the mid-range restaurant in Times Square, the most touristy spot in New York, popularly known as the Big Apple.
Bohra asserts that it is destiny which has brought Modi to power so that a lot of good could be done to India. His companion Foram Shah, who is from the travel industry, likens the prime minister to the great king Ashoka and claims that he inspires her like a "father figure". Shashi Singh, an engineer here for over a decade, says it is not about the BJP and the Congress or "for that matter any political party". Modi as prime minister represents the country and they are happy as he has been working his best to do good to India, he says. "Everyone will tell you that India is being talked about like never before. And it makes us happy," he says.
As one runs into people of Indian origin people at different places, a few different voices also emerge. Vijay Desai, a businessman, laments the "slow pace" of execution of projects in India, while a young student studying in New Jersey, who does not wish to be named, says the prime minister has indeed enhanced the country's international profile but not enough quality jobs are being created back home.
However, a large number of Indian Americans credit Modi for reaching out to them like no other leader. Sharma keenly underscores his passion for his identity and notes that their other restaurant, 'Curry India', also in Times Square, is the oldest eatery in the United States serving Indian food dating back over 100 years even though its name and owners have changed. "I have always had this feeling about where I have come from. Under Modi, it has surged," he says. Prime Minister is arriving in the country on his first state visit during which he will hold extensive talks with President Joe Biden and address a joint session of the US Congress for a second time, a first for any Indian prime minister. The prime minister had earlier addressed the US Congress in 2016.