Begin typing your search...
INDIA to decide on seat sharing soon
13 member coordination committee formed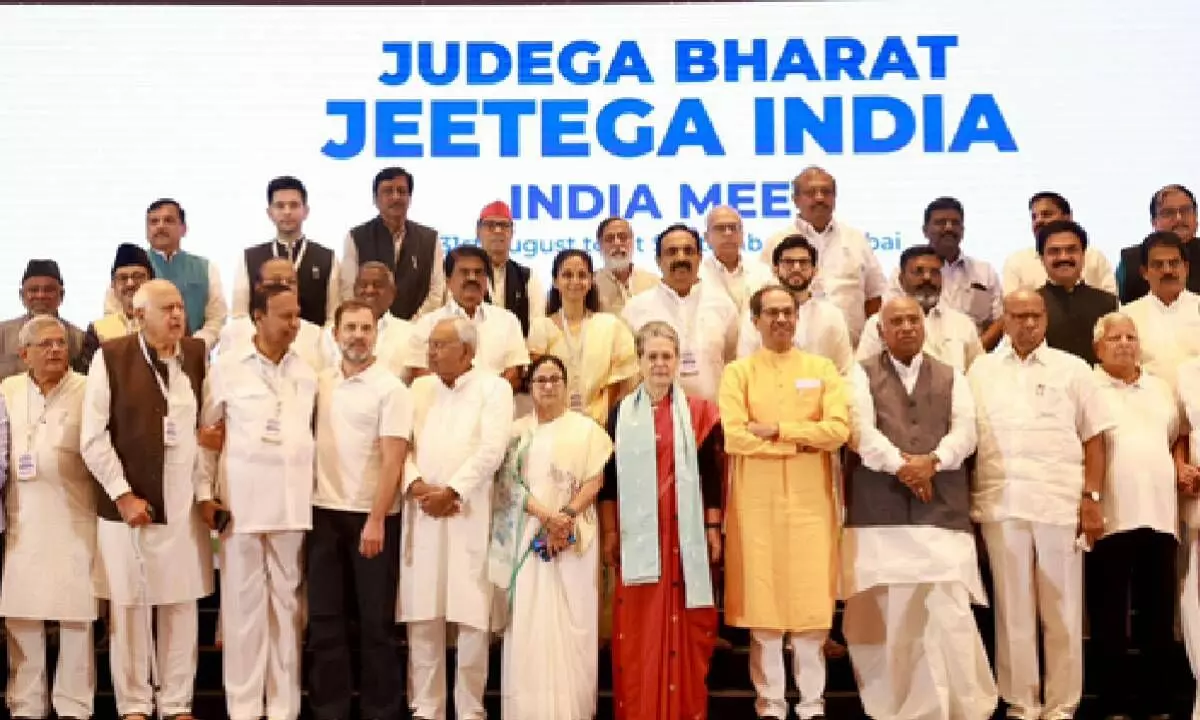 Mumbai Indian National Developmental Inclusive Alliance (INDIA) in its third meeting on Friday passed a resolution to contest the 2024 Lok Sabha election together. In its resolution, it said that seat-sharing arrangements in different states will be also taken up immediately and in a collaborative spirit of give-and-take. The INDIA bloc has also decided a 13member joint coordination committee.
"We, the INDIA parties, hereby resolve to contest the forthcoming Lok Sabha elections together as far as possible. Seat-sharing arrangements in different states will be initiated immediately and concluded at the earliest in a collaborative spirit of give-and-take," said the resolution. The resolution said that the INDIA parties will organise public rallies at the earliest in different parts of the country on issues of public concern and importance.
"We, the INDIA parties, hereby resolve to coordinate our respective communications and media strategies and campaigns with the theme Judega Bharat, Jiteega India in different languages," the resolution said.
The coordination committee will comprise Congress' KC Venugopal, NCP's Sharad Pawar, DMK's TR Baalu, JMM's Hemant Soren, Shiv Sena-UBT's Sanjay Raut, RJD's Tejashwi Yadav, Trinamool Congress' Abhishek Banerjee, AAP's Raghav Chaddha, Samajwadi Party's Javed Ali Khan, JD-U's Lalan Singh, CPI's D Raja, National Conference Omar Abdullah, and PDP's Mehbooba Mufti. The CPI-M will give the name of their party leader for the committee later.
Meanwhile in the election strategy committee, there will be Congress' Gurdeep Singh Sappal, JD-U's Sanjay Jha, Shiv Sena-UBT's Anil Desai, RJD's Sanjay Yadav, NCP's PC Chacko, JMM's Champai Soren, Samajwadi Party's Kiranmoy Nanda, AAP's Sanjay Singh, CPI-M's Arun Kumar, CPI's Binoy Viswam, National Conference's Justice (retd) Hasnain Masoodi, RLD's Shahid Siddiqui, RSP's NK Premachandran, AIFB's G Devarajan, CPI-ML's Ravi Rai, VCK's Thol Thirumavalan, IUML's KM Kadar Moidin, KC- M's Jose K. Mani with as its members. Trinamool will suggest the name of their party leader later.
However, the national convenor is yet to be decided.
The joint coordination committee shall also be entrusted with a critical agenda including the prickly issue of seat-sharing for the 2024 Lok Sabha elections, drafting a common minimum programme, joint campaign issue, liaising with different parties at the national, regional or state levels, etc, according to a Congress leader.
The like-minded parties have come together to take on the Bharatiya Janata Party (BJP)-led National Democratic Alliance (NDA) and to stop it from winning a third consecutive term at the Centre in the crucial 2024 Lok Sabha elections. The first meeting of the joint Opposition took place in Bihar's Patna on June 23, and the second meeting was held in Bengaluru on July 17-18.